Yen Ching-piao's family decries courts
DETENTION QUESTION The Taichung County Council speaker remains behind bars despite complaints about how his indictment was handled
Taichung County Council Speaker Yen Ching-piao's (顏清標) relatives and supporters rallied outside the Taichung District Court yesterday to demand his release.
Late Monday night the court ruled that Yen and the council's vice speaker, Chang Ching-tang (張清堂), and director general, Tsai Wen-hsiung (蔡文雄), should remain in detention, after prosecutors indicted the three in the afternoon.
Yen was indicted on charges of corruption and attempted murder while Chang and Tsai were indicted for corruption.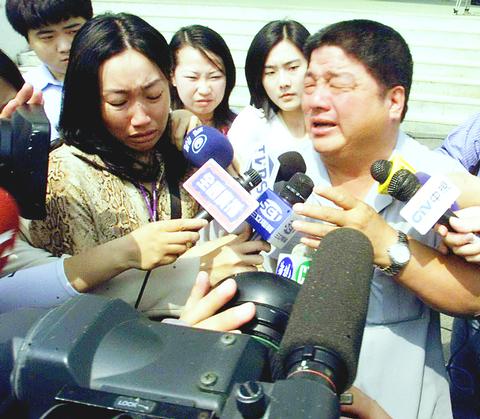 Hou Li-chuan, left, Taichung County Council Speaker Yen Ching-piao's wife, and KMT Legislator Tseng Chen-nung, right, a close friend of Yen's, cry yesterday morning outside the Taichung Detention Center where Yen is being held.
PHOTO: YANG CHENG-CHUN, TAIPEI TIMES
Yen's family staged the sit-in in front of the district court and prosecutors' office to protest against what they called an unjust judiciary.
A crowd of supporters put up tents, held banners, tied yellow ribbons on nearby trees and proclaimed they would continue campaigning until Yen returns home.
KMT Legislator Tseng Chen-nung (曾振農), a good friend of Yen's, cried yesterday morning outside the Taichung Detention Center where Yen was being held, claiming Yen's detention was political persecution.
"It wouldn't have turned out to be so had he [Yen] not intended to run for County Commissioner," Tseng cried, "I told him that now it's them [the DPP] in power. We cannot afford to play the game with them."
Yen's family and Tseng went to the detention center to visit Yen, but once Tseng was in front of the center he declined to enter, saying he would become too sad if he saw Yen. He finally left in tears without visiting the detained speaker.
Yen's wife Hou Li-chuan (侯麗娟), meanwhile, said the family would appeal the ruling.
The controversy over Monday's dramatic developments continued yesterday.
The president of the Taichung District Court said the judge who ruled on Monday morning that Yen and Chang could receive bail could be disciplined if the ruling was proved to be procedurally flawed.
A senior district court judge, Lu Yen-jung (陸炎榮), ruled in favor of the petitions by Yen and Chang's family that the speaker and vice speaker be released on bail.
Yen's bail had been set at NT$2 million and his family had paid the money around 11:45am. However, prosecutors indicted Yen, Chang and Tsai and took them to court before Yen and Chang could be released on bail.
Presiding over a hearing that evening, judge Chuang Shen-yuan (莊深淵) ruled the three men be detained again.
Prosecutors have claimed that Lu's ruling allowing bail was flawed because he alone reversed a ruling handed down by a three-judge panel -- a move the prosecutors claim violated the law.
But the court president said that the requirement of a panel in such a case is not mandatory, although a majority of judges in a meeting yesterday morning agreed that the bail ruling should not have been made by just one judge.
The president also said the court simultaneously notified the defense and the prosecutors by phone about the bail ruling before noon Monday.
The prosecutors, however, have claimed that they did not know about the ruling when they proceeded with the indictment, denying they had deliberately prevented Yen from being released.
Lee Ching-yi (李慶義), spokesman for the prosecution, stressed that officially the prosecutors received the message only upon arrival of the written ruling, which he said had arrived at 3:30pm, after Yen was indicted.
"I have no idea about what they said about telephone notification anyway," he said yesterday.
The corruption charges the three men face stem from allegations they used the council's "public relations budgets" to cover money they spent at hostess bars.
The attempted murder charge against Yen is linked, according to local media, to a 1996 shooting incident, when people from Yen's office fired shots at a vehicle driving around their office in Shalu township.
Comments will be moderated. Keep comments relevant to the article. Remarks containing abusive and obscene language, personal attacks of any kind or promotion will be removed and the user banned. Final decision will be at the discretion of the Taipei Times.