Former RCA workers protest cancer deaths
POLLUTION Dozens of ex-employees of the US-based electronics company found the doors of the AIT closed as they attempted to present a petition to the institute
More than 80 former RCA Taiwan employees from the RCA Self-Help Association (RCA, 員工自救會) yesterday protested in front of the American Institute in Taiwan (AIT) in Taipei, demanding the US-based electronics giant take full responsibility for a high incidence of cancer among the company's employees.
The AIT, however, yesterday shut its doors and refused to receive the petitioners.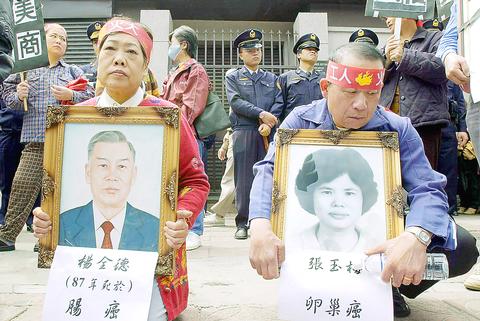 Family members hold photos of former RCA employees, who died from various types of cancer, during a protest in front of the American Institute in Taiwan yesterday. They are demanding that the US-based electronics manufacturer take full responsibility for the high cancer incidence and deaths among the former employees.
PHOTO: CHIANG YING-YING, TAIPEI TIMES
Security guards at the AIT office later agreed to hand over the petition letter to relevant officials.
The employees, accompanied by Taiwan Association for Victims of Occupational Accidents and Diseases (工作傷害受害人協會) representatives who jointly organized the petition, later turned to the Ministry of Foreign Affairs and recited their sufferings to officials at the ministry's North American Affairs department. A ministry official received the petition letter and promised to pass it on to relevant officials.
According to the workers, soil and ground water pollution at the RCA Taiwan plant in Taoyuan County is suspected of causing more than 1,000 cases of cancer and 157 deaths among employees. Thirty employees have died from cancer alone over the past few years.
The workers also revealed that RCA Taiwan had repeatedly dumped toxic waste into wells near the plant, which seriously polluted local groundwater.
RCA first set up its production facilities in Taiwan in 1970. The company subsequently relocated its production line and its Taiwan operations were subsequently run by GE and the French company Thompson at different times until 1992.
In February 1998, the Environmental Protection Administration (EPA) officially confirmed that the area where the plant located had been designated a permanently polluted zone.
According to the EPA report, even after several years of clean-up work, groundwater downstream from the plant still shows high concentrations of toxic chemicals. The EPA also confirmed that the pollution extended up to 1km from the plant.
The workers therefore made two appeals yesterday to all three companies:
First, RCA, as well as GE and Thomson, should immediately send representatives to Taiwan to look into the case.
Second, the US and French governments should closely examine the three companies' overseas investment plans. No capital increase should be approved before labor-management disputes overseas are properly solved.
The former RCA workers said they will demonstrate again on April 12 when a US-sponsored environmental protection meeting will be held in Taipei City.
Comments will be moderated. Keep comments relevant to the article. Remarks containing abusive and obscene language, personal attacks of any kind or promotion will be removed and the user banned. Final decision will be at the discretion of the Taipei Times.