`Eight-color bird' sparks new environmental row
CONSERVATION Taiwan has found itself in the international spotlight yet again after a clash between local bird-watchers and the gravel-extracting industry
An assault on a bird-watcher has shone an international spotlight on the struggle of Taiwan conservationists to save a rare species from the ravages of gravel extractors.
The assault took place in Huben village (湖本村) in Linnei township (林內鄉), Yunlin County, on June 18, when over 100 bird-watchers were gathered at the start of a one-day bird-watching tour.
An irritated villager slapped Yin Lin-in (尹伶瑛), the village warden, across the face, claiming that information contained in leaflets for bird-watchers was an insult to her family. The leaflets had claimed that habitats for rare birds at nearby Pillow Hill would be damaged by future deforestation caused by gravel extraction.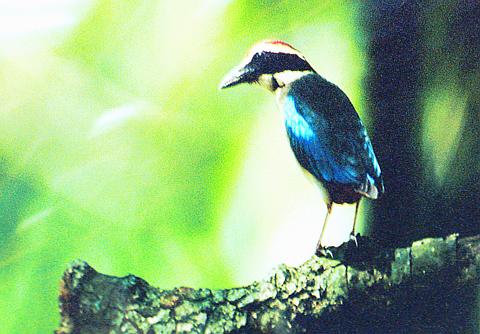 According to research, Huben village in Yunlin County is one of the most important habitats for the Fairy Pitta, the so-called `eight-color bird.'
PHOTO: THE WILD BIRD FEDERATION OF TAIWAN
Terrified, Yin went to her parents' home in eastern Taiwan in order, briefly, to distance herself from what Chinese-language newspapers have described as complex, local factional rivalries. She returned to Huben, however, where she has lived with her husband since 1980.
"I had to come back to fight, not only for the innocent villagers of Huben but for several rare birds for whom the locale is their habitat," Yin told the Taipei Times.
Rare birds at
Pillow Hill
Yin, a bird conservationist, first found herself in the midst of controversy last August when Yunlin County Government, in order to meet demand created by continuing road development, approved an application for gravel exploitation at Pillow Hill (枕頭山), a site proposed by conservationists for designation as an important wildlife habitat.
Since then, the sleepy agricultural village covering 300 hectares of land has been swarming with activity.
Local conservationists started to obstruct the development work, and claimed that they had discovered 97 species of bird there, including several rare varieties.
Of all of these, the fairy pitta, known in Chinese as the "eight-color bird" (八色鳥) has the most eye-catching appearance. It also has a limited population.
Lin Ruey-shing (林瑞興), a researcher at the Council of Agriculture's (COA) Taiwan Endemic Species Research Institute (TESRI台灣特有生物中心), has found 40 such birds during a preliminary survey -- underway since April -- of 70 hectares of land at Pillow Hill.
Conservationists at the Chinese Wild Bird Federation (Taiwan) (中華鳥會) are encouraged by Lin's research, saying that the number of these birds in Huben village alone is more than in the entire Korean peninsula.
According to the federation, the fairy pitta ranges further north than any other member of its genus, breeding in Japan, South Korea, China and Taiwan, and migrating to Malaysia, Brunei and Indonesia. Sightings of migrating fairy pittas have also been recorded in North Korea and Vietnam.
Conservationists soon joined forces with Yin in Huben village to fight developers from neighboring cities. According to protesters, some developers even set off firecrackers to scare the rare birds away.
Conservationists argued that the natural environment in Huben would be destroyed completely if the Yunlin County Government followed precedent and kept approving applications for gravel exploitation.
Some questioned the approved application itself, saying that no environmental impact assessment had been carried out and that the application had been badly reviewed.
Local birds but an international issue
Soon, aligned with 73 foreign groups in 20 countries, the federation launched an international petition on the Internet to save the home of the Taiwanese eight-color birds. The petition caught the attention of BirdLife International (國際鳥盟), an international non-governmental organisation dedicated to the protection of birds.
Marco Lambertini, who is in charge of international affairs for the organization, visited the COA on July 1, to urge chairman Chen Hsi-huang (陳希煌) to designate the site an important wildlife habitat.
Lambertini said at the time that Birdlife International was itself trying to have the site at Pillow Hill designated an Important Bird Area (IBA).
Conservationists said that IBAs were recognized by the international community and regarded as important points of reference in policy-making in many countries.
BirdLife International's quarterly magazine, which features global conservation news, had sent editors to Huben to produce an article revealing to some 5 million readers worldwide the deterioration of habitats for fairy pittas in Taiwan. The negative international publicity prompted swift governmental action.
Under pressure from legislators and President Chen Shui-bian (陳水扁), on June 20, Yunlin County Commissioner Chang Jung-wei (張榮味) halted the construction of the first gravel extraction facility and stopped the review of six later applications.
In response, the developers pressed the government to buy back the Pillow Hill land from them for 140 percent of the government assessed price (invariably lower than the accepted market value).
"We hope that developers will appreciate that the protection of birds does not conflict with people's interests," said Simon Liao (廖世卿), Director-General of the Wildbird Federation Taiwan (中華鳥會).
TESRI's preliminary survey will be completed by October, when fairy pittas leave Taiwan for their winter migration.
Yin, the village warden who was assaulted, has received an invitation from BirdLife International to give a presentation on the efforts to save Taiwan's eight-color birds, next month in London.
"At the presentation, I shall stress what we did to save the bird rather than the violence I suffered," Yin told the Taipei Times.
Yin said that 1000 simple village folk, mostly farmers planting bamboo sprouts and longan trees, should not be expected to resign themselves to becoming victims of gravel extractors.
"We just want to continue our peaceful life. So do these rare birds," she added.
Comments will be moderated. Keep comments relevant to the article. Remarks containing abusive and obscene language, personal attacks of any kind or promotion will be removed and the user banned. Final decision will be at the discretion of the Taipei Times.