Foreigner wins driver's license battle
UNFAIR RULES A US citizen who has lived in Taiwan for the last 25 years claimed victory over a bureaucratic system that he says is often unfair to alien residents
An American citizen has challenged and won an appeal against a regulation that he says unfairly discriminates against foreigners in Taiwan.
On May 18, Richard Hartzell (何瑞元), a US citizen residing in Taiwan, obtained a six-year Taiwanese driver's license, believed to be the first time such a license has ever been issued to an alien here.
He viewed his victory as not only a personal gain, but one that could help open the door for other foreigners who would like to avoid the hassle of having to renew their driver's license every year.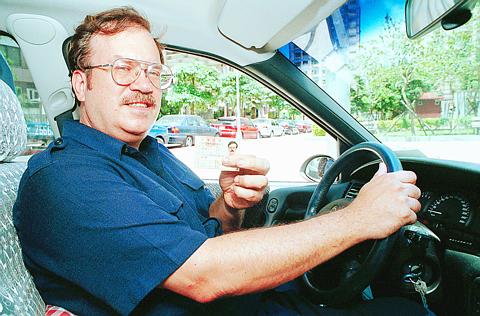 Richard Hartzell, a US citizen residing in Taiwan, shows off his new six-year Taiwanese driver's license, a small victory for him and other foreigners who spend time and effort renewing their driver's licenses every year.
PHOTO: GEORGE TSORNG, TAIPEI TIMES
After months of struggling against regulations set down by the Motor Vehicle Supervision Department, Hartzell received his long-awaited six-year driver's license last Thursday.
It took Hartzell several months to appeal to Taipei City's Government's Commission for Examining Petitions and Appeals (訴願審議委員會) before they granted the plea.
Hartzell said he has lived in Taiwan for more than 25 years and until now, has had to renew his license every year. According to existing regulations, a driver's license will expire with an alien resident certificate, which has to be renewed annually.
"There is no grounds to have such a restriction on the issuance of driver's licenses," said Hartzell. "Based on the principle of international mutual benefits, foreign residents in Taiwan should enjoy the same right as locals, holding a driver's license which lasts six years."
Despite having battled long and hard for a license on par with that of Taiwanese residents, he said that he was not a big fan of driving in Taipei.
"I much prefer to use public transportation. It is a big hassle in Taipei to find parking spaces and there are always worries about the car getting towed away," he said.
"My point is that the government should make life easier for people by making the entire system less complicated. In my case, that means I shouldn't have to worry about a document that expires every year."
Without doubt, Hartzell is not the only foreigner in Taiwan who feels frustrated about regulations imposed on them that make their stay here unpleasant.
The key issue is that most foreign residents do not know where and how to voice their discontent.
"Some limitations are based on completely outmoded regulations, which public officials often abide by simply because they can not be bothered to make changes," said Hartzell.
Such regulations were just the tip of the iceberg, Hartzell said.
"Though the Taiwanese government says it favors globalization and internationalization, many Taiwanese regulations often result in the exact opposite. My intention is to disclose this discord and open the door to discussions on this kind of irrational legislation in Taiwan," he said.
Hartzell recalled an endeavor in July of 1994 when he collaborated with other foreign residents to revise a Taiwanese ordinance that prohibited children who held foreign passports from attending public schools here.
"There was no point to protest to school principals. We were fully aware that the more pragmatic measure was to go through legal channels to make fundamental changes to the entire system," Hartzell said.
The result proved worthwhile, he said. The regulation was abolished after their appeals, and since then, children born to foreign parents have been entitled to be admitted to public schools in Taiwan.
Hartzell said his underlying point was that people should stand up to unfair regulations. "You can't just submit to senseless rules. People should clearly know about and safeguard their rights," Hartzell said.
"It is a common misconception that civilians and the government have opposite agendas," he said, "Instead, the two sides ought to work together to make Taiwan a more comfortable living environment, particularly for foreigners; because we all know Taiwan is in need of friendship on the international level."
Comments will be moderated. Keep comments relevant to the article. Remarks containing abusive and obscene language, personal attacks of any kind or promotion will be removed and the user banned. Final decision will be at the discretion of the Taipei Times.