How the US stopped Taiwan's bomb
ARMS RACE Details of Taiwan's bid to join the nuclear community have always been shrouded in secrecy. Previously classified US documents shows just how close Taiwan came to developing the technology to produce thermonuclear weapons
Declassification and release of archive documents from the United States today, shows that Taiwan attempted to build nuclear weapons, despite government denials and US government opposition.
These formerly confidential files detail how the US State Department used its diplomatic influence and intelligence sources to promote non-proliferation and halt Taiwan's secretive nuclear weapons program.
But what the US government failed to do, the evidence suggests, was stop Taiwan from giving up entirely its ambition and ability to develop weapons of mass destruction.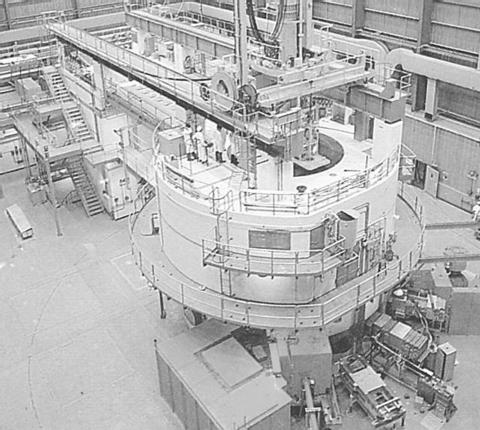 The pilot reprocessing facility at the Institute for Nuclear Energy Research. Capable of servicing about 50 tonnes of Uranium annually, the plant could yeild just a few grams of plutonium per year.
SOURCE: THE ATOMIC ENERGY COUNCIL
The story begins in 1964, after China conducted its first nuclear test. Shortly afterward, Taiwan launched its own nuclear weapons program, dubbed the "Hsinchu Project."
There is contention over who was the principal figure behind the programme. Wu Ta-you (吳?j猷) -- a former Academia Sinica president and, at the time, a member of Taiwan's National Security Council -- said it was the son of the then President Chiang Kai-shek (蔣?階?/CHINESE>). who was responsible. Chiang Ching-kuo (蔣經國), who was then director of the Science Development Advisory Committee, conducted the nuclear programme behind his father's back, Wu said.
This view was contradicted by National Taiwan University professor of history, Hsu Cho-yun, in a 1966 interview at the US Embassy in Taipei, who said Chiang Kai-shek was the motivating force.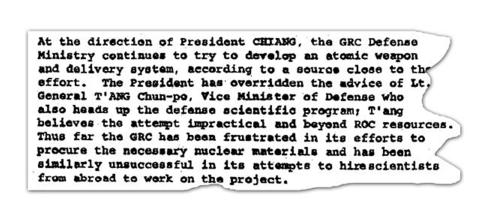 By April 1966, the US Embassy in Taipei was clearly concerned about what it saw was a struggle within Taiwan's political elite over plans to develop a nuclear weapons capability. According to this report, the embassy had been led to believe that President Chiang Kai-shek had been the main proponent behind the weapons program, and had in fact overruled objections from General Tang Chun-po, Vice-Minister of Defense, who he had placed in charge of the military's scientific program.
"At the direction of President Chiang, the Chungshan Institute of Science and Technology, which superintends science research and development for the Ministry of National Defense, is continuing to push ahead with its program of developing an atomic weapon."
The quest for friends
Hsu said that Taiwan had difficulty finding nuclear materials for its research and its plans were often blocked.

By the beginning of the 1970s, it was clear to the Americans that Taiwan had ulterior motives behind its attempts to purchase a heavy water reactor from Siemens of Germany. The CIA wasn't sure exactly what Taiwan was up to, but the US Embassy in Taipei had reported to the State Department that Taiwan's Garrison Command (GRC) was the real decision-maker in the program to obtain nuclear technology, not the Taiwan Power Company.
Initially Taiwan asked the US and Israel for assistance, but the US flatly refused and Israel had its own security problems. Japan was approached but "reacted negatively, as it does to any effort to involve it in the development of nuclear weapons," an embassy document reported.
When Taiwan tried to buy a 50 megawatt heavy water nuclear power plant from the Federal Republic of Germany-based power company Siemens in 1967, the US issued a caution.
Nevertheless, that same year, the US' General Electric Corporation began construction of Taiwan's first nuclear power plant in the northeast part of the island.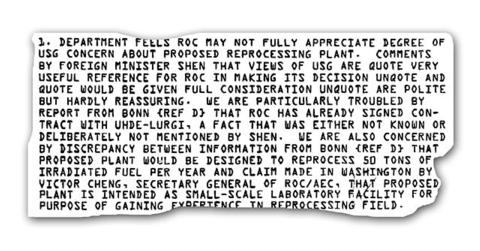 By January 1973, matters were reaching a head over Taiwan's attempts to buy the German reactor. There were discrepancies that had been exposed between what Taiwan's foreign minister had said the government was doing with its nuclear energy program and what it actually appeared to be doing.
Victor Cheng (鄭振華), Secretary General of the Garrison Regiment Command (GRC) Atomic Energy Council, was quoted in a US Embassy, Feb.1967 memorandum of conversation, as saying he "saw no relationship between the proposed purchase of the reactor and nuclear weapons research."
The US government later consented to support the sale of the German reactor, so that it would not appear to be contradicting itself and the reputation of the International Atomic Energy Agency to uphold safety standards.
"In view of unequivocal US statements of confidence in IAEA safeguard systems and US assurance to FRG [Federal Republic of Germany] that IAEA safeguards would not hinder German sales of nuclear equipment for peaceful purposes, the Department does not consider we should attempt to forestall sale through approach to either Siemens or FRG."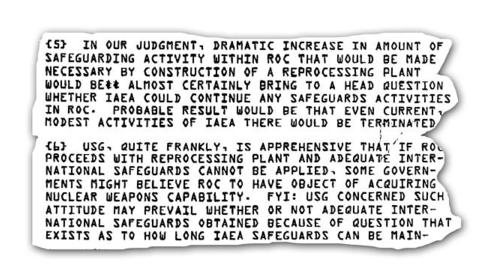 So the State Department asked the US ambassador in Taipei to represent its views in a strong a manner as possible to the Taiwanese. The carrot it held out was that it would reprocess Taiwan's spent fuel in the US, thus cutting its costs considerably, while the stick it followed up with was that the International Atomic Energy Agency (IAEA) would likely terminate all further involvement in Taiwan's nuclear energy development program. Taiwan dropped its bid for the reactor the following month.
However, the telegram to the US embassy in Bonn added: "The Department (of state) intends to furnish FRG through other channels USG [US government] information on GRC purchase of Siemens reactor ... we are not yet convinced that purpose motivating GRC desire to buy Siemens reactor is unrelated to interest in nuclear weapons."
Intelligence information confirming this suspicion did get to the State Department, in December 1972, but by this time Taiwan's position in the international arena was already beginning to fade due to the emergence of China.
In 1971 Taiwan was pushed out of the United Nations and its continued participation in international organizations like IEAE was threatened.
After Taiwan lost its membership in the IEAE, a bilateral agreement with the United States -- which had backed efforts to build all three of the island's nuclear power plants -- continued to ensure that safety standards were being met.
"We recently learned that the ROC is considering the purchase of the essential parts for nuclear materials and reprocessing plant from commercial sources in the FRG. Such a plant reprocesses spent reactor cores and also produces significant quantities of plutonium, an essential component of nuclear weapons," a Dec. 14, 1972 memorandum said.
Cheng was advised of the US concern and "described the proposed reprocessing plant as a small scale laboratory exercise designed to develop experience in the reprocessing field," the memorandum added.
Small-scale research
Cheng further downplayed the matter, saying the facilities would cost US$250,000 and would be used to reprocess small amounts of spent reactor cores on an "experimental basis."
The US immediately pointed out to Taiwan that, according to the IEAE, strict standards had to be enforced for such a transfer to take place and that, in principle, the IEAE opposed the transfer of reprocessing plants to a "non-nuclear weapons state."
The US then began plying pressure on Germany and other countries that would be involved in the process. The IEAE board of governors in China also said they would not approve of the transfer.
In January 1973, US Embassy officials in Taiwan spoke to the foreign minister and urged him not to go ahead with the purchase.
The foreign minister, Shen Chang-huan (沈昌煥), agreed to the US demand, but in return asked for help so that Taiwan could meet its future fuel needs, particularly when its planned six nuclear reactors were on line.
Shen denied the idea of building a reprocessing plant had been approved by Taiwan's government, and did not tell the US that Taiwan had already signed a contract with a German firm to purchase the reprocessing plant.
The US confronted Shen over the matter, after which he told the US embassy that Taiwan would not be involved in the construction of a reprocessing plant, a February, 1973, memorandum confirms.
The US continued to monitor Taiwan's attempts to go ahead and construct a reprocessing facility on its own, but documents do not detail how Taiwan achieved this feat.
According to research by David Albright and Corey Gay, published in a "Bulletin of Atomic Scientists" article, entitled "Taiwan Nuclear Nightmare Averted," Taiwan continued on its own.
Their findings show that Taiwan began work in 1969 on uranium fuel, a reprocessing facility, and a plutonium chemistry laboratory.
These facilities were built with the help of equipment from France, Germany, the US and other countries, the article said.
From 1972 to 1974 Taiwan purchased about 100 metric tons of South African uranium, it said. It was also discovered that in 1970 a "Hot Laboratory" was being built and was expected to be completed in 1976.
Cheng, the AEC's secretary-general claimed the lab could only produce about 15 grams of plutonium a year, far short of that needed for a nuclear weapon, the article said.
The CIA concluded in 1974 that "Taipei conducts its small nuclear program with a weapon option clearly in mind, and it will be in a position to fabricate a nuclear device after five years or so," Albright and Gay wrote.
Under increasing international pressure on Sept. 14, 1976, Chiang Ching-kuo, then premier, said Taiwan would not engage in any reprocessing activities. That was not, however, the case.
It wasn't until over 10 years later, however, after the defection of a locally-recruited Central Intelligence agent, that Taiwan's program was brought to a halt.
Colonel Chang Hsien-yi (張憲義), former deputy director of the Institute for Nuclear Energy Research, revealed to the US Taiwan's efforts to build a nuclear bomb.
Taiwan's official position since then has been that it will not use its scientific abilities to build nuclear weapons. But experts note that if Taiwan wanted to it could develop these weapons quickly, possibly within a year.
Publication Notes
Timeline
1964 China conducts its first nuclear test 1966 Local sources let US know that Taiwan is pursuing a nuclear weapons program 1967 Taiwan plans to purchase a nuclear reprocessing plant from Siemens in West Germany. The US tries to block the sale then backs down but retains suspicions that Taiwan has ulterior motives 1969 Taiwan begins work on a reprocessing plant 1971 ROC is pushed out of the United Nations by the People's Republic of China 1972 The US State Department learns that Taiwan intends to purchase equipment for a reprocessing plant from West Germany 1973 After pressure from the US, Taiwan's foreign minister says the reprocessing plant will not be built 1976 Reprocessing plant is believed to be finished. Premier Chiang Ching-kuo says Taiwan will not engage in any activities related to reprocessing 1979 US switches diplomatic ties to China 1988 Deputy Director of nuclear research, Chang Hsien-yi, flees Taiwan handing over reams of information to US officials Taiwan puts to rest its ambitions to build nuclear weapons Taiwan puts to rest its ambitions to build nuclear weapons
Comments will be moderated. Keep comments relevant to the article. Remarks containing abusive and obscene language, personal attacks of any kind or promotion will be removed and the user banned. Final decision will be at the discretion of the Taipei Times.