Tzuchi always ready to lend a helping hand
PRACTICING COMPASSSION The Buddhist Compassion Relief Association, led by Master Cheng Yen, goes where it is needed, from floods in China to famine in North Korea. When the 921 earthquake struck at home, Tzuchi was ready for action
"Were you scared? How is your house?" asks a woman in a neat blue uniform.
All around her is chaos; rescue workers are trying to save those trapped in collapsed buildings. The dead are being pulled from the rubble. Against such a backdrop, her sincerity and kindness is a welcome offer.
Nearby are others, one holding the hands of a resident, another handing out a hot bowl of soup and vegetarian food.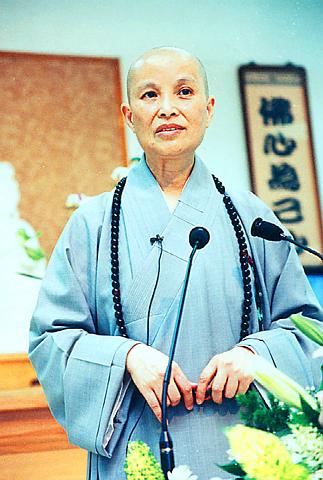 PHOTO: PAO CHI-HUA, LIBERTY TIMES
She is one of the thousands of relief workers from the Tzuchi Buddhist Compassion Relief Association (慈濟功德會) who responded with lightning speed and helped the injured and other victims of the 921 earthquake.
Media reports and public criticism during the past week have addressed such issues as mobilization and efficiency, but no criticism was cast on Tzuchi, which mobilized around 20,000 people to help out in relief efforts.
Founded in 1966 by Master Shi Cheng Yen (證嚴法師), the group has been on the scene at almost every catastrophe in Taiwan.
When a China Airlines jet crashed in Taoyuan in 1998 killing 202 people, Tzuchi was there.
When Typhoon Herb hit the island in 1996, Tzuchi was there. And when floods caused by Typhoon Zeb and Typhoon Babs struck Taiwan in October 1998, Tzuchi was there.
And after the 921 earthquake struck, Tzuchi members were mobilized in less than two hours.
The quake hit at 1:47am on Sept. 21. According to Tzuchi members, by 3:00am, the organization had set up a rescue and relief center at its Taichung branch.
"I was woken up by the quake and immediately called other members in Taichung," said Tsai Su-lien (蔡素蓮), a Tzuchi commissioner at its Taichung branch.
Commissioners went to banks to draw the money for consolatory funds and others went to buy the vegetables and rice for hot meals, Tsai said.
On the third day after the quake, the group distributed NT$160 million to families who lost relatives in the tragedy and to those who were seriously injured.
According to Tsai, Tzuchi provided around 4,000 meals per day in Tali City (大里市) at the Chin Bali (金巴黎) apartment complex in Taichung County.
At another quake-stricken area in Nantou County, Tzuchi dished out more than 10,000 daily meals according to another commissioner, Lo Mei-chu (羅美珠).
"In total, there were hundreds of thousands of meals provided at all the rescue sites in Taiwan," Lo added.
"As long as the rescue work continues, we will be providing meals and assistance everyday," Tsai Su-lien said.
Tzuchi's Vice Chief Executive Officer, Lin Pi-yu (林碧玉), said Tzuchi members are often the first to reach remote areas when disasters strike.
"In many cases we arrived first on the scene, helping dig out bodies and contacting rescue teams," Lin said. "In Tungshi township, we washed the bodies of the dead. Every three hours, we had to turn bodies over in the temporary frozen container, to prevent them from sticking together. We embraced residents at the disaster sites and helped children take showers. When they have complaints about the government, we try to ease them."
For many victims in disaster areas, Tzuchi volunteers -- many of whom are female -- seemed like a group of caring mothers.
Tzuchi has over four million members worldwide. Its leaders -- 3,000 commissioners, mostly female -- are in charge of each township and each township has five teams of 20-30 members.
Lin Pen-hsuan (林本炫), an assistant professor of religious studies at Aletheia University, said the tight organization of Tzuchi is a key factor to its efficiency.
In Tali there were eight teams organized, with each team in charge of several streets, Lin said. Open areas suddenly were turned into large soup kitchens.
Tzuchi's other advantage in relief work is its vast experience in international relief efforts over the past eight years. Tzuchi has worked in 28 different countries.
Tzuchi started its international relief work in 1991 when it raised funds for relief work for floods in central and east China.
From 1995, the group started cooperating with the French medical group Medecins du Monde (Doctors of the World) to help in disasters around the world, including the famine in North Korea, floods in Cambodia and hurricanes in several central America countries.
So far, the group has established elementary schools in 13 provinces in China.
Recently, the group sent aid to refugees in Rwanda and Macedonia and helped victims of the earthquake in Turkey last month.
"We were the seventh international relief team to arrive in Turkey," said Lin Pi-yu.
Ting Ren-jie (丁仁傑), a researcher at the Sinica Academia, recently published a book titled The Tzuchi Phenomena.
In his book,Ting says that Tzuchi's power, which has blossomed from the simple benevolent actions of women, is now a powerful and influential force.
"Master Cheng Yen harnessed the power of Taiwan's civil society and turned it into the biggest and most mobilized civil group in Taiwan," Ting wrote.
Many come to Tzuchi because of the opportunity to help others, Lin says.
"Many Taiwanese, particularly the middle classes, want to be part of a charity to help people. Joining Tzuchi gives them a sense of contentment and achievement -- Tzuchi needs me," Lin says.
At the same time, the group provides members with a flexible method of developing their spirituality, Lin says.
Group members remain humble, despite their achievements.
"We feel pressured that we're compared with the government," said Lo Mei-chu, a commissioner of the group's Sanchung branch in Taipei County. "The country needs to maintain its own image, we should not discredit it ... We just want to mobilize the goodness of the Taiwanese people. We always compete to work hard."
"No one forces you to do relief work or tells you which job to take, so you always have to find things to do. Especially at the disaster scenes, wherever things are needed, we have to be there," said another member.
For them, the words of Master Cheng Yen are important.
"Compassion need not be spoken, it just needs to be practiced," she said.
Comments will be moderated. Keep comments relevant to the article. Remarks containing abusive and obscene language, personal attacks of any kind or promotion will be removed and the user banned. Final decision will be at the discretion of the Taipei Times.