輕鬆華語GO: EASY CHINESE GO
你中樂透了嗎? Did you win the lottery?
清清:樂透昨天開獎,你中了嗎?
Qīngqing: Lètòu zuótiān kāijiǎng, nǐ zhòngle ma?
華華:如果中了,我今天就不會來上班了。你呢?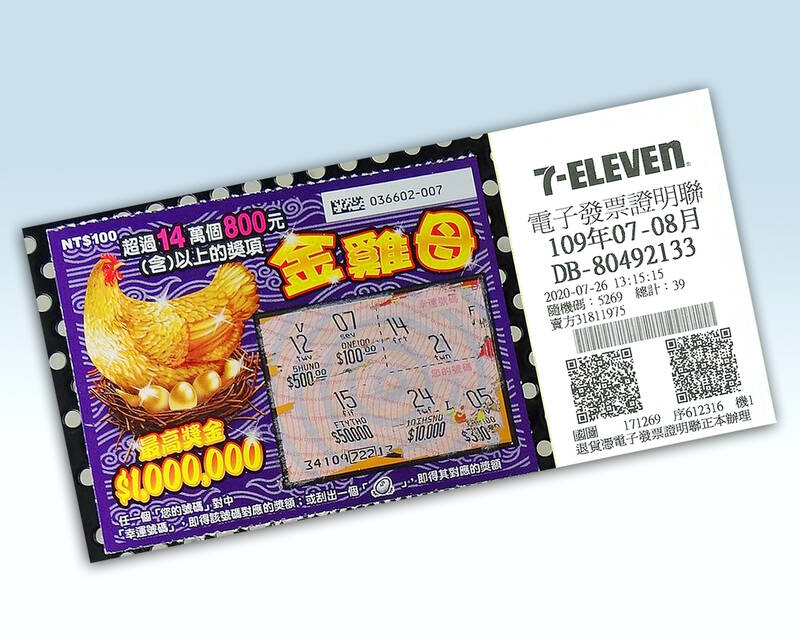 PHOTO COURTESY OF WIKIMEDIA COMMONS / 照片:維基共享資源提供
Huáhua: Rúguǒ zhòngle, wǒ jīntiān jiù búhuì lái shàngbānle. Nǐ ne?
清清:也都槓龜啦!不過,我的刮刮樂中了兩千塊呢!
Qīngqing: Yě dōu gàngguī la!búguò, wǒ de guāguālè zhòng le liǎngqiānkuài ne!
華華:很不錯啊!可拿到兩千,不用被扣百分之二十的稅。
Huáhua: Hěn búcuò a! Kě ná dào liǎngqiān, búyòng bèi kòu bǎifēnzhī èrshí de shuì.
清清:要是能中大獎,我寧願被扣稅,哈哈哈!
Qīngqing: Yàoshì néng zhòng dàjiǎng, wǒ níngyuàn bèi kòushuì, hāhāhā!
華華:這個月統一發票也開獎,祝你好運!
Huáhua: Zhège yuè Tǒngyī fàpiào yě kāijiǎng, zhù nǐ hǎoyùn!
翻譯 Translation
Qingqing: The lottery was drawn yesterday. Did you win?
Huahua: If I had won, I wouldn't have come to work today. How about you?
Qingqing: Me neither, but I won NT$2,000 from a scratch-off lottery ticket!
Huahua: Congratulations! You get to keep the full NT$2,000 without having to pay 20% tax.
Qingqing: If I were to win the big prize, I wouldn't mind the tax deduction. Hahaha!
Huahua: The Uniform Invoice lottery will also be drawn this month. Good luck!
生詞 Vocabulary
1. 開獎 (kāijiǎng) lottery draw
2. 槓龜 (gàngguī) fail to win the lottery
3. 刮刮樂 (guāguālè) scratch-off lottery ticket (Taiwan)
4. 扣 (kòu) to deduct
5. 百分之 (bǎifēnzhī) percent, percentage
6. 稅 (shuì) tax
7. 寧願 (níngyuàn) rather than, would rather
8. 統一發票 (Tǒngyī fàpiào) Uniform Invoice
教材音檔 Audio Files
國立清華大學華語中心提供
By National Tsing Hua University Chinese Language Center:
Comments will be moderated. Keep comments relevant to the article. Remarks containing abusive and obscene language, personal attacks of any kind or promotion will be removed and the user banned. Final decision will be at the discretion of the Taipei Times.