SPEAK UP: 'The Little Mermaid' to open worldwide 《小美人魚》掀全球熱潮
A: Disney's live-action film "The Little Mermaid" is set to open next week.
B: I remember that story: A young mermaid makes a deal with a sea witch to trade her beautiful voice for human legs, so she can look for a human prince.
A: And African-American actress Halle Bailey has attracted a lot of attention for playing the little mermaid "Ariel."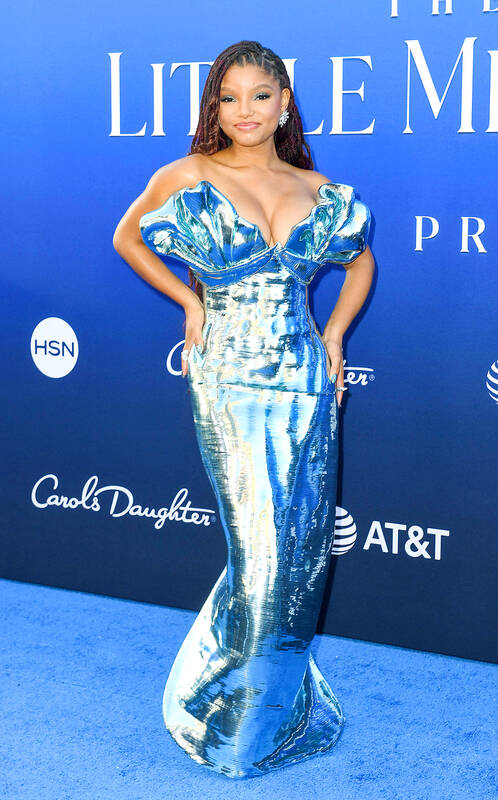 PHOTO: AFP / 照片:法新社
B: But some academics point out that, although the story is set in the Atlantic Ocean, the movie is full of species from other waters, creating ecological inaccuracies.
A: Relax, it's just a fairy tale, and there is no such thing as a mermaid in the real world anyway.
A: 迪士尼真人版電影《小美人魚》下週就要上映了。
B: 我記得這故事︰小美人魚和深海女巫達成協議,用美妙的聲音交換人類的雙腿,以便尋找王子。
A: 而非裔女星荷莉貝利也因飾演女主角「愛麗兒」備受矚目。
B: 不過學者抓包,該劇雖設定在大西洋,劇中卻充滿了其它水域的生物,造成生態錯亂。
A: 放輕鬆!這只是個童話,在現實生活中,也不見得有美人魚啊。
(By Eddy Chang, Taipei Times/台北時報張聖恩)
Comments will be moderated. Keep comments relevant to the article. Remarks containing abusive and obscene language, personal attacks of any kind or promotion will be removed and the user banned. Final decision will be at the discretion of the Taipei Times.