SPEAK UP: 59th Golden Horse Awards coming up (2/2) 金馬獎週末再次奔騰(二)
A: Who are the nominees for Best Leading Actor?
B: The nominees are Louis Cheung, Lam Ka-tung, Anthony Wong, Joseph Chang and Yu An-shun.
A: How about the Best Leading Actress category?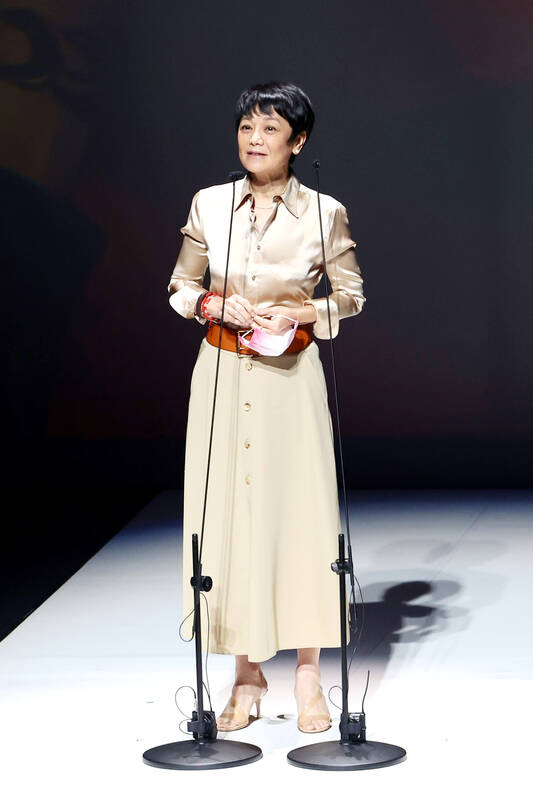 Actress Sylvia Chang receives a National Award for Arts. 女星張艾嘉榮獲「國家文藝獎」。
Photo: CNA 照片:中央社
B: The contestants include Tsai Hsuan-yen, Angela Yuen, Cya Liu, Sylvia Chang and Hong Hui-fang.
A: Wow, it's Chang's 10th nomination for Best Leading Actress! I can't wait to see her new film "A Light Never Goes Out."
A: 今年提名最佳男主角的有哪些?
B: 有張繼聰、林家棟、黃秋生、張孝全、游安順。
A: 最佳女主角呢?
B: 有蔡?晏、袁澧林、劉雅瑟、張艾嘉、洪慧芳。
A: 哇,這是影后張艾嘉第十次入圍女主角耶!我真等不及想要看她的新片《燈火闌珊》。
(By Eddy Chang, Taipei Times/台北時報張聖恩)
Publication Notes
LANGUAGE TIP 語文小提示
can't wait (to) tips: To be excited about doing something or eager for something to happen or begin, e.g. "I can't wait to try your apple pie."
Comments will be moderated. Keep comments relevant to the article. Remarks containing abusive and obscene language, personal attacks of any kind or promotion will be removed and the user banned. Final decision will be at the discretion of the Taipei Times.