ANALYTICAL ENGLISH 解析英語
Highs and lows: The history of high heels 高跟鞋:歷經成敗 淬鍊不凡
High heels are usually associated with feminine beauty and luxury, but this was not always the case. In fact, the history of this fashionable form of footwear is filled with surprises.
For starters, did you know that high heels were originally designed for men? The first ones appeared in 10th-century Persia, where army horsemen wore them to fasten their feet into stirrups. Although functional, they also looked sharp, so the trend soon spread. Twelfth-century temple artwork in India depicts female dancers wearing raised shoes. In Medieval Europe, both men and women wore elevated shoes made of wood. Women of noble birth at that time also wore platform shoes called chopines. __1__ The higher the chopines, the higher the status of the wearer.
The modern version of high heels, thin bars lifting only the back of the feet, was brought from Persia to Europe in the early 17th century. High-heeled shoes became a symbol of authority and status for men. __2__ A fashion trend was born and quickly spread across Europe, first among men and then women. The height of the heels was even standardized and indicative of one's class: 0.5 inches for commoners, 1-2 inches for nobles and knights, and 2.5 inches only for royalty.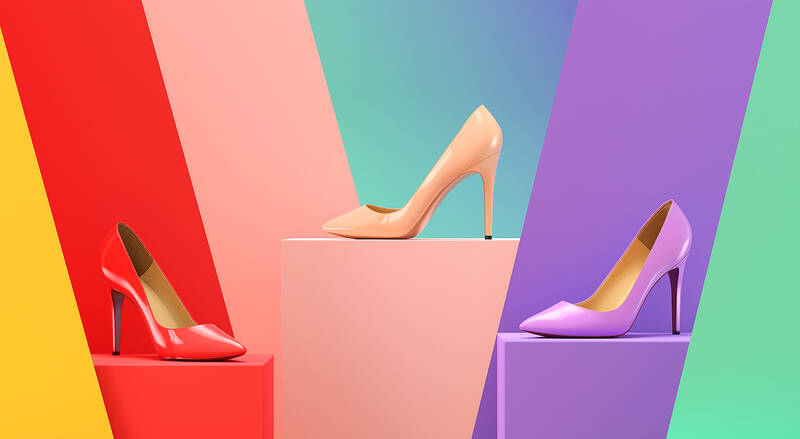 Photo courtesy of Shutterstock 照片:Shutterstock提供
Men's and women's high heels started to differ as well, with women wearing smaller shoes with thinner heels and men preferring tall and leather boots. In the 18th century, men started to regard high-heeled shoes with thin heels as impractical. __3__ The popularity of high heels dramatically dropped during the French Revolution (1789-1799) as no one wanted to be seen as royalty.
__4__ In modern times, high heels are associated with professionalism, elegance and confidence among women, while the style has tapered off among men. But who knows? Maybe men's high heels will catch on again some time.
高跟鞋經常和女性之美以及奢華聯想在一起,但並非一直是如此。其實,這種流行鞋款的歷史充滿了意料之外的事。
首先,你知道高跟鞋原本是為男性設計的嗎?首批高跟鞋出現在十世紀的波斯,當時的騎兵穿著此款鞋子以將腳固定在馬鐙上。雖然很實用,但它們看起來也很時髦,所以這種潮流很快流行開來。十二世紀印度廟宇的藝術品上,刻劃了穿著增高鞋子的女舞者。在中世紀的歐洲,男性和女性都穿著木製的增高鞋。當時,貴族出身的女性也會穿著被稱為chopines的厚底鞋。這些鞋子不僅幫女性避開街上的泥濘,也象徵她們的地位。chopines愈高,穿著者的地位就愈高。
現代版的高跟鞋—只提高腳後跟部分的細跟—在十七世紀初從波斯傳入歐洲。對男性來說,高跟鞋變成權威和地位的象徵。例如,法王路易十四喜歡穿紅色高跟鞋,其代表他的權力。一股潮流隨之生成並快速傳遍歐洲,先是在男性間,接著在女性之中流行。這些跟鞋的高度甚至被標準化來表示階級:半英吋是平民百姓穿的,一到兩英吋是給貴族和騎士穿的,而二‧五英吋只專屬皇族。
男性和女性的高跟鞋也開始有所不同,女性穿著較小、跟較細的鞋子,而男性則偏好高筒的皮靴。十八世紀時,男性開始認為細跟的高跟鞋不實穿。最後,男性拋棄高跟鞋,而此類鞋款落到女性的領域中。高跟鞋的受歡迎程度在法國大革命期間(1789年到1799年)大幅下降,因為沒有人想被視為皇族成員。
大眾對高跟鞋的興趣在十九世紀復興了,而自那時候起,該類型的鞋子一直都是女性在穿。如今,高跟鞋在女性之間與專業能力、優雅和自信連結在一起,在男性之間則已經退流行。但誰知道呢?也許男性的高跟鞋在某個時候會再次流行起來。
What Did You Learn?
(A) Eventually, men abandoned high heels, and the shoes fell into the women's domain.
(B) These shoes not only helped women avoid mud on the street but also symbolized their status.
(C) Interest in high heels revived in the 19th century, and the style has been worn by women since then.
(D) For instance, French King Louis XIV was fond of wearing red high heels, which represented his power.
答案:1. (B) 2. (D) 3. (A) 4. (C)
Words in Use
1. luxury n. 奢華,奢侈(不可數);奢侈品(可數)
The rich man's daughter has lived in luxury since she was born.
那名有錢人的女兒打從出生起就過著奢華的生活。
A television set was a luxury for my grandfather when he was young.
我阿公年輕的時候,電視機對他來說是奢侈品。
2. functional a. 實用的
The treadmill is not only functional but also decorative.
這臺跑步機不僅很實用也具有裝飾性。
3. depict vt. 刻劃,描繪
This painting depicts the painter's care-free childhood in the countryside.
這張畫描繪了畫家在鄉下無憂無慮的童年。
4. elevated a. 提高的,抬高的
Tom tripped over the elevated sidewalk and fell.
湯姆絆到高起的人行道而跌倒了。
5. authority n. 權威、權力(不可數)
We need to find people in authority to deal with this issue.
我們得找有權力的人來處理這個問題。
Practical Phrases
1. be associated with... 和…聯想在一起;和…有關聯
George's scar on his arm is associated with a car accident he was in when he was little.
喬治手臂上的傷疤跟他小時候的一場車禍有關。
2. for starters 首先
Mix eggs and sugar for starters, and then add milk.
首先,將蛋和糖混合在一起,然後加入牛奶。
3. taper off 逐漸變小,逐步減弱
The little boy's interest in toy bears tapered off as he found toy cars more interesting.
那個小男孩對玩具熊逐漸失去興趣,因為他發現玩具車更有趣。
4. catch on 成為流行、趨勢
Board games have caught on among young people recently.
桌遊最近在年輕人之間成為流行。
聽文章朗讀及講解: https://ivy.pse.is/455bfu
本文出自常春藤解析英語雜誌: www.ivy.com.tw
Comments will be moderated. Keep comments relevant to the article. Remarks containing abusive and obscene language, personal attacks of any kind or promotion will be removed and the user banned. Final decision will be at the discretion of the Taipei Times.