SPEAK UP ! 雙語會話
Serena Williams retires after US Open (1/2) 網球天后小威將封拍(一)
A: Did you watch the US Open? Tennis superstar Serena Williams will retire after the tournament.
B: That's a pity. She is one of my favorite women's tennis players.
A: Serena won her first grand slam title at the US Open in 1999, and during her illustrious career has won a total of 23 Grand Slam titles.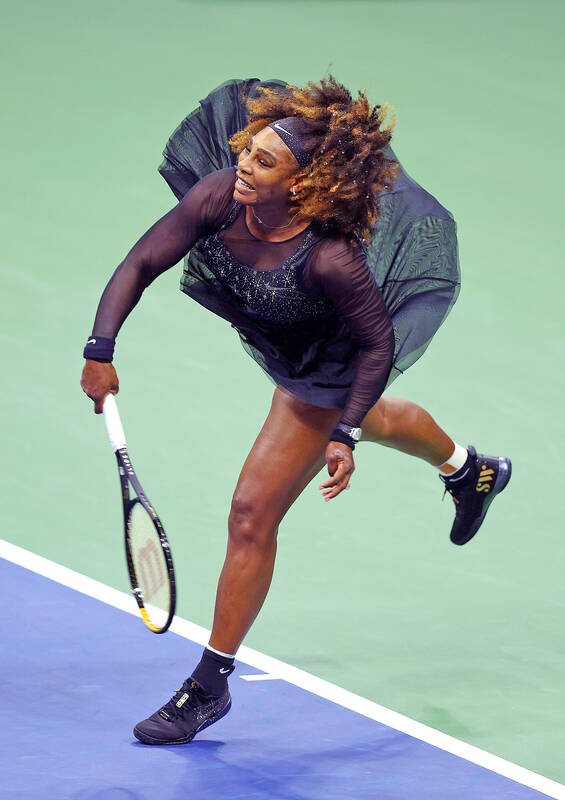 Serena Williams competes at the US Open last week. 小威廉斯上週在美國網球公開賽出戰。
Photo: AFP 照片:法新社
B: Yep, she won the Australian Open seven times, the French Open three times, Wimbledon seven times and the US Open six times.
A: Her sister, Venus Williams, is also amazing: she has seven grand slam titles to her name.
B: I love watching the Williams sisters competing against each other, it's always a wonderful spectacle.
A: 你有看美國網球公開賽嗎?網球天后小威廉斯打完這次美網就要退休了!
B: 真可惜,她是我最崇拜的女網選手之一。
A: 小威1999年在美網拿下首座大滿貫冠軍,生涯中總共贏得二十三座大滿貫金盃。
B: 對啊,包括七次澳網冠軍、三次法網冠軍、七次溫網冠軍、六次美網冠軍。
A: 她的姊姊大威廉斯也很厲害唷,贏得七座大滿貫金盃。
B: 我最喜歡看她們姊妹互相對戰,每次都超精彩。
(Translated by Edward Jones, Taipei Times/台北時報張聖恩
Publication Notes
Language Tip 語文小提示
Grand Slam tournaments Grand Slam tournaments, also referred to as "majors," are the four most prestigious annual professional tennis tournaments in the world: the Australian Open, French Open, Wimbledon and US Open.
Comments will be moderated. Keep comments relevant to the article. Remarks containing abusive and obscene language, personal attacks of any kind or promotion will be removed and the user banned. Final decision will be at the discretion of the Taipei Times.