SPEAK UP ! 雙語會話
You can still eat what you want (1/5) 你想吃的還是可以吃(一)
A: You've been reading that for ages, and you're still on the same page? I'm already on to the next chapter!
B: I don't know what's up with me. I've read these sentences again and again many times, but it's just not going into my brain. I keep nodding off.
A: Could it be because you've just eaten?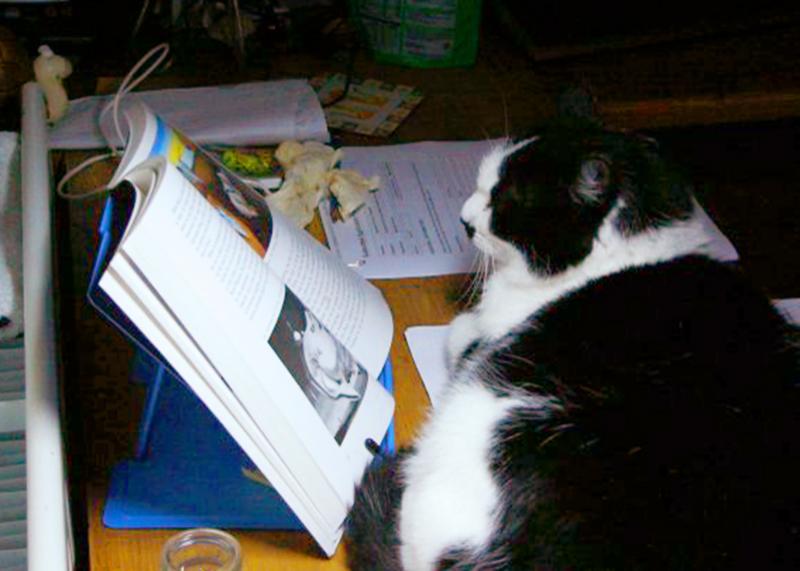 A cat reading a book. 看書的貓咪。
Photo: Lin Lee-kai, Taipei Times 照片:台北時報林俐凱
B: Perhaps. It's like every time I eat, my work efficiency and ability to read goes through the floor.
A: That's because your blood rushes to your stomach.
A: 你怎麼看了老半天,還是在這一頁啊?我已經看到下一章了耶!
B: 不知道怎麼搞的,這幾個句子我反反覆覆看了好多遍,可是它就是沒辦法輸入我的腦袋。我頭腦昏昏沉沉的。
A: 會不會是因為你剛吃飽啊?
B: 或許吧。好像我每次吃過飯,工作和讀書的效率都會變得很差。
A: 因為你的血液都跑到腸胃裡去了。
(Translated by Paul Cooper, Taipei Times /台北時報林俐凱)
Publication Notes
LANGUAGE TIP 語文小提示
Through the floor
To fall, decline or decrease rapidly and/or to a great extent
Comments will be moderated. Keep comments relevant to the article. Remarks containing abusive and obscene language, personal attacks of any kind or promotion will be removed and the user banned. Final decision will be at the discretion of the Taipei Times.