Restraining order to tackle revenge porn approved
NO CONSENT: Courts would be allowed to prohibit the remaking, dissemination, broadcast, delivery or publication of intimate images of a protected individual
The Legislative Yuan yesterday passed a bill allowing courts to issue restraining orders to prevent people from disseminating explicit images of a person without their consent, with provisions aimed at individuals and online service providers.
The bill, which amends the Domestic Violence Prevention Act (家庭暴力防治法), would allow courts to issue civil protection orders prohibiting the remaking, dissemination, broadcast, delivery or publication of intimate images of a protected individual.
Perpetrators would also be required to return any images to victims, and law enforcement officials can order them to delete the content if necessary.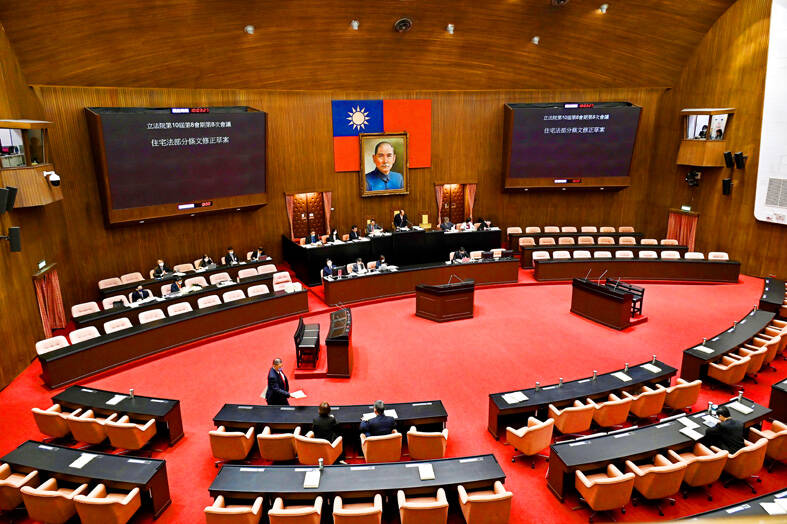 The legislative chamber at the Legislative Yuan in Taipei is pictured on Wednesday.
Photo: Tu Chien-jung, Taipei Times
Online service providers would be required to remove or restrict access to intimate images on their Web sites when they discover such content, or when they are informed about its existence by government agencies or law enforcement.
Any content to be deleted would have to be kept by service providers for 180 days while law enforcement officials investigate the incident.
If service providers contravene the law, they could be fined up to NT$600,000, the bill says.
The legislation would also require restraining orders — which normally have a two-year limit — to remain in effect until a court metes our a final ruling if they expire while efforts are being made to change or extend them.
Under current law, restraining orders are allowed to expire while a change or extension is being considered, leaving the person who asked for protection vulnerable.
The proposed amendments would also grant police permission to arrest abusive partners who do not live with the victim, as well as expand the scope of protective orders.
Under the amendment, if a current or former intimate partner physically harms or mentally abuses a victim, police would be allowed to arrest the perpetrator, even if they do not live together.
Regarding protective orders, the amendment expands their scope to prohibit abusers and their close family members from accessing information about a victim or their underage children.
The amendments would also allow for those who were abused by family members when they were minors to change their household registration and prohibit their immediate relatives from accessing their personal information, as long as certain criteria are met.
The amendments also provide same-sex partners the same protections by changing the definition of "in-laws" to refer to the relatives of each partner within four degrees of biological relation.
Comments will be moderated. Keep comments relevant to the article. Remarks containing abusive and obscene language, personal attacks of any kind or promotion will be removed and the user banned. Final decision will be at the discretion of the Taipei Times.