Anything possible after Ko meeting: Gou's campaign
Sunday's meeting between independent presidential candidate Terry Gou (郭台銘) and Taiwan People's Party (TPP) nominee Ko Wen-je (柯文哲) shows that anything — including a potential joint ticket between the two — is possible before Friday's candidate filing deadline, Gou's campaign said yesterday.
Huang Shih-hsiu (黃士修), a spokesman for Gou's campaign, made the comments to reporters about the hour-long meeting at Gou's home on Sunday night, one day after Ko's negotiations on forming a joint ticket with the Chinese Nationalist Party (KMT) hit a wall due to disputes over polling results.
Huang said that KMT Chairman Eric Chu's (朱立倫) dealings with Ko mirrored the "promise-breaking and breach of trust" Chu showed when Gou unsuccessfully sought the party's presidential nomination in May.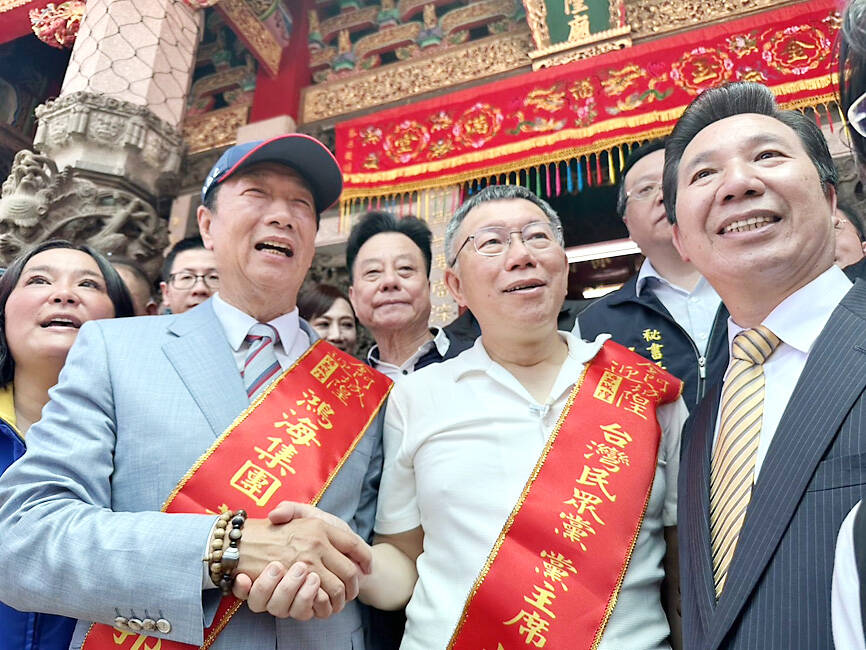 Independent presidential candidate Terry Gou, front left, shakes hands with Taiwan People's Party Chairman and presidential candidate Ko Wen-je during a religious event in Kinmen on May 30.
Photo: Wu Cheng-Ting, Taipei Times
Given those actions, "the KMT might be on its own" in January's election, Huang said.
Hon Hai Precision Industry Co (鴻海精密) founder Gou is preparing to register as an independent candidate, even as talks with Ko continue, and "any result is possible," he said.
Regarding the possibility of a Gou-Ko ticket, Huang said that Gou did not have "any preset opinions" on the matter, and that Gou or Ko could lead a joint ticket.
At a rally on Sunday, Ko sent mixed signals on whether he would continue seeking an alliance with the KMT, saying he would "extend utmost goodwill" to unite opposition parties, but is committed to "fight to the end" as the TPP's presidential candidate.
Regarding the meeting with Gou, a Ko campaign spokesperson was similarly vague, saying that the two had discussed ways to bring opposition candidates together.
The KMT, which has nominated New Taipei Mayor Hou You-yi (侯友宜) as its presidential candidate, has set tomorrow as its deadline for forming a joint ticket with Ko.
If that fails, both the KMT and TPP would have to quickly announce their running mates to register before the end of the week.
The candidates face Vice President William Lai (賴清德), the Democratic Progressive Party's presidential candidate, who has consistently led the field in opinion polls.
Lai yesterday announced Hsiao Bi-khim (蕭美琴), who recently resigned as representative to the US, as his running mate.
Comments will be moderated. Keep comments relevant to the article. Remarks containing abusive and obscene language, personal attacks of any kind or promotion will be removed and the user banned. Final decision will be at the discretion of the Taipei Times.