TSMC founder hopeful after Biden-Xi talks
MEET AND GREET: Morris Chang said he had 'many interactions' with Biden at the APEC summit, which were mostly social, while he also talked with top US officials
Taiwan Semiconductor Manufacturing Co (台積電) founder Morris Chang (張忠謀), who is representing Taiwan at the APEC summit in San Francisco, on Friday said he hoped that the meeting between US President Joe Biden and Chinese President Xi Jinping (習近平) helps reduce tensions between the two superpowers and in the region.
The meeting could also promote economic stability and reliable supply chains, Chang said.
"You don't have to be a leader to know that if there is no peace, there is no supply chain to start with," Chang told a news conference at the close of the APEC summit.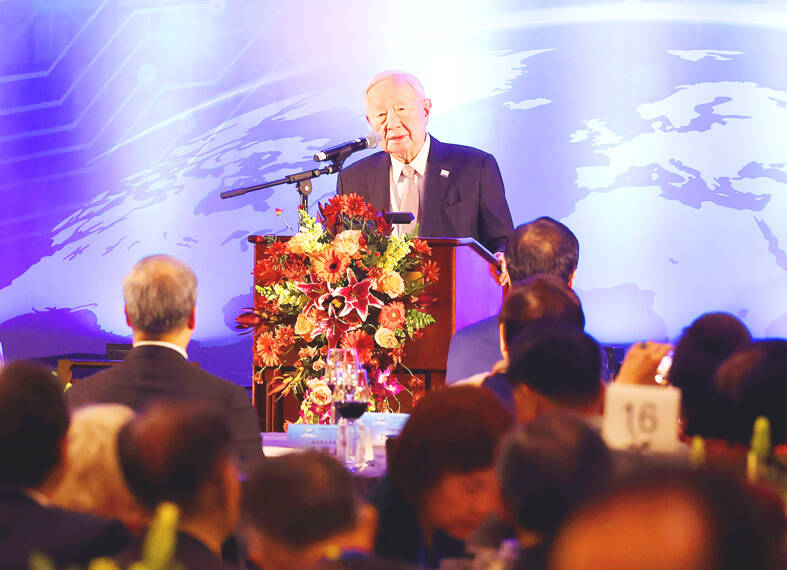 Taiwan Semiconductor Manufacturing Co founder Morris Chang speaks during a banquet on the last day of APEC Economic Leaders' Week in San Francisco on Friday.
Photo: CNA
Chang said the Biden-Xi meeting was a "good" one, pointing to their agreement to resume high-level military communications.
"It should help reduce the tensions between the US and China, and it should increase stability of Taiwan Strait," Chang said.
Tensions have flared in the past few years as Beijing increases military pressure on Taiwan.
It was a high priority when Xi and Biden met for four hours on Wednesday at an estate outside San Francisco in their first face-to-face meeting in a year.
Xi sought assurances from Biden that the US would not support Taiwanese independence and requested that Washington support China's peaceful annexation of Taiwan.
Biden urged Xi to refrain from military exercises in and around the Taiwan Strait, adding that Washington remains unchanged in its policy toward Taiwan and that it opposes any unilateral changes to the "status quo" from either side.
At Friday's news conference, Chang said that he had "many interactions" with Biden, but no formal talks, adding that he spoke with senior US officials, including US Vice President Kamala Harris, US Secretary of State Antony Blinken and White House National Economic Council Director Lael Brainard.
"My interactions with President Biden [were] of a social, in fact, I might say, humorous nature," Chang said.
"With [US] Secretary of State Antony Blinken, I mainly conveyed our strong desire for regional peace and prosperity, and also to some extent our very strong desire for increasing the supply resiliency," he said.
Chang said he also had discussions with at least half of the leaders of the 21 economies in the region on issues such as regional peace, economic development and supply chains, but that he did not have any exchanges with Xi.
Chang, representing President Tsai Ing-wen (蔡英文) at the APEC summit for the seventh time, said Tsai tasked him with sending the message to APEC that Taiwan is committed to regional peace and prosperity, and that it would work with its partners to control climate change, build more resilient supply chains and reduce the digital divide.
"I think I've done it — that I tried my best to convey the four messages," Chang said.
The 92-year-old first attended the annual APEC event in that role in 2006, during the administration of then-president Chen Shui-bian (陳水扁). Taiwan joined APEC in 1991 under the name "Chinese Taipei," but its presidents have been blocked by China from attending its leaders' summit.
Comments will be moderated. Keep comments relevant to the article. Remarks containing abusive and obscene language, personal attacks of any kind or promotion will be removed and the user banned. Final decision will be at the discretion of the Taipei Times.