Retired colonel gets 20-year term for spying
SIX CONVICTED: Five others, mainly active-duty officers, were also found guilty, with their sentences among the most stringent for espionage in the past few years
The Kaohsiung Branch of the High Court yesterday found retired air force colonel Liu Sheng-shu (劉聖恕) guilty of operating an espionage network for China, handing him a 20-year prison term.
The verdict is subject to appeal.
Five of Liu's six codefendants — a group consisting mainly of active-duty military officers ranked major to colonel — also received guilty verdicts with sentences ranging from six months to 20 years and six months.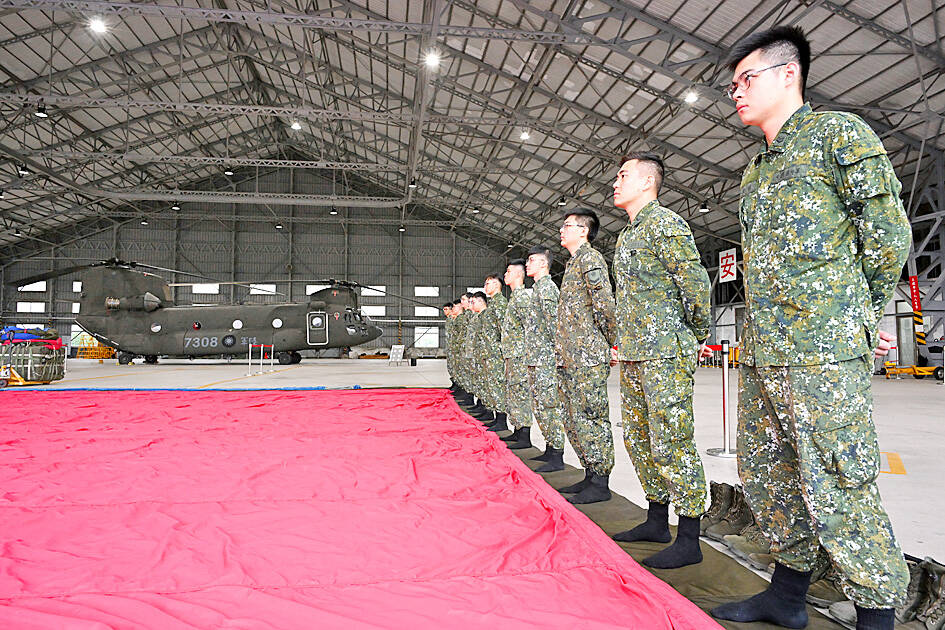 Military personnel stand at attention in a hangar at the Songshan Air Force Base in Taipei on Oct. 3.
Photo: Tien Yu-hua, Taipei Times
The sentences were some of the heaviest imposed on military service members implicated in espionage-related crimes in the past few years, Chinese-language media reported.
The court said that Liu had contravened the Classified National Security Information Act (國家機密保護法) from 2013 through 2021.
In 2013, Liu visited China on a business trip and was approached by members of Beijing's intelligence services, who convinced him to collect intelligence on the Taiwanese armed forces, the court said.
Under instructions from his handlers, Liu recruited informants in the nation's military and stole secrets, while one or more shell corporations were created to disguise payments he received from China, it said.
Military officers compromised in the scheme include a female major surnamed Liu (劉), who was sentenced to 20 years and six months, and a lieutenant colonel surnamed Sun (孫), who was sentenced to 19 years and six months.
A major surnamed Kung (龔) received a sentence of three years and six months, a major surnamed Deng (鄧) was sentenced to two years and a man surnamed Lin (林) received a six-month sentence.
Another major among those indicted, surnamed Liu (劉), was acquitted of all charges.
A major surnamed Cheng (鄭), who was formerly posted at the Songshan Air Force Base in Taipei, which the presidential airplane utilizes, is being tried separately.
Cheng has pled guilty to all charges and was released on bail as he awaits sentencing.
The first trial of a case is typically held at a district court, but the High Court claimed authority over Liu Sheng-shu's case due to the possibility of classified information being disclosed in court.
In January, the Kaohsiung District Prosecutors' Office took Liu Sheng-shu and three other officers into custody and placed them in pre-trial detention, while three others were granted bail.
Prosecutors closed the investigation three months later and moved the case to trial.
Kung pled guilty and Cheng's case was separated at about that time.
Comments will be moderated. Keep comments relevant to the article. Remarks containing abusive and obscene language, personal attacks of any kind or promotion will be removed and the user banned. Final decision will be at the discretion of the Taipei Times.