Taiwanese bag three more golds at Asian Games
Taiwanese athletes yesterday bagged three more gold medals at the Asian Games in Hangzhou, China, with wins in the men's and women's 3,000m speedskating relay and the men's individual 1,000m canoe event.
In speedskating, the women's team, comprising Liu Yi-hsuan (劉懿萱), Li Meng-chu (李孟竹), Yang Ho-chen (楊合貞) and Shih Pei-yu (施沛妤), defeated South Korea and India in a time of 4 minutes, 19.447 seconds.
The men's team, made up of Chao Tsu-cheng (趙祖政), Huang Yu-lin (黃玉霖), Chen Yan-cheng (陳彥成) and Ko Fu-shiuan (柯福軒) also won gold by defeating South Korea and India with a time of 4:19.950.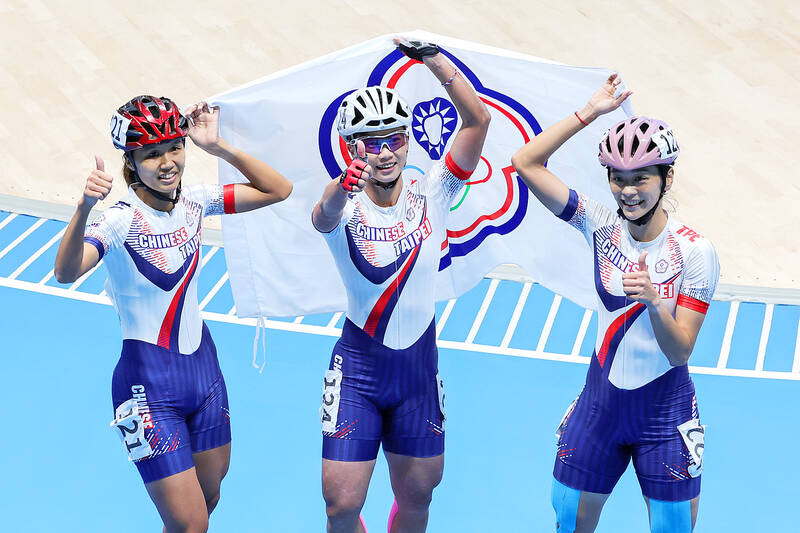 From left, Taiwan's Li Meng-chu, Yang Ho-chen and Liu Yi-hsuan celebrate after winning gold in the Asian Games women's speedskating 3,000m relay race G1 final in Hangzhou, China, yesterday.
Photo: CNA
The win was somewhat dramatic as South Korea were leading the way when Jung Cheol-won lifted his arms anticipating a victory as the finish line approached, but did not realize Huang was closing in. Taiwan beat South Korea by 0.01 seconds.
Meanwhile, Lai Kuan-chieh (賴冠傑) won a gold medal for Taiwan in the men's canoe single 1,000m final.
In weightlifting, held back by multiple injuries, Olympic weightlifting champion Kuo Hsing-chun (郭婞淳) was unable to defend her 2018 Asian Games title and settled for bronze in the women's 59kg weight class.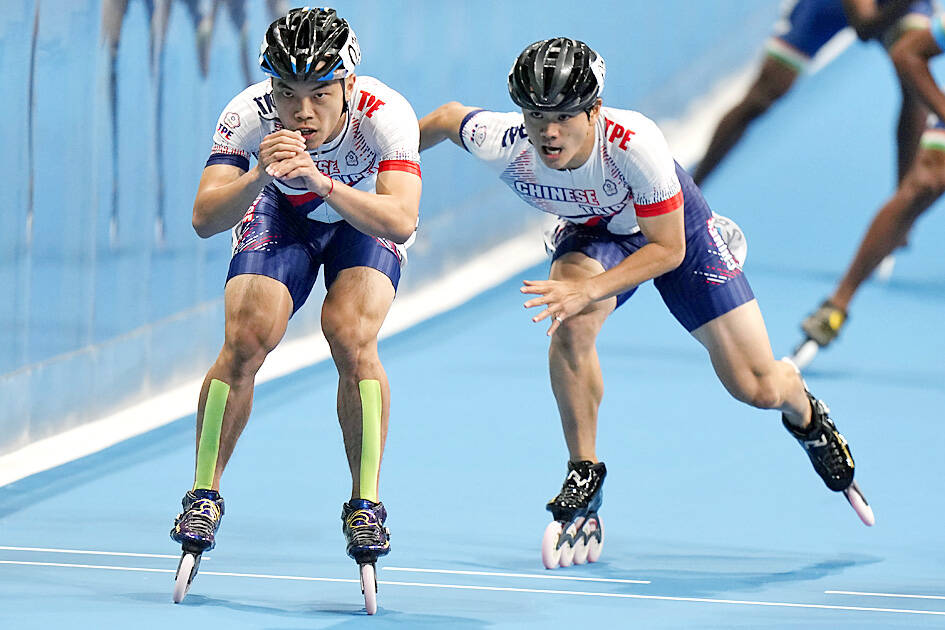 Taiwan's Chao Tsu-cheng, left, and Chen Yan-cheng compete in the Asian Games men's speedskating 3,000m relay G1 final in Hangzhou, China, yesterday.
Photo: AP
The 29-year-old Taiwanese entered yesterday's competition with a back injury from earlier this year and also hurt her right thigh while warming up, she said after the event.
Clearly not at her best, she lifted 101kg in the snatch and 126kg in the clean and jerk for a combined 227kg.
Her combined lift was 4kg lighter than the 231kg she posted at the World Weightlifting Championships in Saudi Arabia earlier this month, where she finished fourth.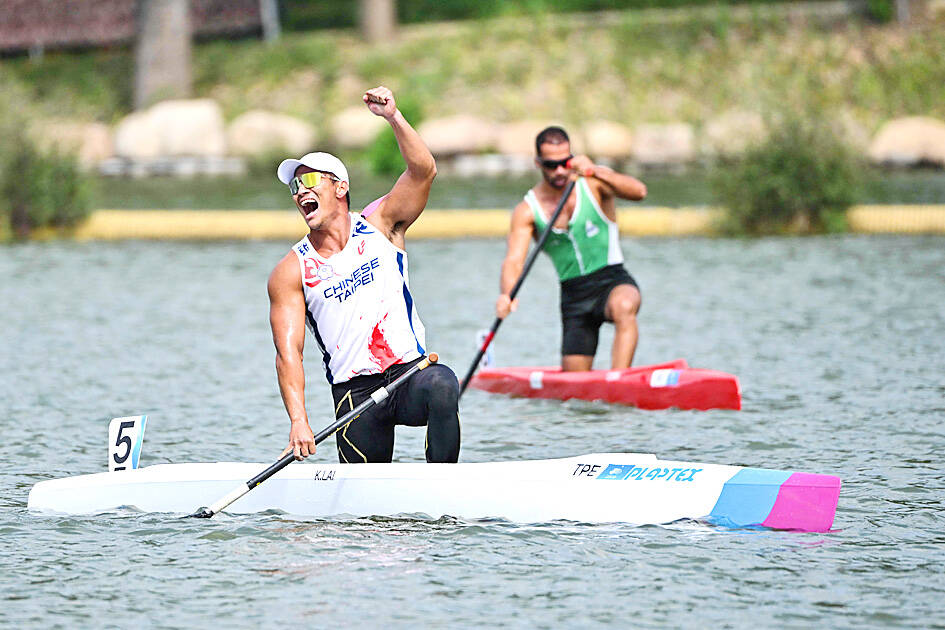 Taiwan's Lai Kuan-chieh celebrates after winning the Asian Games men's canoe single 1,000m final in Wenzhou, China, yesterday.
Photo: AFP
Kim Il-gyong of North Korea won the gold medal with a combined weight of 246kg, consisting of a world record snatch of 111kg and a clean and jerk of 135kg, to continue a stunning performance by the North Korea team in Hangzhou
Taiwanese sprinter Yang Chun-han (楊俊瀚) won bronze in the men's 200m to score Taiwan's first athletics medal at this year's games.
The 26-year-old edged out Qatar's Femi Ogunode, who was born in Nigeria, by 0.01 seconds to finish third in 20.74 seconds.
Taiwan's softball team defeated the Philippines 3-2 to win the bronze medal in softball yesterday.
The victory kept Taiwan's streak alive of medaling in every Asian Games softball competition since the sport became an official Asian Games event in 1990.
Taiwan's e-sports team on Sunday night also won a bronze medal in a modified version of the video game PUBG Mobile.
In the event, four-person teams competed in four rounds of the game's newly released "off-road racing" mode, in which competitors race and pass checkpoints where they can shoot at targets for additional points.
The tournament did not feature the game's "battle royale" mode, as it was thought that having players shooting at each other was contrary to "Olympic values," media outlets reported.
This year marks the first time the Asian Games have featured e-sports competitions.
Other e-sport categories include League of Legends, Street Fighter V: Champion Edition and EA Sports FC Online.
Comments will be moderated. Keep comments relevant to the article. Remarks containing abusive and obscene language, personal attacks of any kind or promotion will be removed and the user banned. Final decision will be at the discretion of the Taipei Times.