Prosecutors indict four on 2,800 charges in cyberscam case
Prosecutors have indicted four people on more than 2,800 charges linked to an alleged cyberscam operation in which people were kidnapped and beaten, with three people dying.
Tu Cheng-che (杜承哲), the suspected leader of a criminal ring, faces 705 counts, while Hsueh Lung-ting (薛隆廷), Wang Yu-chieh (王昱傑) and Hong Chun-chieh (洪俊杰) face 702 counts each, the Shilin District Prosecutors' Office said on Tuesday.
The total of 2,811 counts is the highest indictment figure in a single fraud case in Taiwan's prosecutorial history, investigators said.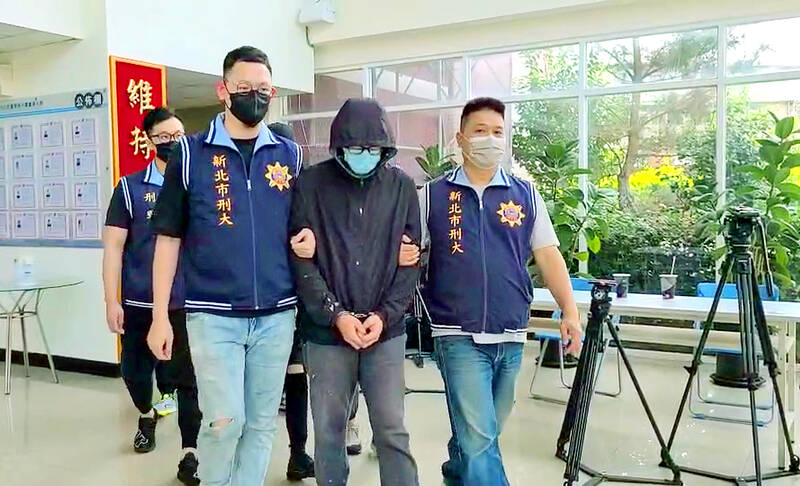 Tu Cheng-che, center, a suspect in a cyberscam case, is escorted by New Taipei City Criminal Investigation Corps personnel in an undated photograph.
Photo: Hsu Sheng-lun, Taipei Times
Police in November last year raided two locations in New Taipei City's Tamsui District (淡水) and Taoyuan, where they found 61 people who were handcuffed in guarded rooms.
Three had died after apparent beatings, while others had been subjected to electrical shocks or forced to take sedatives to prevent them from fleeing, police said at the time.
The people held against their will had been promised high-paying jobs, police said.
Investigators said that the ring operated investment scams, with 246 people losing an estimated NT$397 million (US$12.31 million).
Prosecutors said that Tu apparently used the bank accounts of the captured people to conceal flows of cash.
Hsueh, Wang and Hong were each indicted on one count of engaging in organized crime, three counts of assaulting people causing death, 50 counts of aggravated larceny, 56 counts of drugging people, 58 counts of illegal confinement, 267 counts of colluding to defraud and 267 counts of money laundering.
Tu faces the same list of charges in addition to three count of abandonment of a corpse.
In an earlier series of indictments this year, 29 people — including Chen Hua-wei (陳樺韋) and Fu Yu-lin (傅榆藺) — were charged with fraud, illegal confinement, assault causing death and other criminal offenses.
Judicial officials said that amended provisions of the Crime Victim Rights Protection Act (犯罪被害人權益保障法) would be applied to provide compensation of NT$1.8 million to the families of the three people who died, along with NT$800,000 to NT$1.6 million for those who sustained serious injuries and up to NT$400,000 for women who were sexually assaulted.
Shilin prosecutors said that because the case would take a long time due to the high number of suspects and victims, and the volume of material that has been seized, it would not be handled by a citizen judge court.
Comments will be moderated. Keep comments relevant to the article. Remarks containing abusive and obscene language, personal attacks of any kind or promotion will be removed and the user banned. Final decision will be at the discretion of the Taipei Times.