US oversaw PAC-3 missile drill: source
PALAU LAUNCHES: The source said that Taiwanese military personnel traveled to Palau, where a US brigade watched their work amid plans for a defense network
The military last month participated in live-fire launches of MM-104F Patriot (PAC-3) missiles under US observation in an undisclosed location in Palau, a step forward in a US-led plan to create a joint defense missile system in the first island chain, a source said on condition of anonymity.
The PAC-3 is the mainstay surface-to-air missile of the US, NATO and democratic nations in East Asia, the source said, adding that it has never been live-tested within Taiwan's borders, the source said.
The proximity of Taiwan to China and China's close surveillance of the nation's borders and nearby sea zones is a significant reason for the lack of tests near Taiwan, the source said.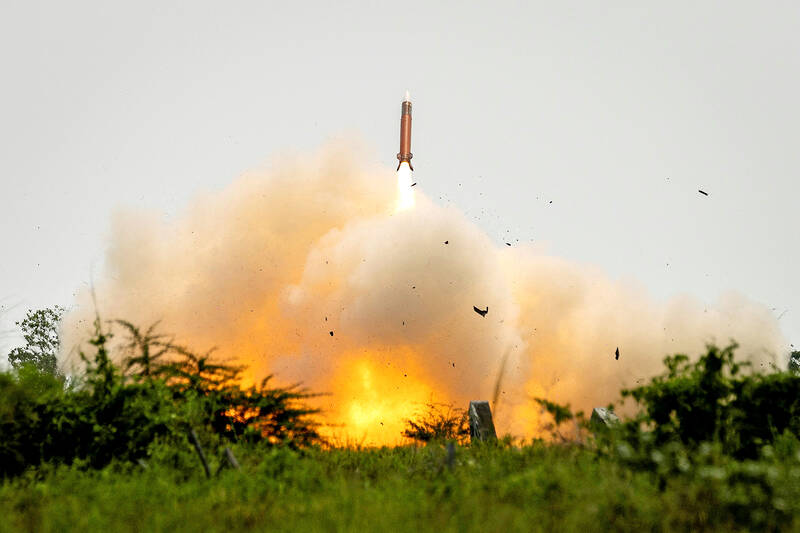 A Patriot missile is launched during a US-Philippine exercise in San Antonio, Philippines, on April 25.
Photo: Reuters
Japan faces similar restrictions, the source added.
Most tests involving PAC-3 missiles are conducted in the White Sands Missile Range in New Mexico, they said.
The US is creating a joint missile defense network in the first island chain and for the past few years has been conducting live-fire PAC-3 missile exercises on islands in the Pacific Ocean bordering the East Asia region, the source said.
The exercises in Palau and elsewhere include missile forces from third nations alongside US troops stationed in Japan and elsewhere, they said.
US military officials stationed in Japan on July 17 stated that missile exercises were to be held in Palau, the source said.
The exercises were based at Roman Temtuchl International Airport on Palau's main island and conducted by the US Army's 38th Air Defense Artillery Brigade, which is stationed at Sagame General Depot in Sagamihara, Japan, they said.
The brigade successfully used the PAC-3s to intercept drones during the exercise, the second conducted in Palau by the 38th Brigade, the source said.
The brigade observed as exercises involving Taiwanese military personnel were conducted last month, they said.
Taiwan transported missile corps to Palau using C-130 Hercules, while the PAC-3 systems they used were brought in from Taiwan or were equipment Taiwanese forces had trained on in the US, they said.
The military had not commented on the report as of press time last night.
Comments will be moderated. Keep comments relevant to the article. Remarks containing abusive and obscene language, personal attacks of any kind or promotion will be removed and the user banned. Final decision will be at the discretion of the Taipei Times.