Taiwanese press members denied Games access
Photographers from two Taiwanese media firms yesterday were denied permission to cover the Asian Games opening ceremony in Hangzhou, China, for unknown reasons, Taiwan's national Olympic committee said.
Photojournalists from Chinese-language newspaper the Liberty Times (sister paper of the Taipei Times) and social media news portal ETtoday were unable to obtain media credentials for the event, the committee spokesperson said yesterday.
"[The committee] made an inquiry to the Olympic Council of Asia, which simply replied the applications were rejected, without providing further details," the committee said.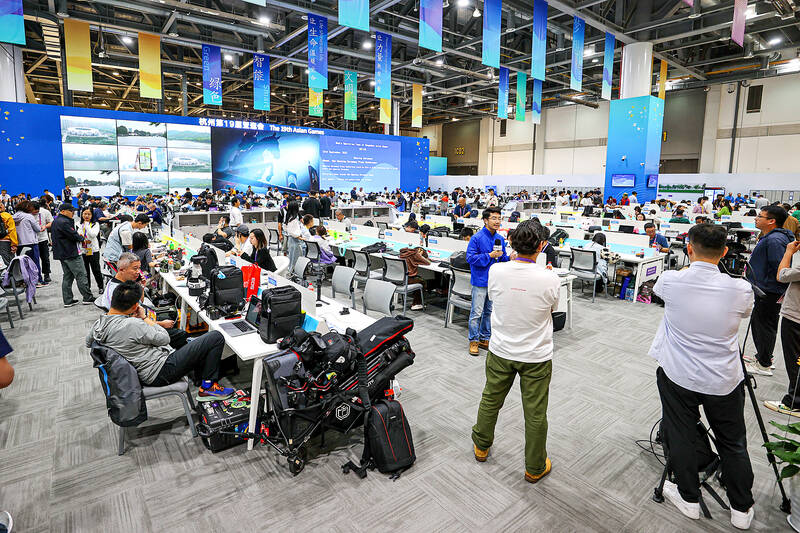 Reporters are pictured at the main media center for the Asian Games in Hangzhou, China, yesterday.
Photo: CNA
Other reporters from the two media firms received press passes for the opening ceremony, the sources said.
The Sports Administration said that politics might have been involved, and it would ask the committee to continue communicating with Games organizers to "have the Asian Games go back to being a pure sporting event and not be tainted by politics."
REGULATIONS CHANGED
Changes were made this year to obtaining press credentials for the Asian Games' opening and closing ceremonies, with media firms required to apply individually, Taiwanese sports officials said.
Previously, Games organizers allocated a certain number of press passes to each country's Olympic committee for distribution, officials said.
A total of 27 press credentials were allocated to Taiwanese media this year, which was "the highest number among all countries," the committee said.
The committee said it is unlikely that politics played a factor in the rejection of press pass applications, and that it hoped people would not "read politics [into the situation] too much."
A Taiwanese delegation — featuring athletes, coaches and support staff — attended yesterday's opening ceremony.
Comments will be moderated. Keep comments relevant to the article. Remarks containing abusive and obscene language, personal attacks of any kind or promotion will be removed and the user banned. Final decision will be at the discretion of the Taipei Times.