PLA activity 'abnormal,' ministry says
AMPHIBIOUS EXERCISES: The defense ministry said that it had detected 24 Chinese PLA Air Force planes entering Taiwan's air defense zone over the previous 24 hours
Chinese movements around Taiwan were "abnormal," Minister of National Defense Chiu Kuo-cheng (邱國正) said yesterday, flagging recent amphibious exercises in addition to drills Taipei has observed in China's Fujian Province.
Taiwan has reported a rise in Chinese military activity over the past week as dozens of fighters, drones, bombers and other aircraft, as well as warships, have operated around the nation.
"Our initial analysis is that they are doing joint drills in September, including land, sea, air and amphibious," Chiu told reporters at the legislature in Taipei.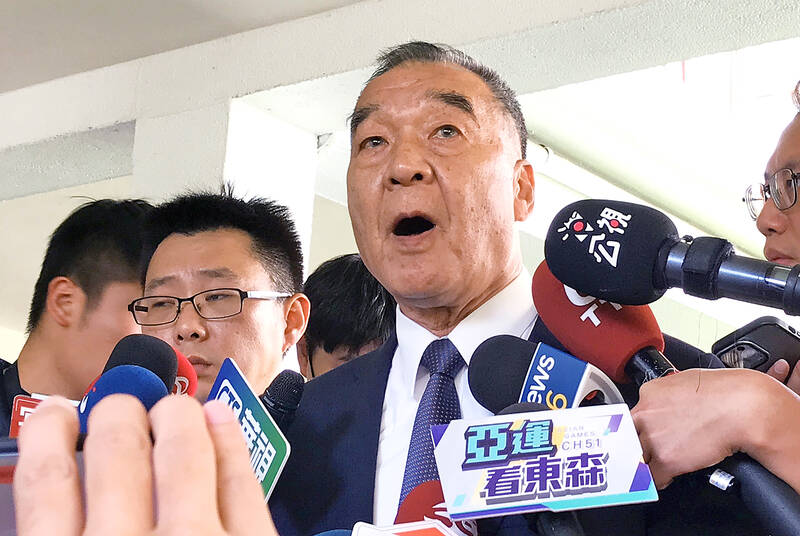 Minister of National Defense Chiu Kuo-cheng speaks to reporters in at the legislature Taipei yesterday.
Photo: Liu Hsin-de, Taipei Times
The "recent enemy situation is quite abnormal," he said.
The comments followed a statement from the ministry on Thursday that it was keeping watch on Chinese activities near Dacheng Bay in Fujian Province.
Taiwan security sources said that China performs landing drills in the bay area.
China has not said anything about the drills around Taiwan, and its defense ministry did not respond to two requests for comment.
Chiu said releasing the information about Dacheng Bay was in line with his ministry's principle of telling people what was happening.
China carried out landing drills in Dacheng Bay in September last year and the year before that, said Chieh Chung (揭仲), a military researcher at the National Policy Foundation think tank.
Those exercises featured civilian ships with equipment practicing "dockless unloading," to simulate a situation in which they might need to land after port facilities are knocked out of action or destroyed, Chieh said.
However, China would be hard-pressed to carry out a frontal, amphibious invasion of Taiwan, given geographic difficulties, a senior US defense official told the US Congress on Tuesday.
Last week, China also dispatched more than 100 naval ships on regional exercises, in areas such as waters in the South China Sea and off Taiwan's northeast coast, a regional security official said on condition of anonymity.
China traditionally performs large-scale exercises from July to September, the Ministry of National Defense has said.
Yesterday, the ministry said that it had detected 24 Chinese People's Liberation Army (PLA) Air Force planes entering Taiwan's air defense zone over the previous 24 hours, with at least 17 crossing the median line of the Taiwan Strait, as shown on a map it published.
Another security source told reporters, also on condition of anonymity, that China was likely seeking to wear out Taiwan's military with constant missions so close to Taiwan, especially with longer flights along the median line than before.
"China is seeking to normalize these activities and push Taiwan into a corner," the source said, adding that it risk a miscalculation if Chinese ships or aircraft got too close and Taiwan opened fire.
Taiwan has frequently said that it would remain calm and not escalate the situation, but that it would not allow "repeated provocations" from China, the source said.
Comments will be moderated. Keep comments relevant to the article. Remarks containing abusive and obscene language, personal attacks of any kind or promotion will be removed and the user banned. Final decision will be at the discretion of the Taipei Times.