ASEAN nations hold first joint navy drills near disputed South China Sea
ASEAN nations yesterday began their first joint naval exercise at a time when several members are responding more strongly to increasing Chinese assertiveness in the area.
The non-combat drills, named ASEAN Solidarity Exercise, include joint maritime patrol operations, search-and-rescue operations, and humanitarian and disaster relief, Indonesian military chief Admiral Yudo Margono said.
He said the five-day exercise in Indonesia's Natuna waters aims to boost military ties among ASEAN nations and enhance interoperability. The drills also involve civilian groups involved in humanitarian relief and disaster prevention.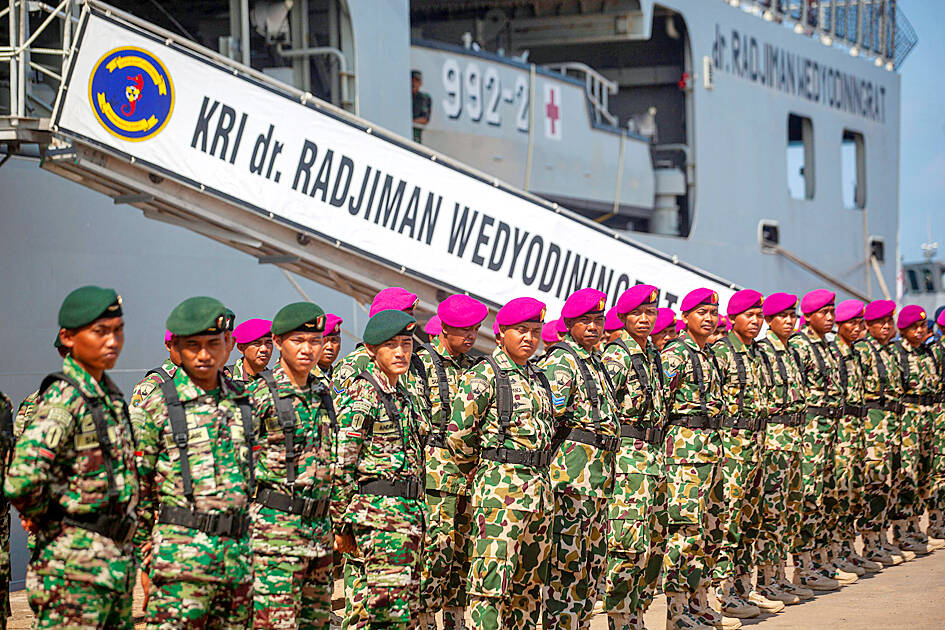 Military personnel attend the opening ceremony of the ASEAN Solidarity Exercise at Batu Ampar port on Batam island, Indonesia, yesterday.
Photo: Antara Foto / Teguh Prihatna / via Reuters
ASEAN nations have taken part in naval exercises before with other countries — including both the US and China — but this week's drills are the first involving just the bloc and are being read by many as a signal to China.
China's "nine-dash line," which it uses to demarcate its claim to most of the South China Sea, has brought it into tense standoffs with rival claimants Taiwan, Vietnam, Malaysia, Brunei and the Philippines, with Chinese fishing boats and military vessels becoming more aggressive in the disputed waters.
The line also overlaps with a section of Indonesia's exclusive economic zone extending from the Natuna Islands. Margono initially said the exercises would take place in the North Natuna Sea at the edge of the South China Sea, a fault line in the rivalry between the US and China, following meetings of ASEAN defense officials in Bali, Indonesia, in June.
However, Indonesia, which holds the rotating chair of ASEAN this year, decided to move the drills to the South Natuna Islands, away from the disputed area, apparently to avoid any reaction from Beijing.
China and ASEAN signed a nonbinding 2002 accord that called on rival claimant nations to avoid aggressive actions that could spark armed conflicts, including the occupation of barren islets and reefs, but breaches have persisted.
China has come under intense criticism for its militarization of the South China Sea, but says it has the right to build on its territories.
"Those who carry out any exploration or activities in that area must not violate state territory," Margono said after an opening ceremony for the exercise attended by ASEAN military leaders on Batam island next to Singapore. "That has been clearly regulated by the United Nations Convention on the Law of the Sea."
Asked whether ASEAN was sending a stronger message against China's competing territorial claims in the South China Sea, Margono replied: "We have had a firm stance."
He told reporters that ASEAN has agreed to hold military exercises annually.
In the future, they would be expanded to full war drills involving the army, navy and air force, he said.
Comments will be moderated. Keep comments relevant to the article. Remarks containing abusive and obscene language, personal attacks of any kind or promotion will be removed and the user banned. Final decision will be at the discretion of the Taipei Times.