Climate protesters in NY demand end to fossil fuels
Tens of thousands of people took to the streets of New York on Sunday, calling for increased action against climate change ahead of the opening of the UN General Assembly.
Taking up multiple city blocks, protesters from about 700 organizations and activist groups carried signs reading "Biden, end fossil fuels," "Fossil fuels are killing us" and "I didn't vote for fires and floods" in a demonstration that came on the heels of a summer marked by multiple climate change-linked disasters.
US President Joe Biden is among the world leaders set to attend the UN General Assembly, which formally opens today.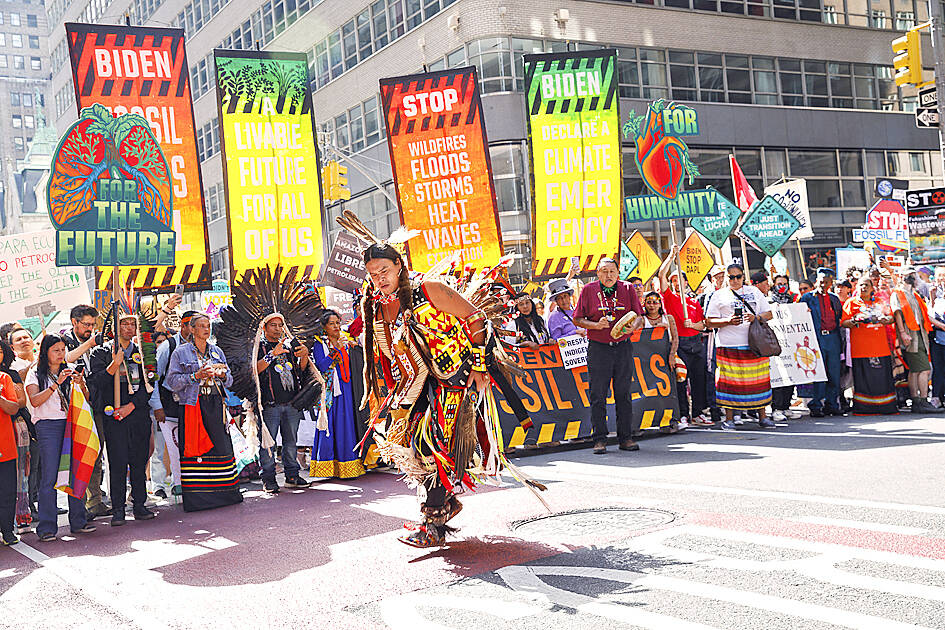 A protester performs at the March to End Fossil Fuels on Sunday in New York.
Photo: AP
"We are here to demand that the administration declare a climate emergency," said Analilia Mejia, director of the activist group Center for Popular Democracy. "We must wake up and take immediate action."
A UN climate report released this month named 2025 as the deadline for global greenhouse gas emissions to peak — followed by a sharp drop thereafter — if humanity is to cap global warming in line with Paris Agreement targets.
The 2015 Paris treaty has successfully driven climate action, but "much more is needed now on all fronts," the report said.
Achieving net zero carbon emissions by 2050 — another Paris goal — would also require phasing out the burning of all fossil fuels whose emissions cannot be captured or compensated.
Another activist, Nalleli Cobo, 22, said she would like to see political leaders "come to my house" in California and "spend the night living next to an oil and gas well."
Biden has made a historic push for green manufacturing, offering billions of dollars for clean energy projects, but some young activists say he has not acted forcefully enough to lead the US off its dependence on fossil fuels.
UN Secretary-General Antonio Guterres has organized a Climate Ambition summit for tomorrow at which he hopes to accelerate the ongoing work to counter climate change by governments, private-sector organizations and financial institutions.
Comments will be moderated. Keep comments relevant to the article. Remarks containing abusive and obscene language, personal attacks of any kind or promotion will be removed and the user banned. Final decision will be at the discretion of the Taipei Times.