Ministry to offer IC design subsidies
DEVELOPMENT PLAN: For many small and medium-sized IC design companies, developing advanced nodes such as 16 and 14 nanometers poses a considerable burden on their finance and it requires government subsidies, officials said
The nation's small and medium-sized IC design companies are to receive subsidies from the Ministry of Economic Affairs to develop chips more advanced than 28-nanometer nodes, the Central News Agency (CNA) reported on Sunday, citing sources from the Industrial Development Bureau.
As part of the government's 10-year plan to develop Taiwan into a pivotal hub for IC design with a significant presence in the global market by 2033, the ministry plans to allocate NT$800 million (US$25.06 million) to subsidize local small and medium-sized IC design firms, the report said.
Companies might receive a maximum subsidy of 50 percent of what they request to focus on artificial intelligence, smart vehicle or other high-performance chips, it said.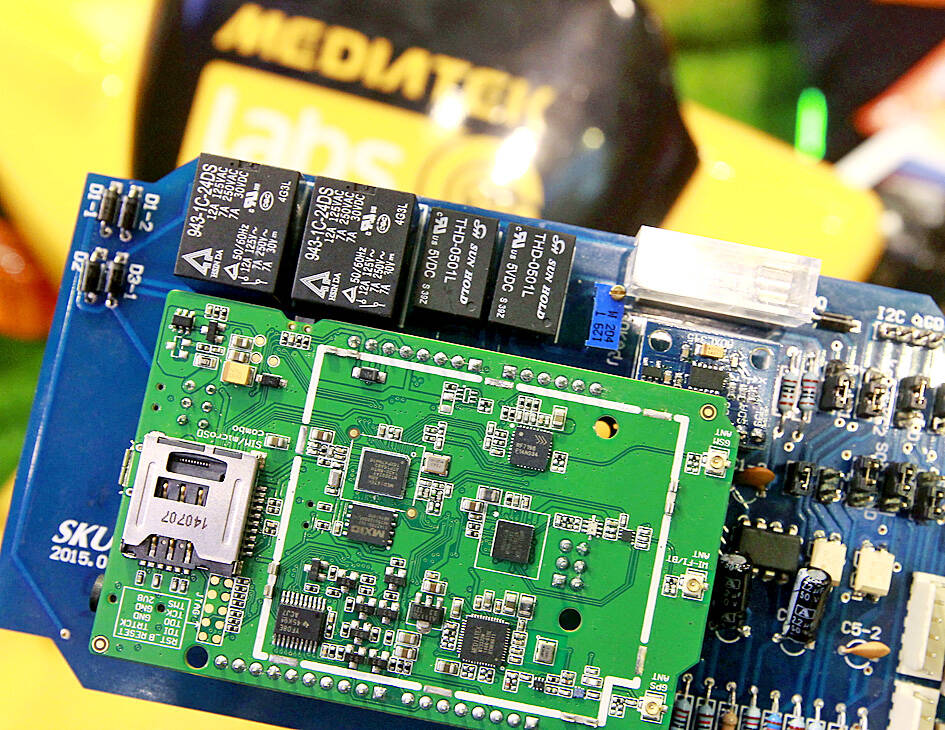 MediaTek chips are seen on a development board at the MediaTek booth during the 2015 Computex exhibition in Taipei on June 3, 2015.
Photo: Pichi Chuang,Reuters
In addition to well-known IC designers such as MediaTek Inc (聯發科), Realtek Semiconductor Corp (瑞昱) and Novatek Microelectronics Corp (聯詠), there are about 200 small and medium-sized IC design companies in Taiwan, according to the bureau.
Detailed application terms are still under discussion within government agencies, which are expected to be announced early next year, the report said.
The plan needs to be reviewed and approved by the Executive Yuan, and the ministry aims to launch it next year, it said.
The US last year imposed strict controls on exports of chips more advanced than 28 nanometers to China for 10 years, a move that experts said would lead China to focus on mature technologies like 28 and 40-nanometer nodes.
Taiwan's small and medium-sized IC design companies are likely to face a price war from their Chinese peers, as local firms' main business focus is 28-nanometer technology at present, with only a few having the capability to develop 16-nanometer chips, bureau officials said.
For many small and medium-sized IC design companies, developing advanced nodes such as 16 and 14 nanometers poses a considerable burden on their finance, costing more than NT$100 million and warranting subsidies from the government, bureau officials said.
In March, MediaTek chairman Rick Tsai (蔡明介) said the government should pay more attention to IC design companies instead of semiconductor makers and called on policymakers to propose at least NT$10 billion to assist the local IC design industry in view of rising competition from China.
The National Science and Technology Council last month unveiled a 10-year initiative aiming to increase local IC design companies' global market share to 40 percent by 2033 and to achieve an 80 percent global market share for advanced semiconductors of 7 nanometers or below. The council is planning a budget of NT$12 billion for the initiative next year.
Comments will be moderated. Keep comments relevant to the article. Remarks containing abusive and obscene language, personal attacks of any kind or promotion will be removed and the user banned. Final decision will be at the discretion of the Taipei Times.