US says Chinese defense chief under investigation
The US government believes that Chinese Minister of National Defense Li Shangfu (李尚福) is the subject of an investigation by Beijing and has been relieved of his duties, the Financial Times reported on Thursday, citing US officials.
The report came shortly before US Ambassador to Japan Rahm Emmanuel wrote on social media that Li "hasn't been seen or heard from in 3 weeks," and that the minister might have been placed under house arrest.
It is the latest sign of potential turmoil in Beijing after former Chinese minister of foreign affairs Qin Gang (秦剛) inexplicably disappeared and was ousted from his post in July.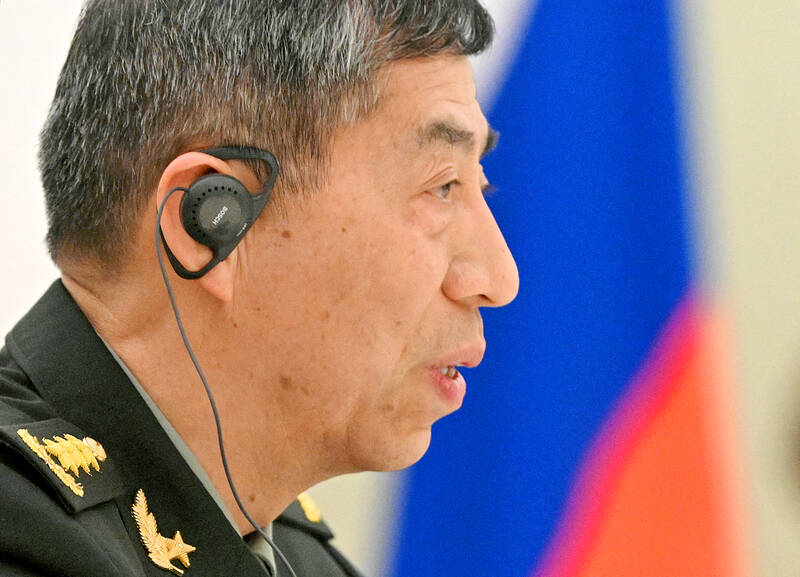 Chinese Minister of National Defense Li Shangfu attends a meeting in Moscow on April 16.
Photo: Reuters
China in July also replaced the leadership of its Rocket Force, the army unit that oversees its nuclear arsenal, with its former commander Li Yuchao (李玉超) not seen in public for weeks before the change.
The Financial Times reported that three US officials as well as two people briefed on intelligence said the US had determined Li had been stripped of his duties as minister.
It was not clear what made the administration of US President Joe Biden conclude that Li was under investigation.
The White House had not publicly addressed the matter.
Li last month traveled to Russia to attend a security conference near Moscow on Aug. 15. Two days later, the government of Belarus released handout photographs of Li meeting with Belarusian President Alexander Lukashenko in Minsk.
Li has refused to hold meetings with US counterparts until Washington lifts sanctions on him, imposed by then-US president Donald Trump in 2018 for his procurement of Russian military technology.
The latest apparent removal of an elite Chinese official from public view led Emmanuel, who has been openly critical of Chinese President Xi Jinping (習近平), to fuel speculation about the issue on Thursday last week and again a week later.
"President Xi's cabinet lineup is now resembling Agatha Christie's novel And Then There Were None. First, Foreign Minister Qin Gang goes missing, then the Rocket Force commanders go missing, and now Defense Minister Li Shangfu hasn't been seen in public for two weeks," Emmanuel wrote on X last week, using the hashtag #MysteryInBeijingBuilding.
On Thursday, he asked whether Beijing authorities have restricted Li's movements.
"1st: Defense Minister Li Shangfu hasn't been seen or heard from in 3 weeks. 2nd: He was a no-show for his trip to Vietnam," he wrote on his official ambassador account. "Now: He's absent from his scheduled meeting with the Singaporean Chief of Navy because he was placed on house arrest???... Might be getting crowded in there."
Comments will be moderated. Keep comments relevant to the article. Remarks containing abusive and obscene language, personal attacks of any kind or promotion will be removed and the user banned. Final decision will be at the discretion of the Taipei Times.