UK resists calls to label China a threat after spy claims
REFUTATIONS: The alleged spy for China said that he is 'completely 'innocent,' while a Beijing spokesperson called the claims a 'malicious smear'
The British government yesterday resisted calls to label China a threat to the UK following a revelation that a researcher in parliament was arrested earlier this year on suspicion of spying for Beijing. China branded the allegation of espionage a "malicious smear."
British Secretary of State for Business and Trade Kemi Badenoch said that Britain should avoid calling China a "foe" or using language that could "escalate" tensions.
"China is a country that we do a lot of business with," Badenoch told Sky News. "China is a country that is significant in terms of world economics. It sits on the UN Security Council. We certainly should not be describing China as a foe, but we can describe it as a challenge."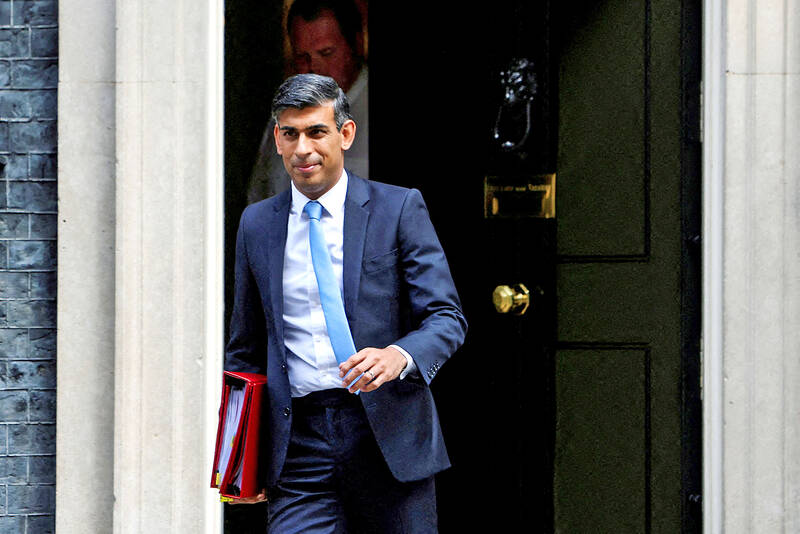 British Prime Minister Rishi Sunak leaves his Downing Street office in London on Wednesday last week.
Photo: Reuters
British Prime Minister Rishi Sunak's spokesman, Max Blain, said that it was wrong to reduce the UK's approach to China "just to one word."
"We need to take the opportunity to engage with China, not to just shout from the sidelines," Blain said.
Tensions between Britain and China have risen in the past few years over accusations of economic subterfuge, human rights abuses and Beijing's crackdown on civil liberties in the former British colony of Hong Kong.
Under Britain's new National Security Act, if China were officially labeled a threat, anyone working "at the direction" of Beijing or for a state-linked firm would have to register and disclose their activities or risk jail.
Conservative hawks renewed their calls for a tougher stance after the Metropolitan Police force confirmed over the weekend that a man in his 20s and a man in his 30s were arrested in March under the Official Secrets Act. Neither has been charged, and both were released on bail until next month pending further inquiries.
The Sunday Times reported that the younger man was a parliamentary researcher who worked with senior Conservative lawmakers and held a pass that allowed full access to the Parliament buildings.
The researcher, whom police have not publicly named, maintained in a statement released by his lawyers yesterday that he is "completely innocent."
"I have spent my career to date trying to educate others about the challenge and threats presented by the Chinese Communist Party," the researcher said in the statement. "To do what has been claimed against me in extravagant news reporting would be against everything I stand for."
Chinese Ministry of Foreign Affairs spokesperson Mao Ning (毛寧) said "the so-called Chinese espionage activity in the UK is non-existent. We urge the British side to stop spreading false information and stop its anti-China political manipulation and malicious smear."
Sunak said he chided Chinese Premier Li Qiang (李強) over the alleged espionage when the two met on Sunday at a G20 summit in India.
Sunak told British broadcasters in New Delhi that he had expressed "my very strong concerns about any interference in our parliamentary democracy, which is obviously unacceptable."
Comments will be moderated. Keep comments relevant to the article. Remarks containing abusive and obscene language, personal attacks of any kind or promotion will be removed and the user banned. Final decision will be at the discretion of the Taipei Times.