China using AI to sway voters in Taiwan, US
MICROSOFT REPORT: Beijing's focus has moved away from sheer volume of posts to leveraging influencers with cultural and linguistic knowledge
China is suspected of using artificial intelligence (AI) on social media to sway Taiwanese and US voters, Microsoft said on Thursday, adding that Taiwan and the US are likely to remain the top two priorities for Chinese influence operations, particularly with elections in both nations next year.
China's state-affiliated hackers showed "continued interest" in Taiwan and the South China Sea in reflection of Beijing's strategic objectives, the research report said.
Chinese hacker groups Flax Typhoon and Charcoal Typhoon were identified as the most prominent entities targeting Taiwan, conducting attacks on education, telecommunications, information technology, energy infrastructure and high-tech manufacturing.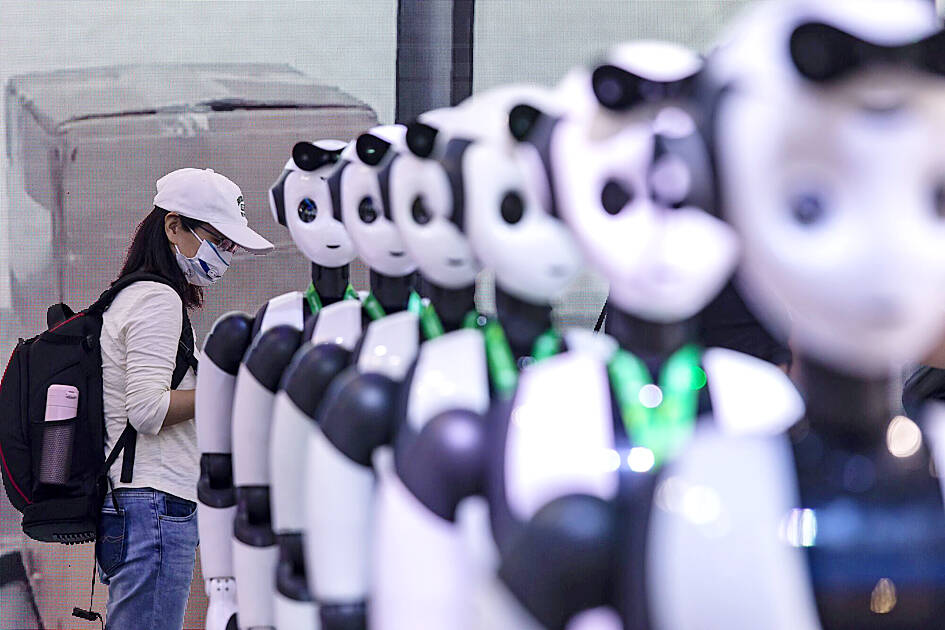 Robots are displayed at a CloudMinds Technology Inc booth at the World AI Conference in Shanghai, China, on July 7.
Photo: Bloomberg
The Flax Typhoon group notably utilized a custom-made virtual private network to "directly establish a presence within the target network," it said.
Beijing-affiliated groups allegedly conduct large-scale operations to influence public opinion in foreign nations to suit China's interests through state-owned media and numerous troll accounts across social media platforms, including YouTube, Facebook, TikTok and X, previously known as Twitter, the report said.
China's focus has moved away from sheer volume of posts to leveraging influencers with cultural and linguistic knowledge, as well as high-quality video content, which has increased its success in garnering authentic engagement, the report said.
A screen shot of two viral posts calling on Taiwan to surrender to China on an unnamed platform was cited as evidence of Beijing's conducting coordinated influence operations.
"China has continued to expand its cybercapability and shown much more ambition in its IO [influence operation] campaigns," it said. "We can expect wider cyberespionage against both opponents and supporters of [Beijing's] geopolitical objectives on every continent."
The campaign bore similarities to activity that the US Department of Justice has attributed to "an elite group within [the Chinese] Ministry of Public Security," Microsoft said.
A Chinese embassy spokesperson in Washington said that accusations of China using AI to create fake social media accounts were "full of prejudice and malicious speculation," and that China advocates the safe use of AI.
It provided limited examples of activity and did not explain in detail how researchers attributed the posts to China.
A Microsoft spokesperson said that the company's researcher used a "multifaceted attribution model," which relies on "technical evidence, behavioral evidence and contextual evidence."
The campaign began using generative AI technology in about March to create politically charged content in English and "mimic US voters," Microsoft said.
The new content is much more "eye-catching than the awkward visuals used in previous campaigns by Chinese nation-state actors, which relied on digital drawings, stock photo collages, and other manual graphic designs," the researchers wrote.
The paper cited an example of one AI-generated image, which Microsoft said came from a Chinese account, that depicts the Statue of Liberty holding an assault rifle with the caption: "Everything is being thrown away. THE GODDESS OF VIOLENCE."
The Microsoft spokesperson said the accounts had attempted to appear American by listing their location as within the US, posting US political slogans and sharing domestic political hashtags.
Comments will be moderated. Keep comments relevant to the article. Remarks containing abusive and obscene language, personal attacks of any kind or promotion will be removed and the user banned. Final decision will be at the discretion of the Taipei Times.