Eswatini trip to celebrate ties, Tsai says
MARKING 55 YEARS: The African nation's diplomatic relations with Taiwan are 'by choice, based on national interests,' a spokesperson for Eswatini King Mswati III said
President Tsai Ing-wen (蔡英文) yesterday said that she is visiting the Kingdom of Eswatini to celebrate the diplomatic relationship between Taiwan and the African country, and promote sustainable cooperation.
"Eswatini has always taken a stand in staunch support of Taiwan, giving us confidence and strength to continue contributing to the world," Tsai said at Taiwan Taoyuan International Airport before leaving on a four-day trip to the African nation.
This year marks the 55th anniversary of Eswatini's independence and the diplomatic ties between the two countries, as well as King Mswati's 55th birthday.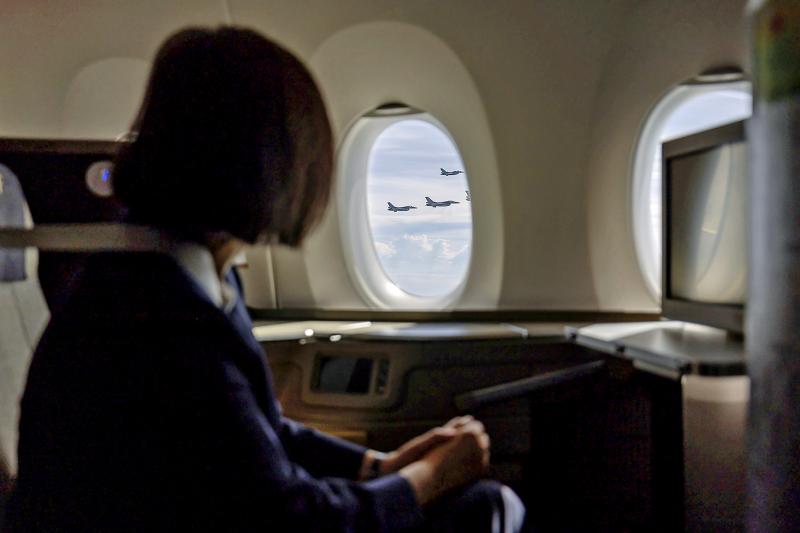 In this photo released by the Taiwan Presidential Office, Taiwan`s President Tsai Ing-wen looks out at F16 fighter jets from the Taiwan Airforce escorting her plane as she leaves for a visit to Eswantini from Taiwan yesterday. Taiwan's President Tsai Ing-wen has begun a four-day trip to Eswatini, one of the island's 13 remaining allies.
Photo: Taiwan Presidential Office via AP
Eswatini has spoken up for Taiwan on many international occasions and King Mswati III has visited Taiwan 18 times since he took the throne in 1986, she said.
Despite the challenges of the COVID-19 pandemic, exchanges between Taiwan and Eswatini have become more frequent, which have produced fruitful results in public health, medicine, women's empowerment and agricultural technology, Tsai said.
Kaohsiung Mayor Chen Chi-mai (陳其邁), who is part of Tsai's delegation, is visiting Eswatini to sign an agreement formalizing sister city relations with Mbabane, the African nation's capital.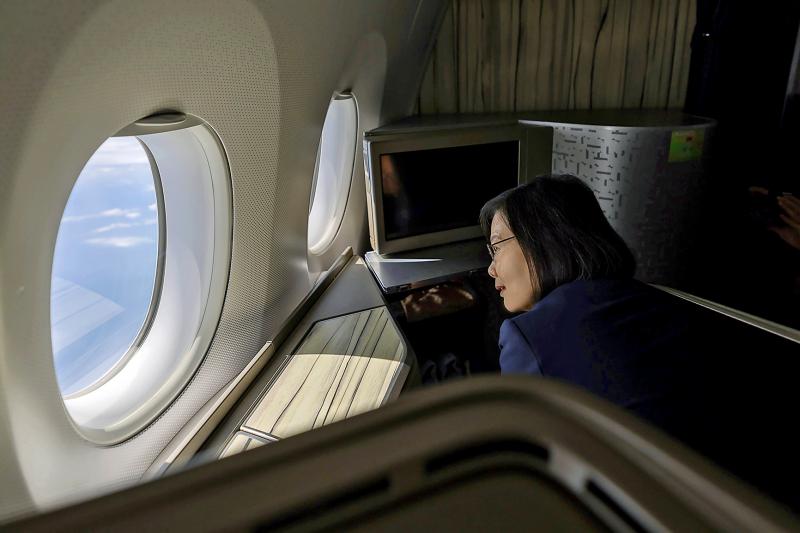 A photo released by the Presidential Office yesterday shows President Tsai Ing-wen looking out from a plane as she leaves Taiwan for a visit to Eswatini.
Photo: AP
Tsai encouraged other local governments to likewise deepen partnerships with Eswatini.
"Diplomatic work is a cumulative, step-by-step process, and Taiwan will persevere in its international engagement, as we forge ahead with resolve and confidence, showing the world that Taiwan is a stable force for good," she said.
Tsai added that she had instructed her administrative team to keep in touch with local governments to provide post-disaster assistance as Typhoon Haikui wreaked havoc on parts of the country over the past few days.
The government is to provide relief and compensation for agricultural losses, as well as activate the price stabilization mechanism for fruits and vegetables, she said.
Asked about Tsai's visit, Alpheous Nxumalo, a spokesperson for the Eswatini government, told the Voice of America (VOA) that he did not "anticipate any friction" between Taiwan and China to arise from Tsai's visit.
Throughout the 55 years of Eswatini being Taiwan's diplomatic ally, "we have never had any issues and it is not for the first time by the way that the president of Taiwan visits the Kingdom of Eswatini," he said.
"Eswatini's diplomatic relations with Taiwan are by choice, based on national interests," Percy Simelane, a spokesperson for Eswatini King Mswati III, told VOA, adding that Taiwan "has been a strong development partner."
Taiwan is strategically important for Eswatini in terms of its assistance in education, health, infrastructure and agriculture, Sanele Sibiya, an economics lecturer at the University of Eswatini, told VOA.
Comments will be moderated. Keep comments relevant to the article. Remarks containing abusive and obscene language, personal attacks of any kind or promotion will be removed and the user banned. Final decision will be at the discretion of the Taipei Times.