Li, not Xi, to lead China's delegation to G20 summit
Chinese Premier Li Qiang (李強) is to lead China's delegation to the G20 summit in India this weekend, Beijing said yesterday, all but confirming that Chinese President Xi Jinping (習近平) would snub the meeting of the world's biggest economies.
Speculation and media reports have swirled for the past week that Xi would snub the event, but China had remained silent on the issue. US President Joe Biden has said he would be "disappointed" to see Xi skip the gathering of world leaders in New Delhi.
The Chinese Ministry of Foreign Affairs yesterday confirmed that Li would be at the G20 Leaders' Summit on Saturday and Sunday, which it described as an important forum for economic cooperation.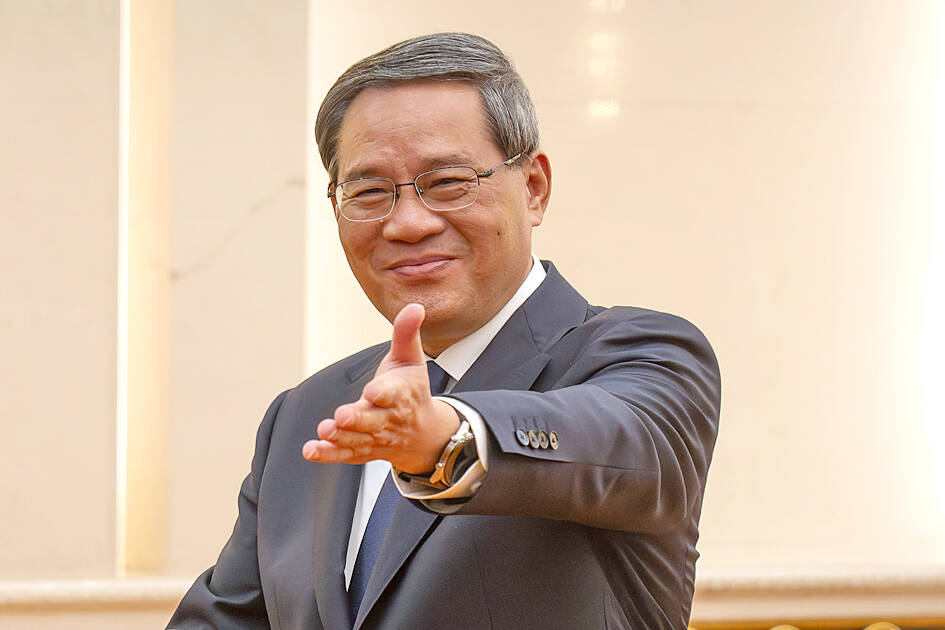 Chinese Premier Li Qiang attends a meeting with Asian Development Bank President Masatsugu Asakawa, not pictured, at the Great Hall of the People in Beijing on July 11.
Photo: AP
"In attending this meeting, Premier Li Qiang will convey China's thoughts and positions on G20 cooperation, pushing for the G20 to strengthen unity and cooperation, and working together to combat global economic and development challenges," ministry spokeswoman Mao Ning (毛寧) told a regular news briefing.
Asked whether the announcement meant Xi would not travel to New Delhi, Mao said: "I made an announcement about this just now. Premier Li Qiang will lead a delegation to New Delhi, India, to take part in the G20 Leaders' Summit."
The Group of 20 major economies consists of 19 countries and the EU, making up about 85 percent of global GDP and two-thirds of the world's population.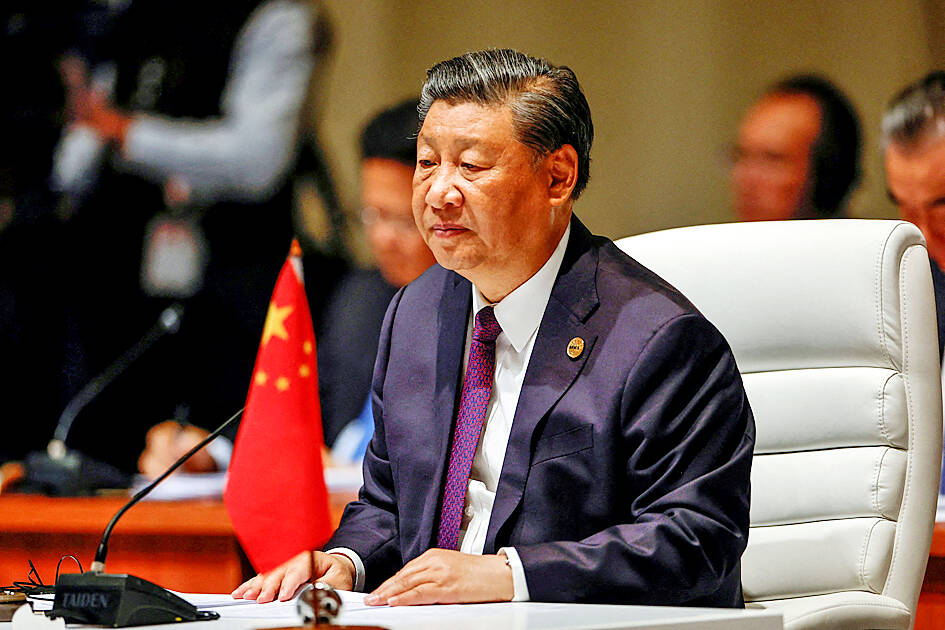 Chinese President Xi Jinping attends the plenary session of the BRICS summit at the Sandton Convention Centre in Johannesburg on Aug. 23.
Photo: Reuters
The summit has taken on additional importance this year as many countries wrestle with high inflation and economic turbulence amid a slowing recovery from the COVID-19 pandemic.
China, the world's second-largest economy, has set an annual growth target of about 5 percent, but has its own problems, including weak consumer demand, soaring youth unemployment and a crisis in the crucial property sector.
Asked about Xi reportedly not planning to join the gathering in New Delhi, Biden told reporters on Sunday: "I am disappointed, but I am going to get to see him," without elaborating.
Xi has attended every G20 summit since coming to power except Rome in 2021, when he participated by video link.
Xi's likely absence from New Delhi stands in contrast to his grand reception at a key summit of major developing economies last month.
The Johannesburg meeting of the so-called BRICS nations — Brazil, Russia, India, China and South Africa — saw the Chinese president take center stage as six new countries were admitted into the bloc.
Argentina, Ethiopia, Iran, Saudi Arabia, Egypt and the United Arab Emirates are to become full members from Jan. 1, in a decision that Xi hailed as "historic."
Beijing also has a long-running border dispute with G20 host nation India, with deadly brawls breaking out along their contested boundary in recent years.
Comments will be moderated. Keep comments relevant to the article. Remarks containing abusive and obscene language, personal attacks of any kind or promotion will be removed and the user banned. Final decision will be at the discretion of the Taipei Times.