Typhoon Haikui first major storm to hit in 4 years
DISRUPTIONS: Agencies said 228 domestic flights and 51 international flights were canceled, as well as 151 ferry services between Taiwan and outlying islands
Typhoon Haikui made landfall in Taitung County's Donghe Township (東河) at 3:40pm yesterday, making it the first major storm to hit Taiwan directly in a little over four years, the Central Weather Bureau said yesterday.
The last major storm to hit Taiwan was Severe Tropical Storm Bailu on Aug. 24, 2019.
As of 7:15pm, Haikui was centered 20km east of Tainan and was moving northwest at 9kph, the bureau said, adding that the typhoon covered the east coast south of Hsinchu County, as well as Penghu County.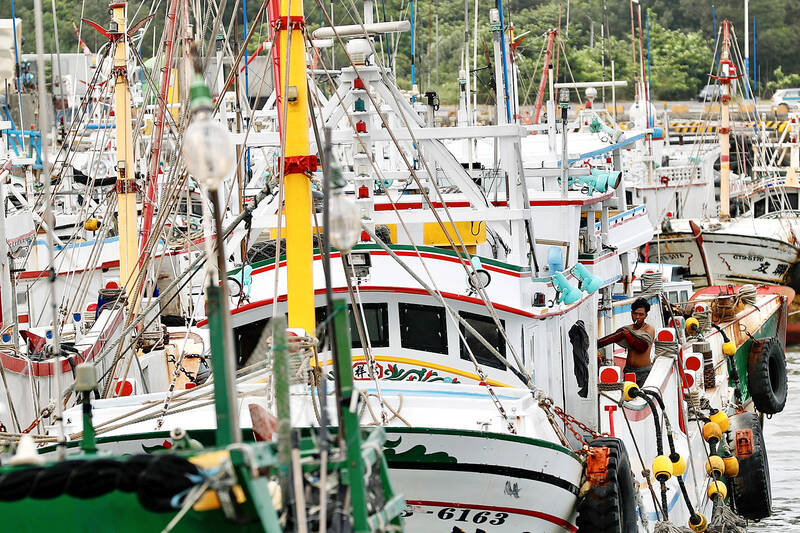 A fisherman inspects fishing boats anchored as a precaution against Typhoon Haikui at Nanliao Fishing Harbor in Hsinchu City yesterday.
Photo: Ritchie B. Tongo, EPA-EFE
Haikui was forecast to gradually weaken, the bureau added.
Bureau senior weather forecaster Liu Yu-chi (劉宇其) said the typhoon had a quite solid structure and a clear eye when it made landfall in Taitung, adding that Green Island (綠島) and Taitung County's Chenggong Township (成功) experienced strong winds that reached Level 16 on the Beaufort scale.
The bureau detected Level 14 winds in Donghe and Hualien County's Fuli Township (富里), and Level 13 winds in Taitung County's Luye (鹿野) and Changbin (長濱) townships, Liu said.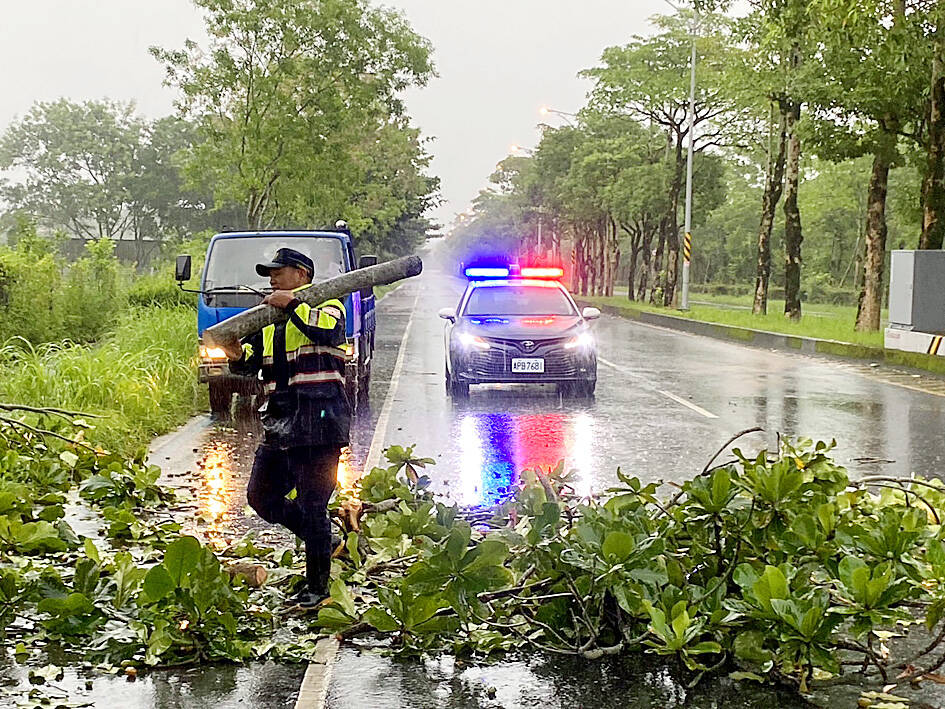 A police officer removes a fallen tree from a road in Hualien County yesterday.
Photo courtesy of Fonglin Police Precinct
Haikui was to move southwest, leave Taiwan at about midnight and move to the south of the Taiwan Strait this afternoon, he said.
The typhoon would slow while heading west toward China today and tomorrow, he said, adding that it would not approach southern China's coastal areas until after tomorrow afternoon.
However, Haikui's outer rainbands would continue to affect the weather in Penghu and Kinmen counties, and central and southern Taiwan for the next few days, Liu said.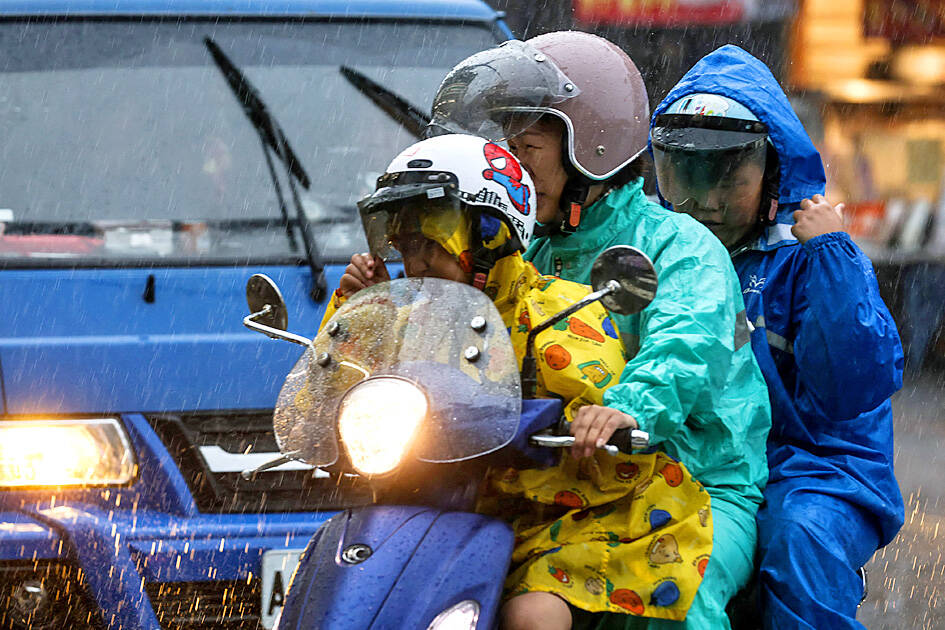 People yesterday ride a motorcycle in the rain in Yilan County after Typhoon Haikui made landfall in eastern Taiwan.
Photo: I-Hwa Cheng, AFP
The land alert for the typhoon would likely be lifted tomorrow morning, while the sea alert could be lifted later that day, close to midnight, Liu said, adding that the forecast is uncertain.
The chances of Haikui making landfall a second time are very low, he said.
Keelung, Taipei, New Taipei City and Taoyuan, and Yilan and Miaoli counties have announced that work and classes would continue as usual today. Classes and work would continue in Hsinchu city and county, except for in Hsinchui County's Jianshi Township (尖石), which declared a typhoon day today.
Work and classes were canceled for the remaining cities and counties today.
Haikui disrupted air, sea and ground transportation yesterday, delaying five international flights and causing 228 domestic flights and 51 international flights to be canceled as of 6pm, the Civil Aeronautics Administration said.
The Maritime and Port Bureau said that 151 ferry services between Taiwan and outlying islands were canceled yesterday and would remain canceled today.
The Taiwan Railways Administration yesterday canceled the majority of train services operating along the west coast, east coast and South Link Railway Line.
The Directorate-General of Highways pre-emptively closed sections of highway in mountainous areas, including highways No.7, 7A, 8, 9, 11, 20, 23 and 24.
Uni Airways Co (立榮航空) announced yesterday that it would cancel many of its flights today, except for those between Taipei and Taitung, Taipei and Lienchiang County, Taichung and Lienchiang County's Nangan Airport, and flights departing after 12pm from Taipei or Taichung.
Tigerair Taiwan Ltd (台灣虎航) announced that it would cancel its IT280 and IT281 round trip flights between Kaohsiung and Tokyo Narita International Airport today.
The high-speed rail system would continue to operate today, Taiwan High-Speed Rail Corp said.
Bureau data showed that 188 tropical storms or typhoons made landfall in Taiwan from 1911 to 2021, most of which landed on the east coast between Yilan and Hualien counties. Only tropical storm Linfa in 2009 and Typhoon Meranti in 2016 made landfall in Kinmen County.
Comments will be moderated. Keep comments relevant to the article. Remarks containing abusive and obscene language, personal attacks of any kind or promotion will be removed and the user banned. Final decision will be at the discretion of the Taipei Times.