Taiwan's Triton satellite set to launch next month
The first Taiwan-manufactured weather satellite, Triton, or Formosat-7R, is slated to launch on Oct. 4, the Taiwan Space Agency (TASA) said on Friday.
Triton, or "Wind Hunter" (獵風者) in Chinese, would carry with it a Global Navigation Satellite System-Reflectometry (GNSS-R) system, which would help the satellite transmit data on the formation of typhoons and other severe weather patterns, the agency said.
The GNSS-R system has more than 10 components and technologies wholly developed by Taiwan, with more than 20 companies participating in the project, it said.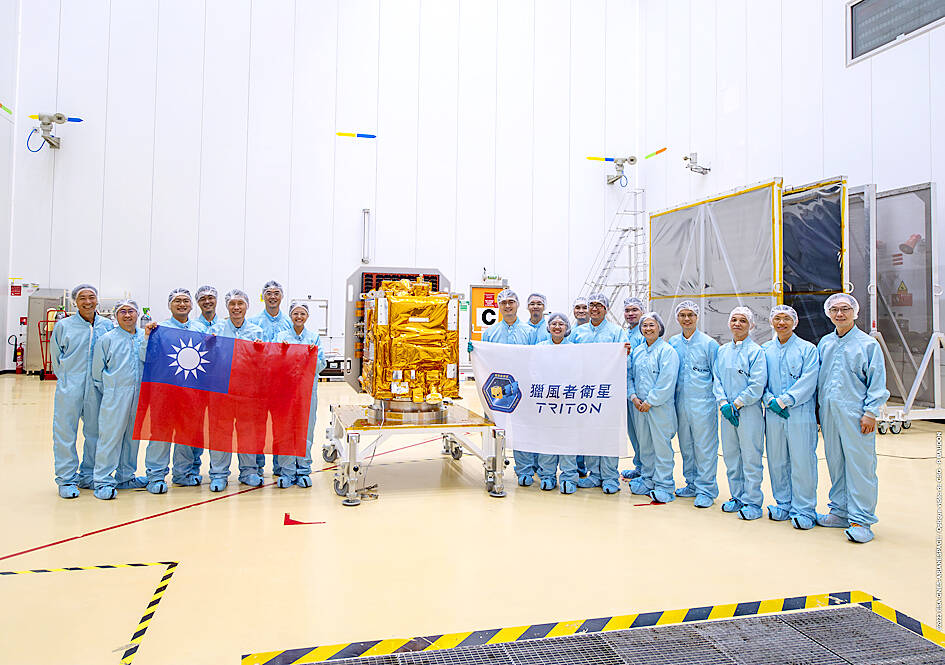 Members of the Triton team pose in front of the satellite in an undated photograph.
Photo: CNA
The system can gather reflected signals in low-Earth orbit from US-owned GPS satellites, aid in ocean-atmospheric interchange research and estimate the strength of typhoons.
Triton's launch would help test the system, which, if proven viable, could boost Taiwan's space industry, it said.
The agency said that 82 percent of the 250kg satellite's components were made in Taiwan.
Triton's initial design was completed in 2014, and the final version was approved in 2015, with assembly of the satellite beginning in 2017 and completed last year, the agency said.
The fully assembled satellite passed final checks and has been delivered to the Guiana Space Centre in French Guiana for launch on an Arianespace SA rocket.
The launch was initially scheduled for the first quarter of this year, but the failed launch of an Arianespace Vega-C rocket on Dec. 20 last year led to delays, a source said, asking to remain anonymous.
Arianespace said that the launch would proceed last month and switched the carrying rocket from Vega-C to the original Vega.
The company last month pushed back the launch schedule to Oct. 4 at 10:36pm, French Guiana time.
According to specifications on the Arianespace Web site, the Vega, introduced in 2012, has a target payload lift capacity of 1,500kg for missions to a 700km circular orbit.
The mission, VV23, would be carrying the Thailand Earth Observation System-2, and Triton as a secondary load.
Comments will be moderated. Keep comments relevant to the article. Remarks containing abusive and obscene language, personal attacks of any kind or promotion will be removed and the user banned. Final decision will be at the discretion of the Taipei Times.