Agencies thank US for F-16 tracking system sale
SELF-DEFENSE: The foreign ministry said that the 11th arms sale approved by the administration of Joe Biden continued its policy of normalizing arms sales to Taiwan
The Presidential Office, the Ministry of National Defense and the Ministry of Foreign Affairs yesterday thanked the US for approving a US$500 million arms sale package to Taiwan on Wednesday.
The US Department of State approved the sale of F-16 Infrared Search and Track systems and related equipment for an estimated cost of US$500 million, the US Defense Security Cooperation Agency said in a press release.
The agency delivered certification notifying the US Congress of the sale on the same day, it said.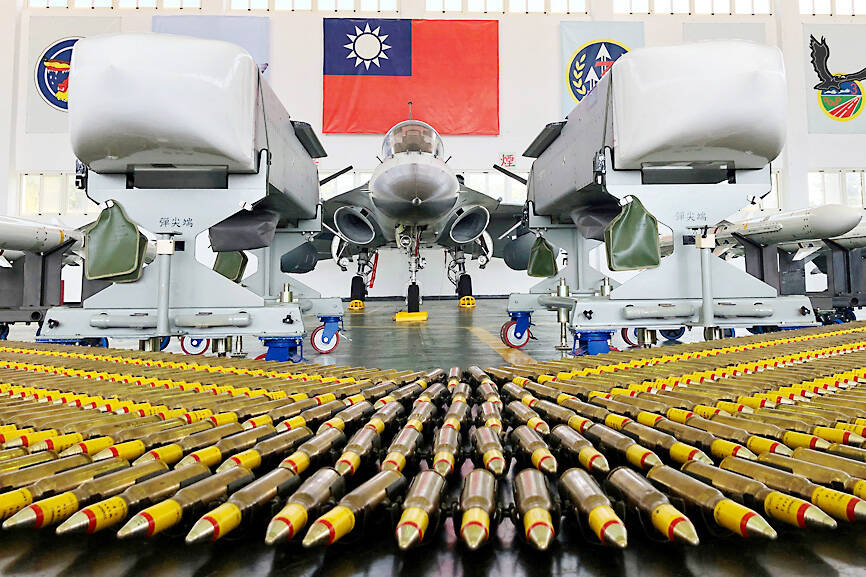 An Indigenous Defense Fighter and Wan Chien air-to-ground cruise missiles are pictured at Makung Air Force Base in Penghu County on Sept. 22, 2020.
Photo: Yimou Lee, Reuters
"This proposed sale serves US national, economic and security interests by supporting the recipient's continuing efforts to modernize its armed forces and to maintain a credible defensive capability," it said.
The sale can help improve Taiwan's security and maintain regional political stability, military balance and economic progress, it said.
In Taipei yesterday, the Ministry of National Defense said that the sale, which is expected to take effect in one month, would bolster the ability of its fleet of F-16s to detect and track long-distance targets, and greatly enhance the effectiveness of air combat.
The foreign ministry thanked the US government for continuing to help the nation to improve its self-defense capabilities in accordance with the Taiwan Relations Act and the "six assurances."
This is the 11th arms sale approved by the administration of US President Joe Biden, which has continued its policy of normalizing arms sales to Taiwan and demonstrated that it considers Taiwan's defense needs a high priority, the foreign ministry said.
Taiwan will continue to demonstrate its self-defense determination, strengthen the national defense force and safeguard national security and interests, Presidential Office spokeswoman Olivia Lin (林聿禪) said.
It will also continue to deepen its security partnership with the US, as well as cooperate with like-minded countries to jointly safeguard peace, stability and prosperity in the Taiwan Strait and the Indo-Pacific region, Lin said.
Meanwhile, the Executive Yuan approved a NT$440.6 billion (US$13.86 billion) national defense budget — or about 2.5 percent of GDP — as part of the proposed general budget for next year, the Cabinet told a post-meeting news conference.
The figure would be a year-on-year increase of 7.7 percent, or NT$31.4 billion, Cabinet officials said.
If the NT$94.3 billion special budget for obtaining new fighter jets and missiles are included, total military expenditure would rise to NT$543.9 billion, an annual increase of 3.3 percent, or NT$17.4 billion, they said.
Adding NT$71.9 billion in nonprofit special funds, national defense spending for next year would rise to NT$606.8 billion, an increase of NT$31.4 billion from this year, officials said.
Excluding all special budget items, non-profit and for-profit special funds and other unlisted expenditures, the nation's military spending would comprise 15 percent of the general budget, or NT$431.2 billion, they said.
If the Legislative Yuan passes the budget, it would mean that defense expenditure would have increased 38 percent since President Tsai Ing-wen (蔡英文) took office eight years ago, Premier Chen Chien-jen (陳建仁) told reporters.
According to the Directorate-General of Budget, Accounting and Statistics, next year's proposed national defense budget includes NT$130.6 billion in military investments and NT$179 billion in personnel costs.
Comments will be moderated. Keep comments relevant to the article. Remarks containing abusive and obscene language, personal attacks of any kind or promotion will be removed and the user banned. Final decision will be at the discretion of the Taipei Times.