Michelin reveals Taiwan's Bib Gourmand eateries
INNOVATION AND TRADITION: More than 20 types of cuisines are featured on the list, showing 'the diversity and maturity of Taiwan,' Michelin's Gwendal Poullennec said
Michelin Guide Taiwan yesterday announced that 139 eateries in Taipei, Taichung, Tainan and Kaohsiung had received the Bib Gourmand Award, down from 141 last year.
This year's list of Michelin star-rated restaurants is to be unveiled on Thursday next week.
The Bib Gourmand Award was created to recognize restaurants that offer a quality three-course meal at NT$1,000 or less.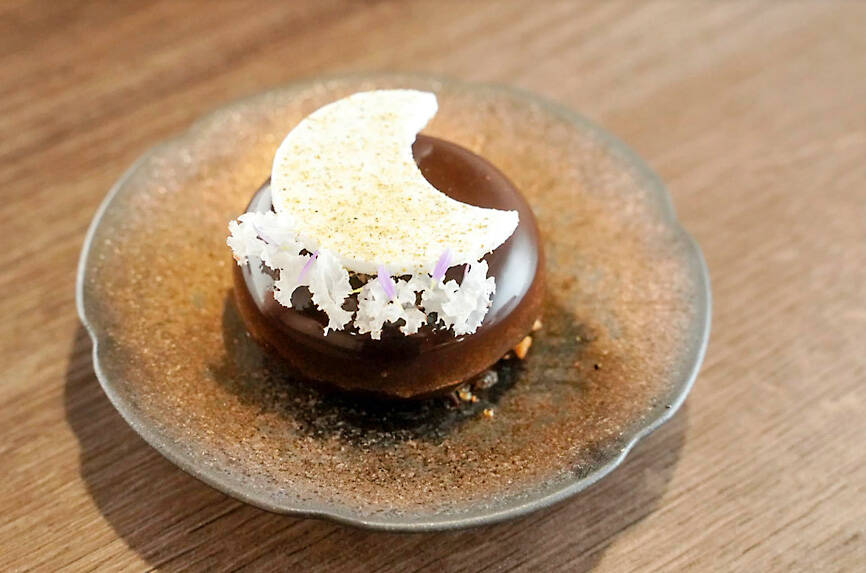 A dessert prepared by Minimal Cafe in Taipei is pictured in an undated photograph. The cafe is a new entry on Michelin's Bib Gourmand list.
Photo: CNA
"The Bib Gourmand list in the sixth edition of the Michelin Guide Taiwan has selected 139 Taiwanese eateries, covering more than 20 types of cuisines. This has shown the diversity and maturity of Taiwan and its ability to embrace innovation and traditions," Gwendal Poullennec, the international director of Michelin Guides, was quoted as saying in a news release.
Of the 139 Bib Gourmand restaurants, 45 are in Taipei, 31 are in Taichung, 36 are in Tainan and 27 are in Kaohsiung.
The number of Bib Gourmand restaurants in Tainan increased to 36 from 27 last year.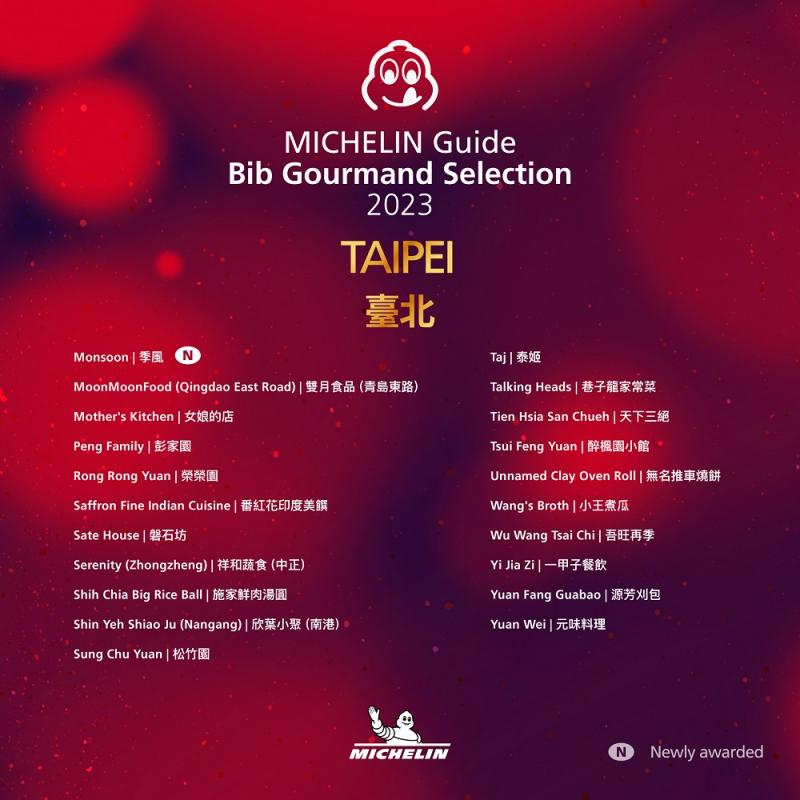 Of the 26 restaurants that made it to the Bib Gourmand for the first time this year, three are in Taipei, four are in Taichung, 10 are in Tainan and nine are in Kaohsiung.
The new Bib Gourmand eateries in Taipei are vegetarian restaurant Monsoon, Hugh dessert dining and seafood restaurant Hsiao Chuo Chih Chia.
The new eateries in Taichung are Saka, which features chicken braised in rice wine, dessert shop Minimal, Lao Shih Kuan Noodles and Night School Braised Pork Rice.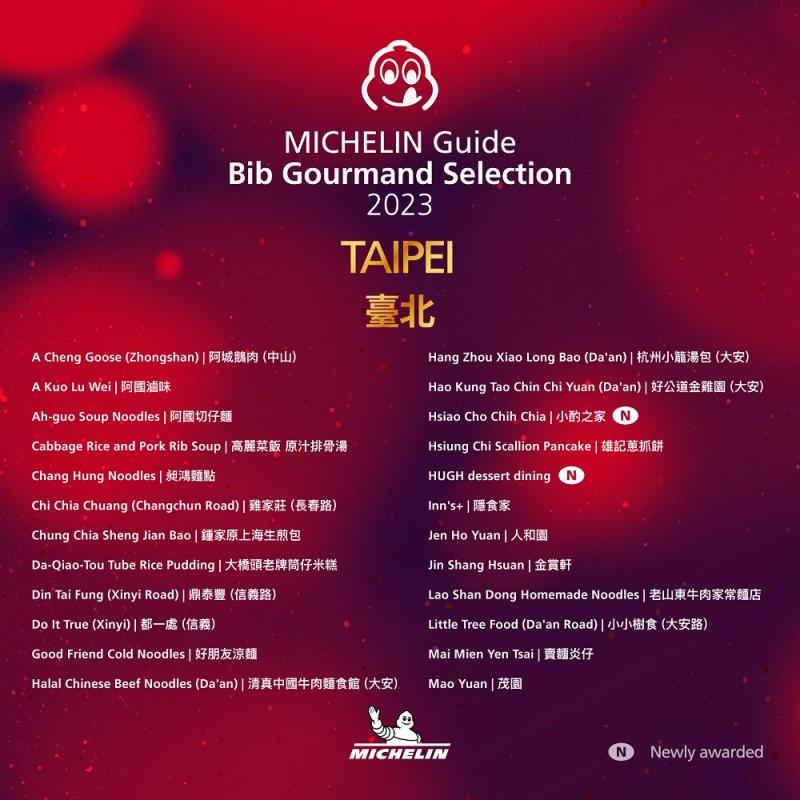 The new eateries in Tainan are A Wen Rice Cake, Cigu Oyster House, Hao Nung Chia Rice Cake, Hsi Lo Tien Beef Soup, Huang Chia Shrimp Roll, San Hao Yi Kung Tao Angelica Duck, seafood restaurant Xie Shopkeeper, seafood restaurant Black-faced Spoonbill Canteen, Chen Shi Noodles and Jai Mi Ba Noodles.
The new eateries Kaohsiung are seafood restaurant Chao Ming; Erge Shih Tang, which serves Taiwanese cuisine; Ibu Kitchen, which serves Bunun food; Cianjin Braised Pork Rice; Hou Chi Duck Rice; Lao Ye Restaurant; Liao Chi Rice Cake; Mi Yuan Tzu Steamed Glutinous Rice; and Apis Grill.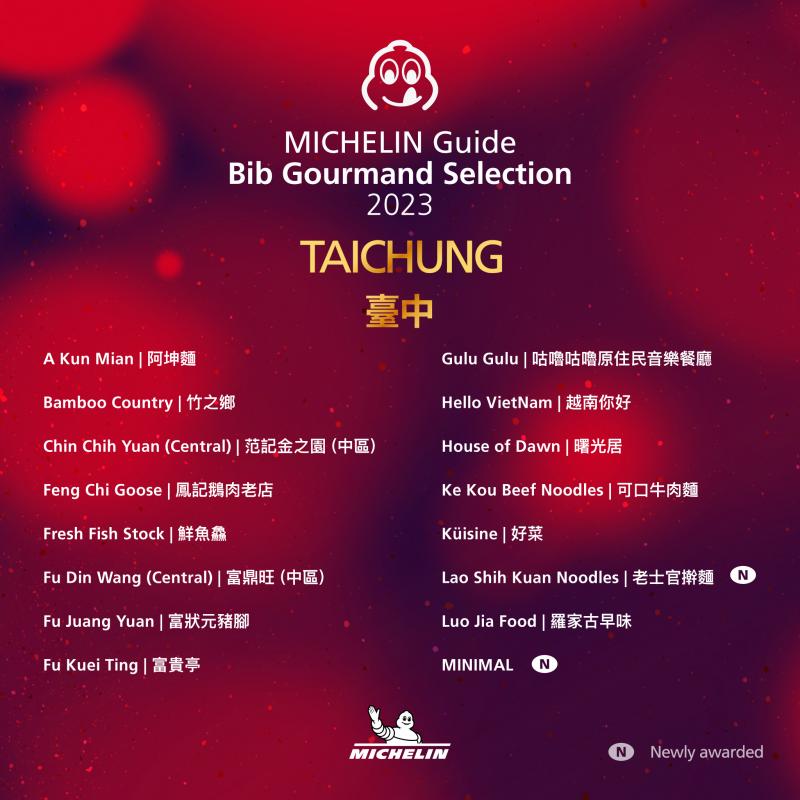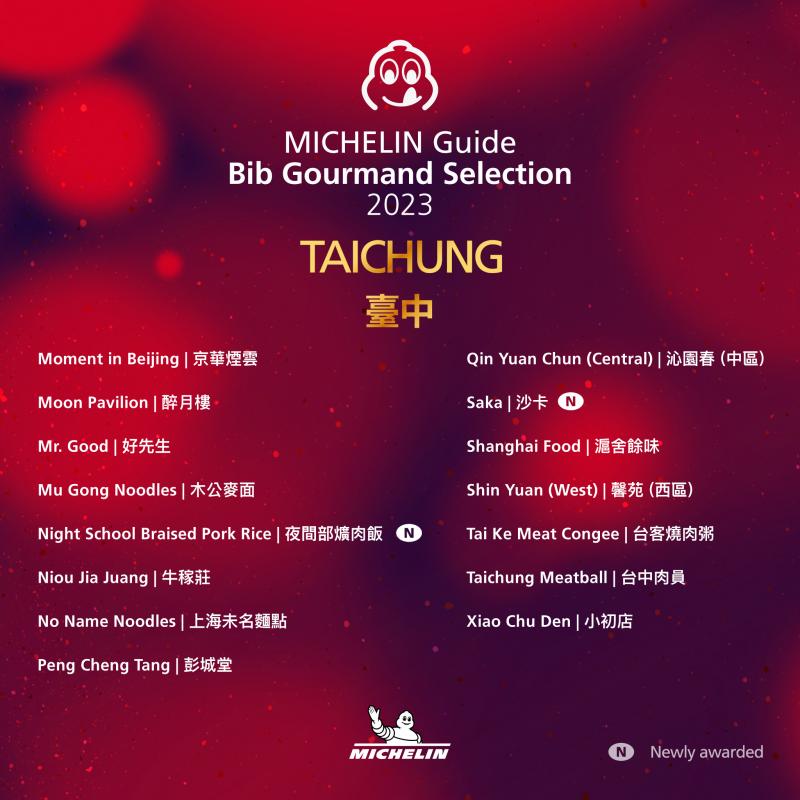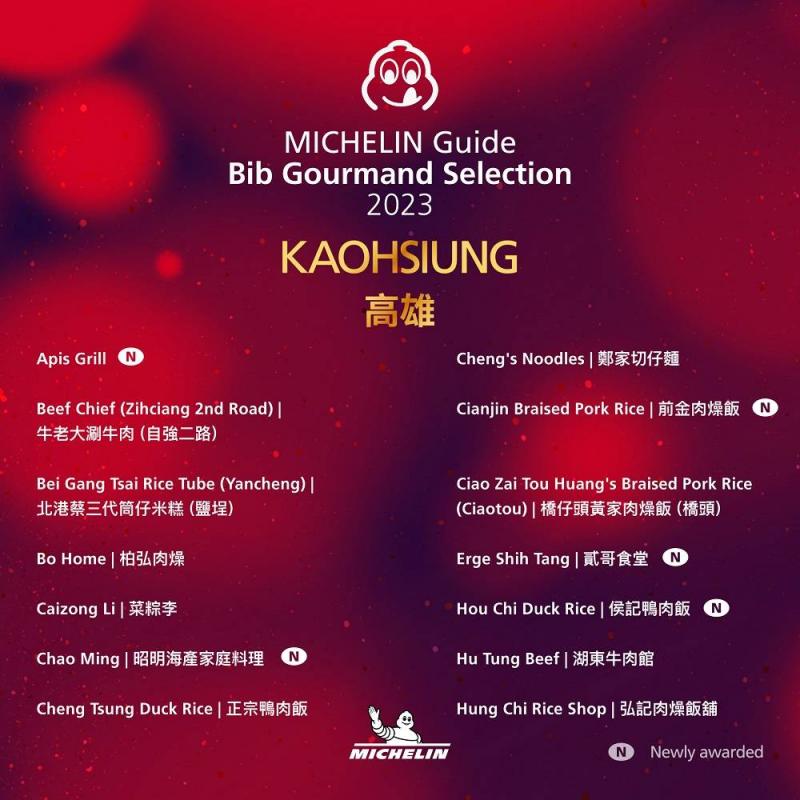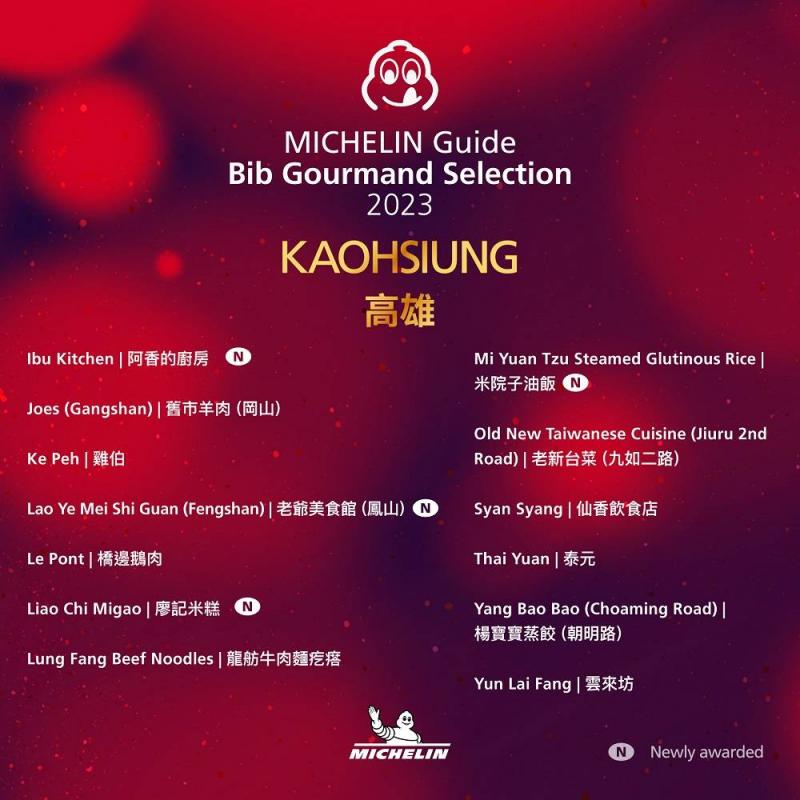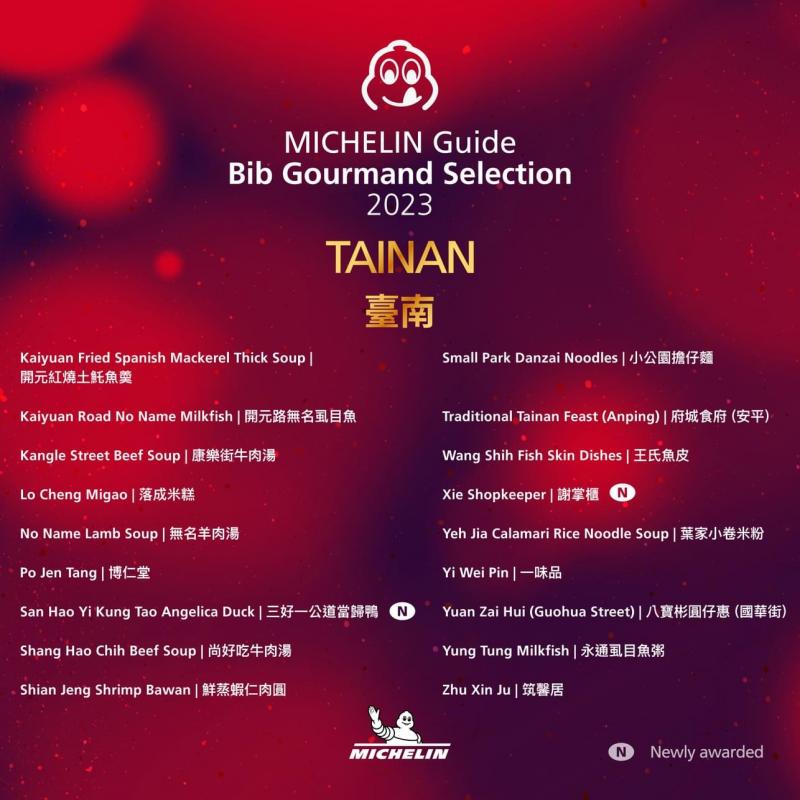 Comments will be moderated. Keep comments relevant to the article. Remarks containing abusive and obscene language, personal attacks of any kind or promotion will be removed and the user banned. Final decision will be at the discretion of the Taipei Times.