Taiwan leaves PARLACEN after expulsion vote
Taiwan on Tuesday withdrew from the Central American Parliament (PARLACEN) after the body voted to expel the nation in favor of China.
The six-nation parliament met on Monday in the Nicaraguan capital Managua, where local legislators proposed adding China and expelling Taiwan, which has been a permanent observer since 1999.
In a statement, PARLACEN cited the UN's 1971 expulsion of Taiwan in favor of China, saying this deemed Taiwan to be a "province of mainland China, which disqualifies it from participating as an independent country."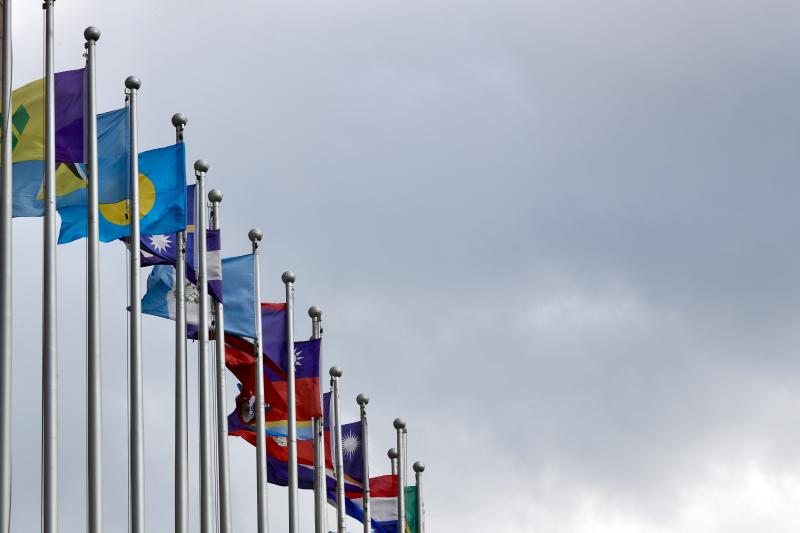 Flags of Taiwan's allied countries fly outside an embassy complex in Taipei on Dec. 10, 2021.
Photo: Richie B. Tongo, EPA-EFE
The resolution passed with a vote of 73 to 32, with nine abstentions.
To "safeguard national sovereignty and dignity," Taiwan has decided to officially withdraw from PARLACEN, the Ministry of Foreign Affairs said in a statement on Tuesday.
The Nicaraguan bench's proposal to expel Taiwan due to Chinese manipulation "could divide the internal unity of PARLACEN and disrupt the democracy and harmony of the Central American region," it added, accusing the "regime" of Nicaraguan President Daniel Ortega of misrepresenting the UN resolution.
Guatemala, where the parliament is based, is the only member that still has official ties with Taiwan. The others — El Salvador, the Dominican Republic, Honduras, Nicaragua and Panama — have all switched diplomatic recognition to Beijing in recent years.
Regarding concern that the decision could affect Taiwan's participation in the Central American Bank for Economic Integration, the Ministry of Finance on Tuesday said that the two are unrelated.
Taiwan joined the bank in 1992 as one of its first non-regional members. As of 2021, it had the highest share of any non-regional member at 11.4 percent.
Additional reporting by CNA
Comments will be moderated. Keep comments relevant to the article. Remarks containing abusive and obscene language, personal attacks of any kind or promotion will be removed and the user banned. Final decision will be at the discretion of the Taipei Times.