Cybersecurity threats rise 80 percent: report
Taiwan faced malicious cybersecurity threats at an average of about 15,000 times per second during the first six months of this year, an 80 percent increase from the same period last year, a report published yesterday by Fortinet showed.
A key hub of the global supply chain, Taiwan has in the past few years emerged as a hot spot for cybersecurity threats, the report by the US-based cybersecurity firm said.
Of the 412 billion malicious cybersecurity threats detected in the Asia-Pacific region during the first half of this year, Taiwan accounted for 55 percent, or 22.48 billion threats, the report said.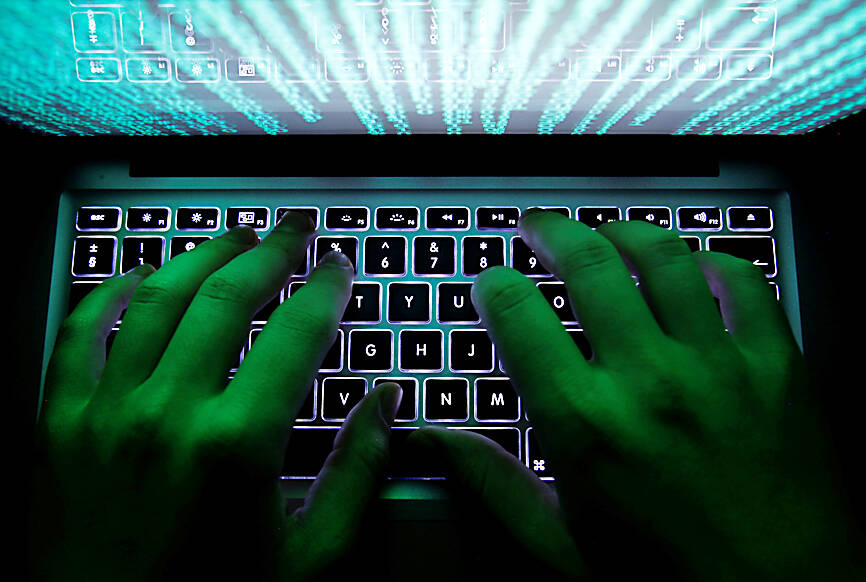 A man types on a computer keyboard in an illustration photograph in Warsaw on Feb. 28, 2013.
Photo: Reuters
On average, nearly 15,000 cyberattacks occurred per second, it said.
Meanwhile, the number of cyberattacks detected from January to June jumped 81.6 percent compared with the same period last year, it said.
The most common types of cyberattacks used by hackers include distributed denial of service attacks and DoublePulsar, a backdoor implant tool developed by the US National Security Agency, Fortinet said.
DoublePulsar, which was leaked by a hacker group in 2017, allows attackers to stealthily collect information and run malicious code on a target's machine.
Although the amount of ransomware detected plunged 93.4 percent compared with last year, Taiwanese corporations should not let down their guard, as hackers are changing their techniques, the report said.
Instead of launching random attacks on software and hardware, hackers now focus more on targeted attacks to maximize their return on investment, it said.
Fortinet Taiwan manager Eric Wu (吳章銘) said that Taiwanese enterprises should deploy information security solutions driven by artificial intelligence systems, while adopting highly integrated and automated smart platforms.
In so doing, corporate information security teams can better understand vulnerabilities and quickly detect cyberattacks, Wu said.
Comments will be moderated. Keep comments relevant to the article. Remarks containing abusive and obscene language, personal attacks of any kind or promotion will be removed and the user banned. Final decision will be at the discretion of the Taipei Times.