China to hold drills as Lai visits US
'FIRE AND FURY': Vice President William Lai's trip would likely be a 'storm in a teacup,' an analyst said, adding that he has recently been taking a more moderate line on China
China yesterday said that it is to conduct military drills in the East China Sea from today to Monday afternoon, as Vice President William Lai (賴清德) plans stopovers in the US on his way to Paraguay.
Shortly after that statement was released, Taiwan's Ministry of National Defense said it will continue to monitor Chinese drills and that people should remain calm in the face of China "damaging peace and stability."
Lai, who is also the presidential candidate of the Democratic Progressive Party (DPP), is to pass through New York today and tomorrow on his way to attend Paraguay's presidential inauguration.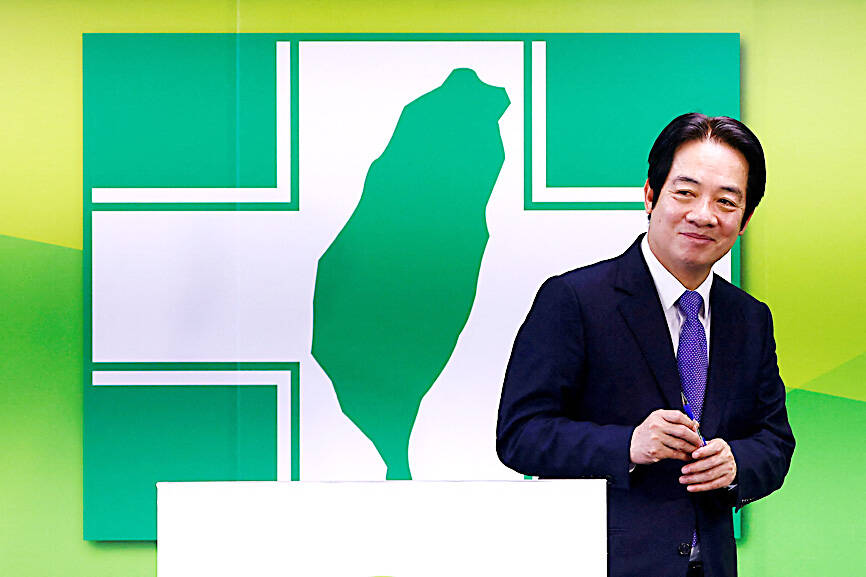 Vice President William Lai assumes the chairmanship of the Democratic Progressive Party in Taipei on Jan. 18.
Photo: Ann Wang, Reuters
He then plans to stop in San Francisco on Wednesday and Thursday on his way back to Taipei.
People familiar with the planning said that his trip would be low-profile and follow precedent with previous vice presidential transits.
Lai plans to meet with officials from the American Institute in Taiwan and with the Taiwanese community in the US, they said.
A spokesperson for the Chinese Ministry of Foreign Affairs earlier this month said that Beijing "firmly opposes any visit by 'Taiwan independence' separatists to the United States in any name or under whatever pretext."
China's maritime safety administration announced that it would hold military drills in the East China Sea from today through Monday afternoon in a likely sign of displeasure from Beijing.
After then-US House of Representatives speaker Nancy Pelosi traveled to Taipei in August last year, Beijing responded with military activity around Taiwan that included firing missiles over Taiwan proper. China also cut off military communications with the US, a move the White House called irresponsible.
When President Tsai Ing-wen (蔡英文) met with US House of Representatives Speaker Kevin McCarthy during a similar transit in the US in April, the Chinese People's Liberation Army held major military drills around Taiwan.
As Taiwan prepares to pick its next leader in January next year, the candidates' positions on cross-strait relations are being scrutinized not only by voters, but officials in the US.
It is customary for Taiwan's presidential front-runners to visit the US and meet administration officials and lawmakers, as well as speak to US research groups, ahead of elections.
New Taipei City Mayor Hou You-yi (侯友宜), the Chinese Nationalist Party (KMT) presidential candidate, is likely to visit next month, people familiar with his plans said.
Taiwan People's Party Chairman Ko Wen-je (柯文哲) has already been and is unlikely to return before the election, people briefed on his travel plans said.
Lai, as the vice president, is constrained in where he can travel and who he can meet. As a sitting senior official, he is not allowed to go to Washington as part of an agreement that has guided US policy on Taiwan since 1979.
Lai is not expected to meet any US lawmakers or senior administration officials on this trip, people familiar with the plans said.
His team hopes to send his vice presidential pick to the US later this year, people familiar with the internal deliberations said.
Officials in the administration of US President Joe Biden have stressed that the US is impartial in Taiwan's race and would work with whoever is elected, regardless of party affiliation. That means the US gives the leading candidates equal access to US officials.
That is important because in 2011, an unnamed US official's criticism of Tsai is widely viewed as being at least partially responsible for her election loss in 2012.
Exchanges between senior US officials and Taiwan's candidates are crucial to ensure a mutual understanding on such issues, and maintaining peace and stability in the Taiwan Strait, people familiar with the matter said.
What makes these face-to-face conversations even more important this time around: None of the candidates have much experience on foreign policy or national security issues.
Sung Wen-ti (宋文笛), a nonresident fellow with the Atlantic Council's Global China Hub, said Lai's trip would likely be a "storm in a teacup," adding that he had been taking a more moderate line on China since winning the nomination.
"Unleashing another round of fire and fury at this juncture would only harden Lai again and make life difficult for Beijing's friends in Taiwan," Sung said.
Additional reporting by Reuters
Comments will be moderated. Keep comments relevant to the article. Remarks containing abusive and obscene language, personal attacks of any kind or promotion will be removed and the user banned. Final decision will be at the discretion of the Taipei Times.