Candidates join in protest over housing justice
SEEKING BALANCE: At the DPP National Congress, Lai said that demonstrations were part of democracy, and that he would listen to the protesters' concerns
Hundreds of protesters yesterday marched on Taipei's Ketagalan Boulevard to express frustration over the government's handling of housing and judicial issues.
Presidential candidates and lawmakers from the main opposition parties, as well as Hon Hai Precision Industry Co (鴻海精密) founder Terry Gou (郭台銘), joined protesters at the rally, organized by former New Power Party (NPP) legislator Huang Kuo-chang (黃國昌) and Internet celebrity Holger Chen (陳之漢).
The organizers called on presidential candidates to sign nine pledges, including stiffer penalties for suspects engaged in gun violence, fraud and illegal drug sales; amending the Statute of Open Prisons (外役監條例); establishing whistle-blower protection laws; implementing a vacant home tax; and reforming the public housing system.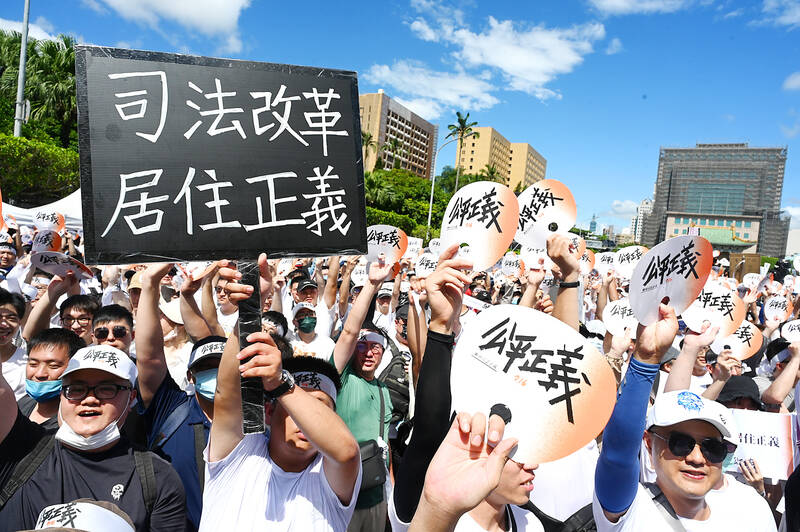 Protesters rally on Ketagalan Boulevard in front of the Presidential Office Building in Taipei yesterday to demand housing and judicial reform.
Photo: Wang Yi-sung, Taipei Times
New Taipei City Mayor and Chinese Nationalist Party (KMT) candidate Hou You-yi (侯友宜), former Taipei mayor and Taiwan People's Party (TPP) candidate Ko Wen-je (柯文哲) and NPP Chairwoman Claire Wang (王婉諭) signed the pledges.
Hou said that he would establish a special investigation council to deter judicial lobbying and vowed to crack down on scammers if elected.
"Financial losses incurred because of scams have topped NT$70 billion [US$2.27 billion] per year, which is the No. 1 source of people's complaints," he said. "Although the government claimed it has formed a national anti-fraud team, it has done nothing to prevent scammers from committing crimes."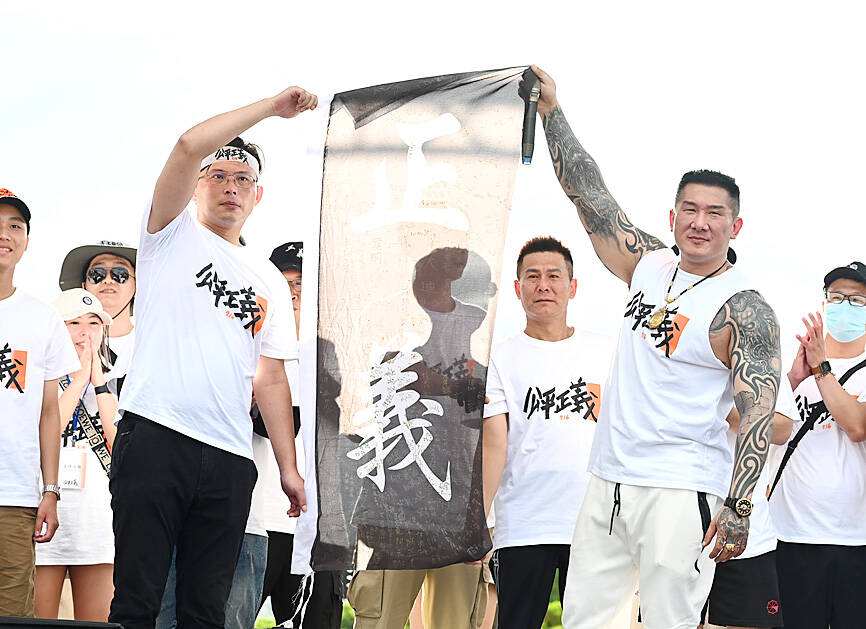 Former New Power Party legislator Huang Kuo-chang, front left, and Internet celebrity Holger Chen, front right, hold a banner reading "justice" during a protest on Ketagalan Boulevard in Taipei yesterday.
Photo: Wang Yi-sung, Taipei Times
Aside from imposing severe punishments for home hoarding and promising a transparent rental market, Hou said he would build more social housing and make houses affordable for young people.
Despite the pledges, some protesters appeared to disapprove of Hou's speech, giving him a thumbs-down and asking him to leave the stage.
Ko, who appeared to be more warmly received, said that the judicial system should be the last line of defense for justice and should not be politicized.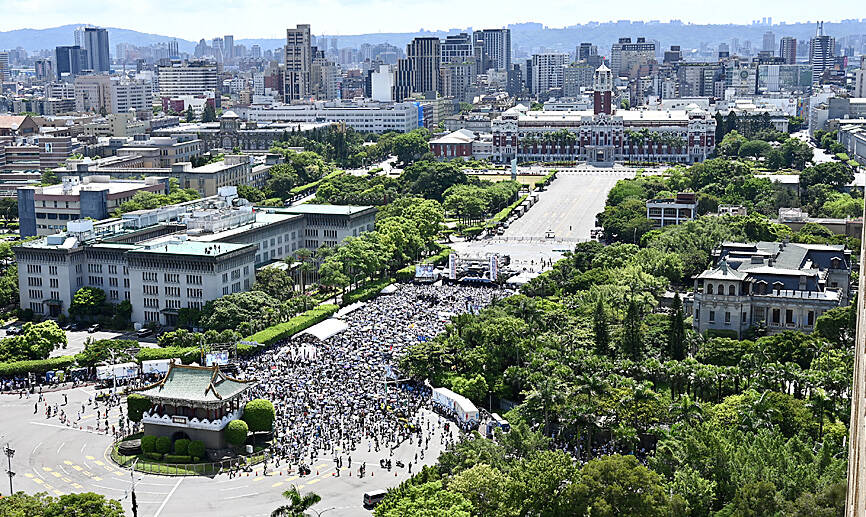 Protesters rally on Ketagalan Boulevard in front of the Presidential Office Building in Taipei yesterday.
Photo: Lo Pei-de, Taipei Times
Ko also criticized the housing policy of President Tsai Ing-wen's (蔡英文) administration, saying it failed to deliver 200,000 social housing units as promised, although he conceded that he only built 20,000 units during his two terms as Taipei mayor.
"I just want to ask how many social housing units the government actually built. It recently introduced a vacant home tax scheme, which it finally produced near the end of President Tsai's second term," he said.
Gou said he was qualified to criticize the government's housing policies, because he did not buy a home until he was 38.
In her speech, Wang was critical of all three major parties, the KMT, TPP and Democratic Progressive Party (DPP).
"Under the Tsai administration, housing justice has become a joke and a factor affecting the economy. While the DPP is outrageous, the KMT as the biggest opposition party is more pathetic," she said. "In his speech at National Taiwan University three weeks ago, Mayor Hou made no mention of the vacant home tax, even though he had said he supported it."
While people hate the KMT for allegedly colluding with organized crime and business tycoons, the DPP and TPP are not exempt from corruption, she said.
Chen said that Vice President William Lai (賴清德), who is the DPP's presidential candidate, should have attended the rally.
Lai and other DPP members "stayed in an air-conditioned room, while young people are protesting on a hot sunny day," he said.
Speaking at the DPP's National Congress at the Grand Hotel, Lai said that he would listen to protesters.
Protests are the norm in a democracy, and expressing discontent with the government is a founding principle of the DPP, he said, adding that constructive criticism must be embraced as motivation for change.
If critiques are inconsistent with the facts, they must be explained clearly and left to the public to decide, he added.
On the sidelines of the rally, a group of people protested Huang, based on reports that his residential property in New Taipei City's Sijhih District (汐止) had encroached on state-owned land.
The former legislator said that he did not receive any official notice from the National Property Administration about the home.
"My old house has been on the property for 32 years. As someone who studies law, I will handle the case according to the law and will not dodge the issue," Huang said.
Additional reporting by CNA
Comments will be moderated. Keep comments relevant to the article. Remarks containing abusive and obscene language, personal attacks of any kind or promotion will be removed and the user banned. Final decision will be at the discretion of the Taipei Times.