Germany publishes new China strategy
The German government yesterday presented a long-awaited strategy for relations with China that points to a "systemic rivalry" and a need to reduce risks of economic dependency, but highlights Berlin's desire to work with Beijing on challenges such as climate change and maintain trade ties.
The 64-page document approved by German Chancellor OIaf Scholz's Cabinet builds on Germany's first national security strategy, issued a month ago.
Scholz's three-party coalition had pledged when it took office in late 2021 to draw up a "comprehensive China strategy."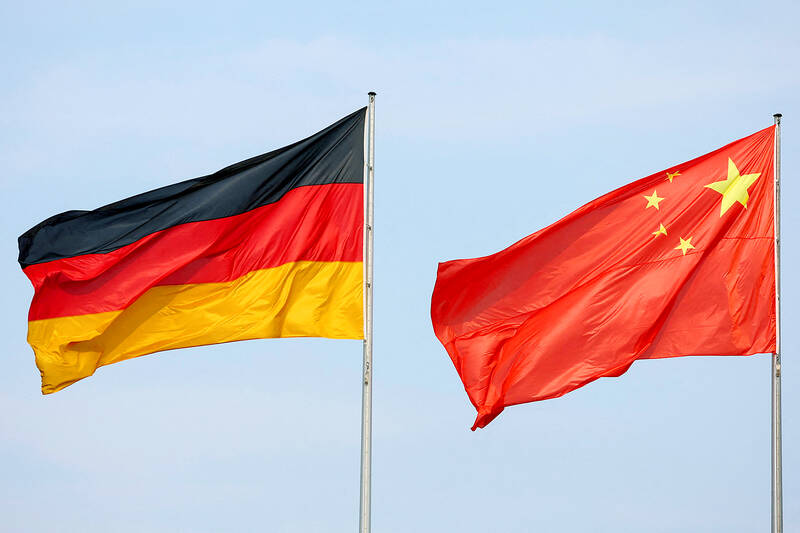 The flags of Germany and China are pictured ahead of a meeting between German Chancellor Olaf Scholz and Chinese Premier Li Qiang in Berlin on June 19.
Photo: Reuters
In the strategy, the government made it clear that Germany would not be deterred from doing business with Taiwan.
"Germany has close and good relations with Taiwan in many areas and wants to expand them," it said.
"The status quo of the Taiwan Strait may only be changed by peaceful means and mutual consent," it said. "Military escalation would also affect German and European interests."
Germany would expand its close relations with Taiwan while continuing to adhere to its "one China policy," it added.
German Minister for Foreign Affairs Annalena Baerbock said that "for Germany, China remains a partner, competitor and systemic rival, but the aspect of systemic rivalry has in recent years increasingly come to the fore."
"Anyone who listens to China knows with what self-confidence it will decisively influence the development of our world — more repressive at home and more offensive abroad," Baerbock said. "China has changed and so our China policy must change, too."
In its strategy, the government also said it is committed to ensuring that economic cooperation with China "becomes fairer, more sustainable and more reciprocal."
"Whereas China's dependencies on Europe are constantly declining, Germany's dependencies on China have taken on greater significance in recent years," it said.
"It is not our intention to impede China's economic progress and development," it said. "At the same time, derisking is urgently needed. However, we are not pursuing a decoupling of our economies."
The message echoes that delivered in May by the G7 leading industrial powers, including Germany.
The government said it expects companies "to keep a close eye on relevant China-related developments, data and risks."
"We will hold confidential discussions with companies that are particularly exposed to China regarding their China-related risk analyses with a view to identifying concentration risks in good time," it added.
Baerbock said that Germany must focus more strongly on its economic security.
"Companies that make themselves dependent to a large extent on the Chinese market will in the future have to carry the financial risk more heavily themselves," she said.
Germany is keen not to repeat mistakes it made before the invasion of Ukraine by Russia, on which it used to depend for more than half of its natural gas supplies. Berlin last year raced to end that dependency, while Russia eventually shut off supplies.
"We simply can't afford to do a second time what we had to do as a result of the Russian war of aggression, namely spending over 200 billion euros [US$222 billion] across the whole of society to free ourselves from a dependency," Baerbock said.
The strategy also said that "we take decisive action to counter all analog and digital espionage and sabotage activities by Chinese intelligence services and state-controlled groups, whether these activities be in or directed against Germany."
The strategy was released a few weeks after Scholz and about half of his Cabinet hosted a delegation led by new Chinese Premier Li Qiang (李強), whose visit to Berlin was his first foreign trip since becoming China's No. 2 official in March.
At that meeting, Scholz pressed China to lean harder on Russia over its war in Ukraine, while the two countries pledged to work together to combat climate change as two of the world's biggest carbon emitters.
"It will not be possible to overcome the climate crisis without China," the government's strategy said. "Its actions are decisive for the preservation of biological diversity and the environment."
Additional reporting by Reuters
Comments will be moderated. Keep comments relevant to the article. Remarks containing abusive and obscene language, personal attacks of any kind or promotion will be removed and the user banned. Final decision will be at the discretion of the Taipei Times.