US committee approves bill on Taiwan-US trade
'STRONG TIES': The chair of a US House committee said he supports White House's efforts to pursue closer trade ties with Taiwan, calling an initial trade agreement 'sound'
The US House of Representatives Committee on Ways and Means on Tuesday unanimously approved a bill affirming its support for an initial agreement reached under the US-Taiwan Initiative on 21st-Century Trade.
The bill was announced last week by US Representative and committee Chairman Jason Smith, US Representative Richard Neal, US Senate Committee on Finance Chairman Ron Wyden and US Senator Mike Crapo.
It cleared the committee in a 42-0 vote and now heads for a full House vote.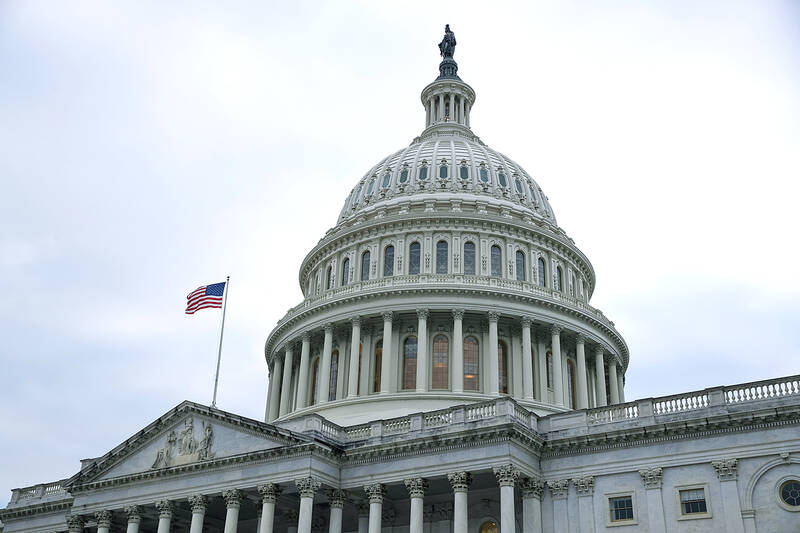 The US Capitol Building in Washington is pictured on Feb. 6.
Photo: EPA-EFE
Taiwan and the US signed an agreement under the initiative on June 1, which covers customs and border procedures, regulatory practices and small businesses, to make trade and investment between the two sides easier.
Following the signing, the two sides said they plan to begin negotiations on more complicated issues, such as agriculture, digital trade, labor, and environment and nonmarket policies and practices, as well as state-owned enterprises and standards.
The committee said the bill confirms the US Congress' support for the initial agreement, and seeks to require congressional consultation and approval for any subsequent agreements.
The bill's latter section refers to an ongoing dispute between the White House and US lawmakers from both parties over the administration of US President Joe Biden's pursuit of limited trade pacts that bypass Congress, another example being a deal on electric vehicle battery materials struck with Japan in March.
Smith told the committee that he supports the US administration's efforts to pursue closer trade relations with Taiwan and believes the substance of the first agreement under the initiative was "sound."
"The people of the United States and the people of Taiwan share an invaluable economic partnership; we share democratic values and we have strong individual ties between our two nations," Smith said.
Neal said it was vital for Congress and US trade policy to support democratic Taiwan amid the "incredible pressure" it faces from its authoritarian neighbor, China.
Comments will be moderated. Keep comments relevant to the article. Remarks containing abusive and obscene language, personal attacks of any kind or promotion will be removed and the user banned. Final decision will be at the discretion of the Taipei Times.