Trump indicted for mishandling classified documents
Former US president Donald Trump has been indicted on charges of mishandling classified documents at his Florida estate, a remarkable development that makes him the first former US president to face criminal charges by the federal government that he once oversaw.
The US Department of Justice was expected to make public a seven-count indictment ahead of a historic court appearance next week amid a presidential campaign punctuated by criminal prosecutions in multiple states.
The indictment carries unmistakably grave legal consequences, including the possibility of prison if Trump is convicted.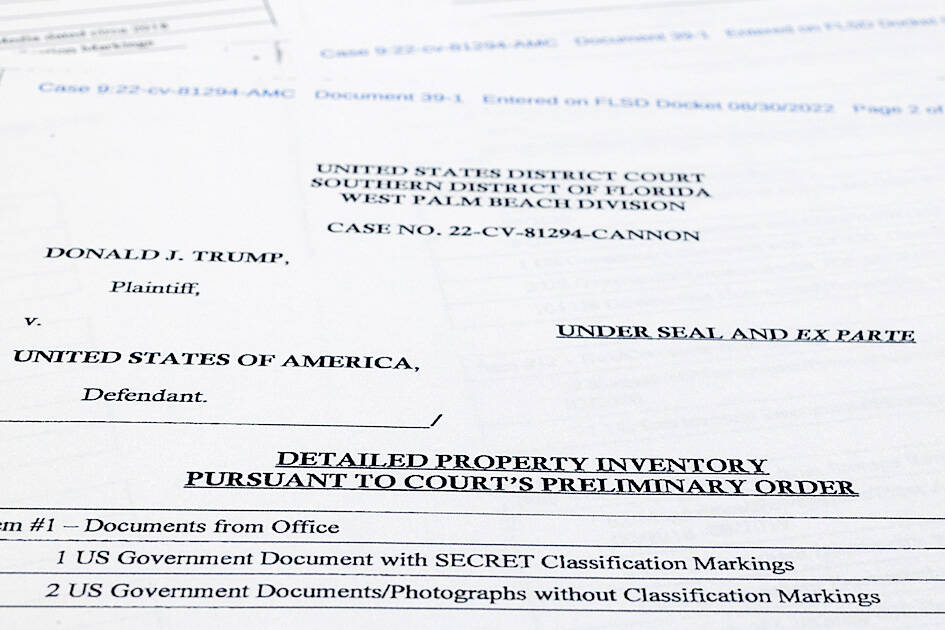 An FBI list of items seized from former US president Donald Trump's Florida estate is pictured on Sept. 2 last year.
Photo: AP
It also has enormous political implications, potentially upending a Republican presidential primary that Trump had been dominating and testing anew the willingness of Republican voters and party leaders to stick with a twice-indicted candidate who could face more charges.
It sets the stage for a sensational trial centered on claims that a man once entrusted to safeguard the nation's most closely guarded secrets willfully, and illegally, hoarded sensitive national security information.
The US Department of Justice did not immediately confirm the indictment publicly.
However, two people familiar with the situation, who were not authorized to discuss it publicly, said that the indictment included seven criminal counts.
One of those people said that Trump's lawyers were contacted by prosecutors shortly before he on Thursday wrote on his Truth Social platform that he had been indicted.
Within minutes of his announcement, Trump, who said he was due in court on Tuesday afternoon in Miami, began fundraising for his presidential campaign.
He claimed his innocence in a video and repeated that the investigation is a "witch hunt."
The case adds to deepening legal jeopardy for Trump, who has been indicted in New York and faces additional investigations in Washington and Atlanta, Georgia, that could also lead to criminal charges.
Among the investigations he faces, legal experts — as well as Trump's aides — had long seen the documents probe as the most perilous threat and the one most ripe for prosecution.
Campaign aides had been bracing for the fallout since Trump's attorneys were notified that he was the target of an investigation, assuming it was not a matter of whether charges would be brought, but when.
Appearing on Thursday night on CNN, Trump attorney James Trusty said that the indictment includes charges of willful retention of national defense information — a crime under the US Espionage Act, which polices the handling of government secrets — obstruction, false statements and conspiracy.
Comments will be moderated. Keep comments relevant to the article. Remarks containing abusive and obscene language, personal attacks of any kind or promotion will be removed and the user banned. Final decision will be at the discretion of the Taipei Times.