No prison for ex-Ting Hsin boss upheld
The High Court yesterday upheld a ruling that former Ting Hsin International Group (頂新集團) executive Wei Ying-chun (魏應充) be fined and not face more jail time for his role in a 2014 cooking oil scandal.
The High Court's Taichung Branch upheld the decision on 83 counts — which carried a 10-year, two-month prison sentence that could be commuted to a fine of NT$3.71 million (US$120,800), or NT$1,000 per day of the prison term — after the High Prosecutors' Office did not appeal.
The decision to commute the penalty sparked outrage online, with comments on the Liberty Times (the Taipei Times' sister newspaper) article about the ruling condemning the justice system.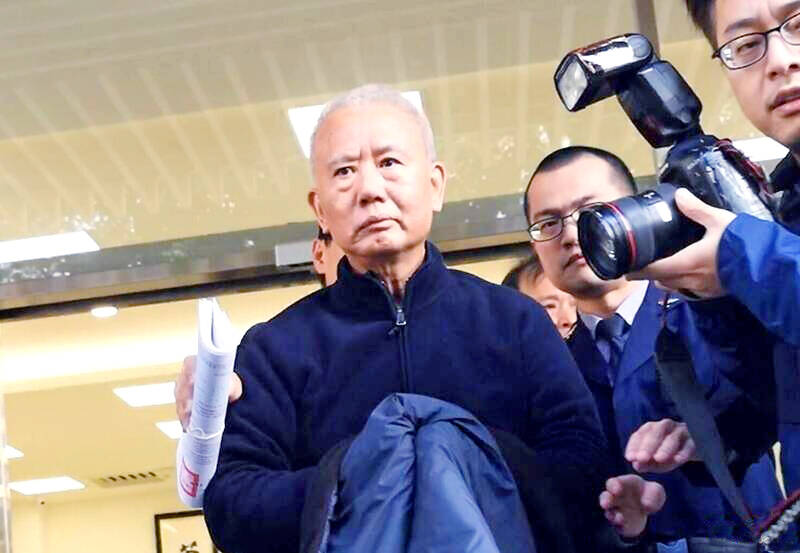 Former Ting Hsin Intenational Group executive Wei Ying-chun leaves a court in Taichung in an undated photograph.
Photo: Chang Jui-chen, Taipei Times
One Internet user surnamed Kuo (郭) wrote: "How can judges permit him to merely pay a fine and avoid prison?"
"He and the Wei family are rich. They only fear getting locked up," they said. "This kind of ruling encourages wealthy people to commit crimes."
A person surnamed Chien (錢) wrote that a "10-year sentence means it is a serious crime, so he should be imprisoned. The dinosaur judges and prosecutors who decided not to appeal should be charged with dereliction of duty."
"Are Taiwan's courts permitting criminals who are rich to not serve prison time?" another person wrote.
Wei has been sentenced to prison three times for his role in the scandal.
Most recently, he was convicted in July last year and sentenced to nine years and two months for contravening the Act Governing Food Safety and Sanitation (食品安全衛生管理法) and other offenses.
Wei was released on January after serving only six months, with judicial officials saying that portions of the sentence could be commuted to fines totaling NT$176 million, which the Wei family paid in January, and that he was eligible for parole for good behavior.
Moreover, Wei's sentence included time he had already served pending earlier investigations and hearings, they said.
In 2014, investigators found that Wei and other company executives instructed that animal feed-grade material from Vietnamese firm Dai Hanh Phuc Co be imported.
Wei sought to cut costs by changing the formulas for 14 blended-oil products his companies produced, including one falsely marketed as a premium class of blended oil that was actually 98 percent palm oil.
The scandal created a food-safety furor and led to class-action lawsuits against Ting Hsin and its subsidiaries.
Wei's first conviction was for breaches of food safety rules and fraud, with the Intellectual Property Court in April 2017 handing him a two-year term, of which he served just over 500 days before being paroled in December 2018.
Comments will be moderated. Keep comments relevant to the article. Remarks containing abusive and obscene language, personal attacks of any kind or promotion will be removed and the user banned. Final decision will be at the discretion of the Taipei Times.