HK journalist wins appeal in rare court ruling
'BONA FIDE JOURNALISM': A happy Bao Choy said the judgement had stated the importance of Hong Kong's constitutionally protected freedom of press and speech
An award-winning Hong Kong journalist yesterday won an appeal quashing a conviction related to research for an investigative documentary, a rare court ruling upholding media freedom in the territory.
Bao Choy (蔡玉玲) was found guilty in April 2021 of deceiving the government by getting vehicle ownership records for journalistic purposes after she had declared in her online application that she would use the information for "other traffic and transport related issues."
The investigative journalist was trying to track down perpetrators of a mob attack on protesters and commuters inside a train station during massive anti-government protests in 2019 for her documentary.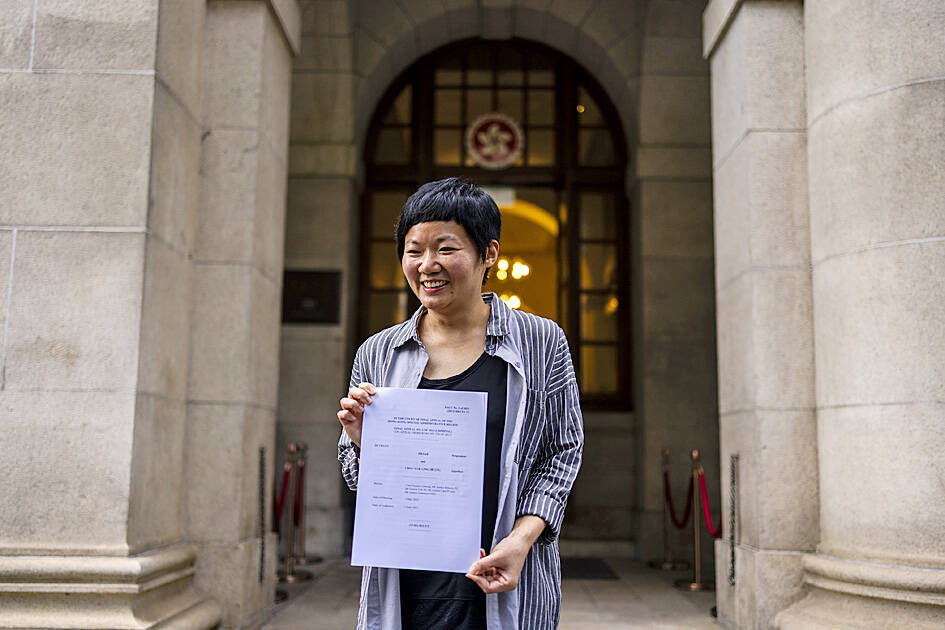 Award-winning Hong Kong journalist Bao Choy shows the Court of Final Appeal written judgement to members of the media after winning her appeal in Hong Kong yesterday.
Photo: AP
Choy was fined HK$6,000 (US$766) for two counts of making false statements at that time and called it "a very dark day for all journalists in Hong Kong."
The ruling also sparked outrage among local journalists over the territory's shrinking press freedom.
Judges at Hong Kong's top court yesterday unanimously ruled in Choy's favor in a written judgement, quashing her conviction and setting aside the sentence.
"The issues of falsity and knowledge were wrongly decided against the appellant because her journalistic investigation into the use of the vehicle on the dates in question did fall into the wide catchall category of 'other traffic and transport related matters,'" the judgement said.
Even if it did not, it was "not an irresistible inference that she knew that to be false," it said.
There is no reason that "bona fide journalism" should be excluded from the phrase, it added.
Choy told reporters outside the court the she was happy to learn about the judgement, saying that it had stated the importance of the territory's constitutionally protected freedom of press and speech.
"Over the last few years, we might have found that many things have disappeared quietly, but I believe our beliefs in our hearts can't be taken away that easily. No matter I win or lose today, the persistence [demonstrated] over the last few years is already a meaningful thing," she said.
She said she hoped the outcome would be encouraging news to all reporters still working hard in Hong Kong.
The film that Choy coproduced, titled 7.21 Who Owns the Truth, won the Chinese-language documentary award at the Human Rights Press Awards in 2021.
The judging panel hailed it as "an investigative reporting classic" that had chased "the smallest clues, interrogating the powerful without fear or favor."
In the crackdown on dissent that followed the 2019 protests, two vocal media outlets — Apple Daily and Stand News — were forced to shut down and some of their top managers have been prosecuted.
Apple Daily founder Jimmy Lai (黎智英) faces collusion charges under a National Security Law imposed on Hong Kong by China in 2020. Two former Stand News editors were charged under a colonial-era sedition law that has been used increasingly to snuff out critical voices.
Comments will be moderated. Keep comments relevant to the article. Remarks containing abusive and obscene language, personal attacks of any kind or promotion will be removed and the user banned. Final decision will be at the discretion of the Taipei Times.