Young adult culture points launch today: ministry
Young people can today start using and collecting "culture points" with a dedicated mobile app and enter prize draws to win more points, the Ministry of Culture said.
The culture points are part of the ministry's Young Adult Culture Vouchers initiative, which aims to encourage young people to engage in diverse arts and cultural activities, as well as help revitalize the arts and culture industry, the ministry said.
People with a date of birth from Sept. 1, 2001, to Dec. 31, 2005, including Taiwanese nationals, permanent residence permit holders and foreign spouses with a resident certificate are eligible for 1,200 culture points, it said.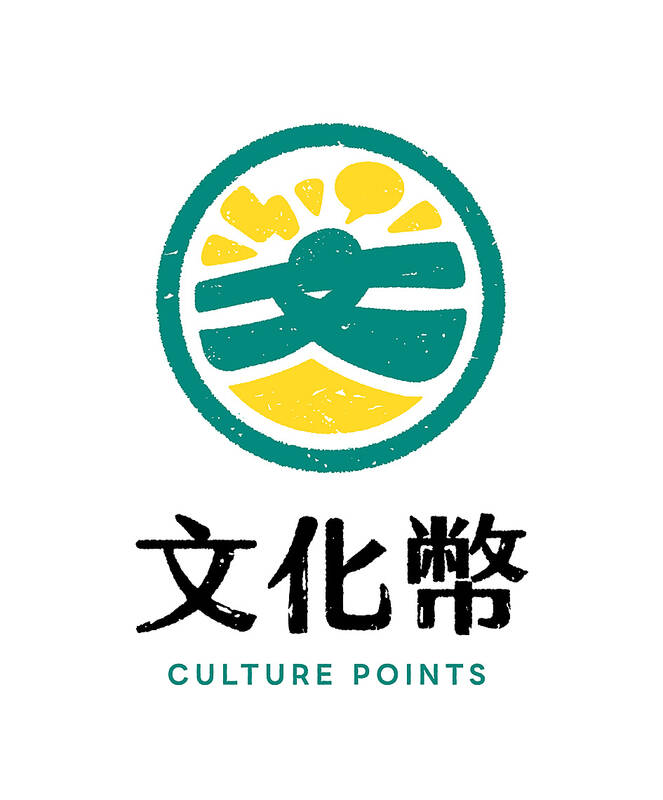 The logo promoting the Ministry of Culture's Young Adult Culture Points scheme is pictured in an undated photograph.
Photo courtesy of the Ministry of Culture
The points can be collected from 8am today on the culture points app, which was launched yesterday and is available for iOS and Android devices, the ministry said.
The points can be collected and used until June 30 next year, it said.
For every 200 points spent in a single transaction, users are eligible to enter a prize draw to win extra points, the ministry said, adding that the number of prize draws one can participate in is unlimited.
The ministry is to provide 200,000 sets of prizes — 5,000 sets of 500 points, 20,000 sets of 300 points, 40,000 sets of 100 points and 135,000 sets of 50 points, it said.
The results of the prize draw would be displayed on the app and the points won can be used straightaway, it added.
The points can be used at more than 10,000 "art and culture spots" for activities such as watching art performances, seeing Taiwanese movies, buying books at independent bookstores, visiting museums and taking cultural trips, the ministry said.
For every two points spent at independent bookstores, customers receive one extra point, it said, adding that each person can receive up to 600 extra points at independent bookstores.
A number of performances are to sell "youth seats" — a limited number of tickets at a large discount of at least 50 percent — for those who purchase tickets with culture points, the ministry said.
Users can check the app for available youth seats and other events where culture points can be used, it said.
In other news, the Construction and Planning Agency yesterday said that more than 350,000 applications for mortgage subsidies had been submitted in the four days since they opened on Thursday last week.
The one-off NT$30,000 (US$977) subsidies are available for home buyers with an annual household income of less than NT$1.2 million and who are paying a mortgage of up to NT$8.5 million in Taipei, or up to NT$7 million in the rest of the nation.
An estimated 550,000 households stand to benefit, the Executive Yuan said.
Additional reporting by staff writer
Comments will be moderated. Keep comments relevant to the article. Remarks containing abusive and obscene language, personal attacks of any kind or promotion will be removed and the user banned. Final decision will be at the discretion of the Taipei Times.