Democracies urged to back Taiwan
'GLOBAL NETWORK': The only way to deter a Chinese invasion is for the international community to unite in its resolve, Deputy Minister of Foreign Affairs Roy Lee said
Deputy Minister of Foreign Affairs Roy Lee (李淳) yesterday urged democratic nations around the world to not let Beijing dictate the definition of their "one China" policies, saying that they should increase cooperation with Taiwan to build a resilient democratic network.
Lee made the remarks during his speech, titled "Ukraine and Taiwan: Why Global Unity Matters," at the annual Bratislava Forum in Slovakia.
"People in Taiwan have been paying close attention to the situation in Ukraine and admire Ukrainians for defending their homeland. They are [also] fighting for Taiwan and democratic countries around the world," Lee told forum participants.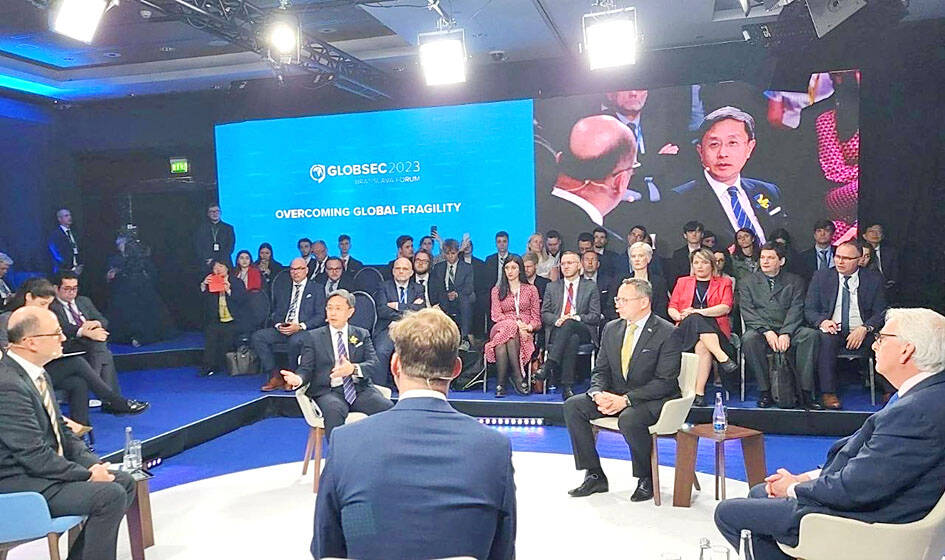 Deputy Minister of Foreign Affairs Roy Lee, center left, speaks during the GLOBSEC
2023 Bratislava Forum on Tuesday. Photo: CNA
"The international community is increasingly aware that Taiwan is facing tremendous geopolitical risks. As such, world leaders attending the G7 summit in Hiroshima delivered a joint statement opposing any unilateral move to change the status quo in the Taiwan Strait," he said.
"The more united the members of the democratic camp are, the more it would help deter China from advancing with force," he added.
Many people think that the Russian invasion of Ukraine is the result of indifference and appeasement that the international community has shown over the years, Lee said.
"The world should learn this lesson: The only way to deter the Chinese Communist Party [CCP] regime from invading Taiwan is for the international community to be united and show resolve," he said.
"Taiwan completely understands that it is our mission to defend our democratic way of life, and we are demonstrating our will, capability and resolve by actively preparing for a war," he added.
China cannot affect the political and economic situation in Taiwan, despite blocking Taiwan from participating in UN organizations, intensifying cognitive warfare against the nation and interfering in its elections, Lee said.
"Like-minded democratic countries must not let Beijing decide what their 'one China' policy should be. We urge you to increase cooperation with Taiwan to build a strong and global network of democratic resilience," he said.
Separately, Minister of Transportation and Communications Wang Kwo-tsai (王國材) said that Beijing needs to state clearly that it would allow Chinese tourists — individual and group tour travelers — to visit Taiwan before the government would consider lifting a travel ban on group tours to China.
China made formal announcements when it banned individuals from traveling to Taiwan in 2019 and when it banned groups tours in 2020, Wang said.
"If they think such restrictions do not exist, they should say it out loud. We were hoping that the matter could be negotiated through semi-official associations representing Taiwan and China, but China has yet to appoint a director for its association," Wang said.
"However, we would know that it is definitely lifting the travel ban to Taiwan if the policy change was clearly announced by Beijing's spokespeople," he said.
"Only the person who fastens the bell on the tiger's neck can untie it. It would be strange if we welcomed Chinese tourists, but China refused to allow tourists to visit Taiwan," Wang said.
If Taiwan lifts the ban on group tours to China unilaterally, there would be an imbalance of tourism benefits between Taiwan and China, which is unfair to Taiwanese tourism operators, Wang said, adding that the matter should proceed in a fair and equal manner.
Regarding China's plan to use its self-developed Comac C919 to transport passengers in cross-strait flights, Wang said that the Civil Aeronautics Administration would ensure that the narrow-body airliner is airworthy.
Comments will be moderated. Keep comments relevant to the article. Remarks containing abusive and obscene language, personal attacks of any kind or promotion will be removed and the user banned. Final decision will be at the discretion of the Taipei Times.