N Korea notifies Japan of plans to launch satellite
North Korea yesterday notified Japan that it plans to launch a satellite in the coming days, which might be an attempt to put Pyongyang's first military reconnaissance satellite into orbit.
Japanese Minister of Defense Yasukazu Hamada said he ordered Japan's Self Defense Force to shoot down the satellite or debris, if any entered Japanese territory.
Japan's coast guard said the notice it received from North Korean waterway authorities said the launch window was from Wednesday to June 11, and that the launch might affect waters in the Yellow Sea, East China Sea and east of the Philippines' Luzon island.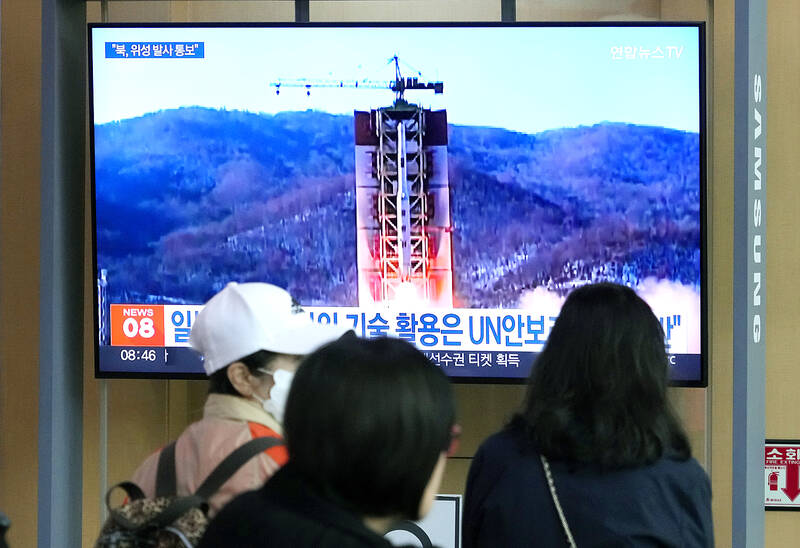 A TV screen shows a file image of a North Korean rocket launch during a news program at the Seoul Railway Station yesterday.
Photo: AP
Japan's coast guard issued a safety warning for ships in the area on those dates, because of the risks of falling debris. The agency coordinates and distributes maritime safety information in East Asia, which is likely the reason it was the recipient of North Korea's notice.
To launch a satellite into space, North Korea would have to use long-range missile technology banned by UN Security Council resolutions.
Its past launches of Earth observation satellites were seen as disguised missile tests.
Japanese Chief Cabinet Secretary Hirokazu Matsuno said the launch would breach UN resolutions, and was a "threat to the peace and safety of Japan, the region and the international community."
Japan was on standby for falling missile debris from North Korean launches earlier this year and has deployed missile defense systems such as land-to-air PAC-3 and ship-to-air SM-3 interceptors in southwestern Japan and in the East China Sea.
Matsuno said it was possible the satellite would enter or pass above Japan's southwestern islands, including Okinawa, where the US has major military bases and thousands of troops.
South Korea yesterday said that North Korea would face consequences if it goes ahead with its launch plan in contravention of UN resolutions that ban Pyongyang from conducting any launch using ballistic technology.
"Our government strongly warns North Korea against a provocation that threatens peace in the region and urges it to withdraw its illegal launch plan immediately," a ministry statement said.
It added that South Korea would cooperate with the international community to resolutely cope with any North Korean provocation.
In a three-way telephone conversation later yesterday, the chief nuclear envoys of South Korea, the US and Japan agreed to cooperate in a unified, resolute response to a satellite launch.
They strongly urged North Korea to refrain from what they termed "an illegal launch" that would threaten regional peace, the South Korean Ministry of Foreign Affairs said.
Japan issued a similar statement.
Comments will be moderated. Keep comments relevant to the article. Remarks containing abusive and obscene language, personal attacks of any kind or promotion will be removed and the user banned. Final decision will be at the discretion of the Taipei Times.