Musk's Neuralink gets approval to test brain implants
Tesla Inc and Twitter Inc chief executive officer Elon Musk's start-up Neuralink on Thursday said it has approval from US regulators to test its brain implants in people.
Neuralink said clearance from the US Food and Drug Administration (FDA) for its first in-human clinical study is "an important first step" for its technology, which is intended to let brains interface directly with computers.
"We are excited to share that we have received the FDA's approval to launch our first in-human clinical study," Neuralink wrote on Twitter.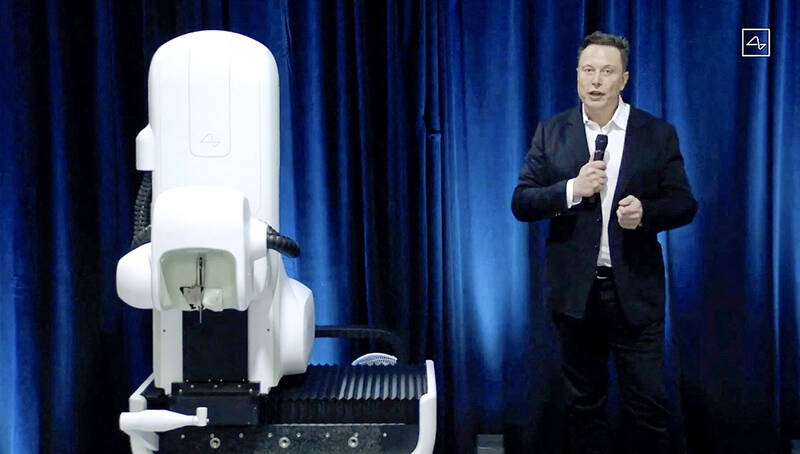 Neuralink founder Elon Musk stands next to a surgical robot during a presentation on Aug. 28, 2020.
Photo: AFP
Recruitment for a clinical trial is not yet open, Neuralink said.
The aim of Neuralink implants is to enable human brains to communicate directly with computers, Musk said during a presentation by the start-up in December last year.
"We've been working hard to be ready for our first human [implant], and obviously we want to be extremely careful and certain that it will work well before putting a device in a human," he said at the time.
Neuralink prototypes, which are the size of a coin, have been implanted in the skulls of monkeys, demonstrations by the start-up showed.
At a presentation, Neuralink showed several monkeys "playing" basic video games or moving a cursor on a screen through their Neuralink implant.
The technology has also been tested in pigs.
Using a surgical robot, a piece of the skull is replaced with a Neuralink disk, and its wispy wires are strategically inserted into the brain, an early demonstration showed.
The disk registers nerve activity, relaying the information via common Bluetooth wireless signal to a device such as a smartphone, Musk said.
"It actually fits quite nicely in your skull," Musk said during a presentation. "It could be under your hair and you wouldn't know."
Musk said the company would try to use the implants to restore vision and mobility in humans who had lost such abilities.
"We would initially enable someone who has almost no ability to operate their muscles ... and enable them to operate their phone faster than someone who has working hands," he said.
"As miraculous as it may sound, we are confident that it is possible to restore full body functionality to someone who has a severed spinal cord," he said.
Beyond the potential to treat neurological diseases, Musk said his goal is to ensure that humans are not intellectually overwhelmed by artificial intelligence.
Other companies working on similar systems include Synchron, which announced in July last year that it had implanted the first human brain-machine interface in the US.
Members of the Neuralink team have shared a "wish list" that ranged from technology returning mobility to paralyzed people and sight to the blind, to the uploading of memories for later reference — or to be downloaded into replacement bodies.
Comments will be moderated. Keep comments relevant to the article. Remarks containing abusive and obscene language, personal attacks of any kind or promotion will be removed and the user banned. Final decision will be at the discretion of the Taipei Times.