Japan unveils sanctions on Russia over Ukraine
Japan yesterday announced fresh sanctions against Russia over its invasion of Ukraine, targeting its military as well as the construction and engineering sectors.
Russia was hit with a wave of sanctions after it sent forces into Ukraine in February last year, but calls have grown from Kyiv and its allies for tougher action against Moscow.
The latest embargo by Tokyo follows the G7 summit Japan hosted last week in Hiroshima, where the bloc's leaders agreed to "starve Russia of G7 technology, industrial equipment and services that support its war machine."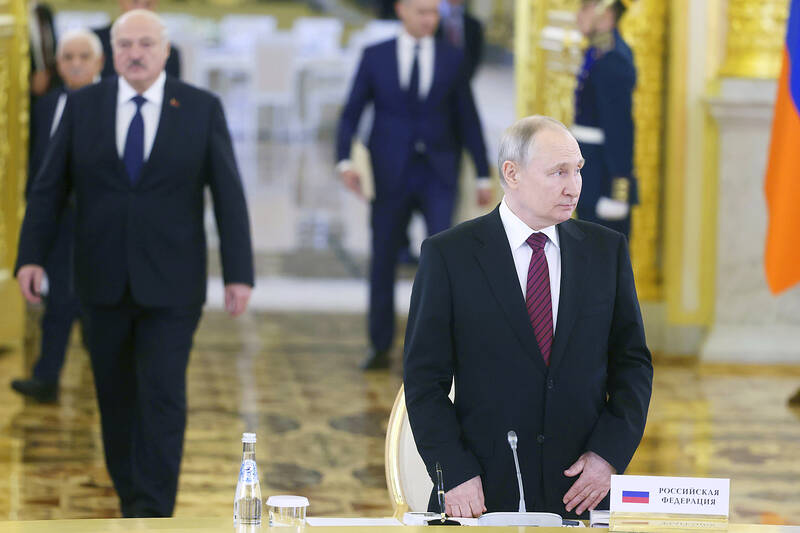 Russian President Vladimir Putin, right, and Belarusian President Alexander Lukashenko, left, arrive at the Kremlin in Moscow on Thursday.
Photo: AP
The Japanese sanctions include "an asset freeze of Russian individuals and groups, a ban on the export of goods to Russia's military-related organizations, and a ban on the export of construction and engineering services to Russia," Japanese government spokesman Hirokazu Matsuno told reporters.
The asset freeze targets 17 individuals and 78 groups, including high-level military officials, while the 80 organizations hit with export restrictions include Russian mobile phone operator MegaFon, the Japanese government said.
The US, the UK and the EU have announced fresh punishments against Moscow, as well as commitments of more military aid to Ukraine, including F-16 jets.
Matsuno also condemned plans to deploy Russian tactical nuclear weapons to Belarus.
Belarusian President Alexander Lukashenko on Thursday said that Russia had begun moving nuclear weapons to its territory, which borders the EU, ratcheting up tensions with the West over the Ukraine conflict.
"The transfer of nuclear munitions has begun," Lukashenko told reporters in Moscow, where he met with Russian President Vladimir Putin.
In Washington, White House press secretary Karine Jean-Pierre said Russia's move was "yet another example of making irresponsible and provocative choices."
However, "we have not seen any reason to adjust our own nuclear posture ... nor any indication that Russia is prepared to use nuclear weapons from Belarus," she added.
Lukashenko has allowed his territory, which borders Ukraine as well as EU and NATO members Poland and Lithuania, to serve as a staging ground for Russia's Ukraine offensive.
Comments will be moderated. Keep comments relevant to the article. Remarks containing abusive and obscene language, personal attacks of any kind or promotion will be removed and the user banned. Final decision will be at the discretion of the Taipei Times.