Amendments bar convicts from politics
The legislature yesterday passed amendments to electoral law that would bar people convicted of some crimes from running for office in perpetuity.
The third reading of amendments to the Civil Servants Election and Recall Act (公職人員選舉罷免法) would prevent people convicted of organized crime; money laundering; gun smuggling or use; narcotics trafficking, peddling and use; and national security crimes from running for public office.
Amendments to the Presidential and Vice Presidential Election and Recall Act (總統副總統選舉罷免法) were also passed yesterday.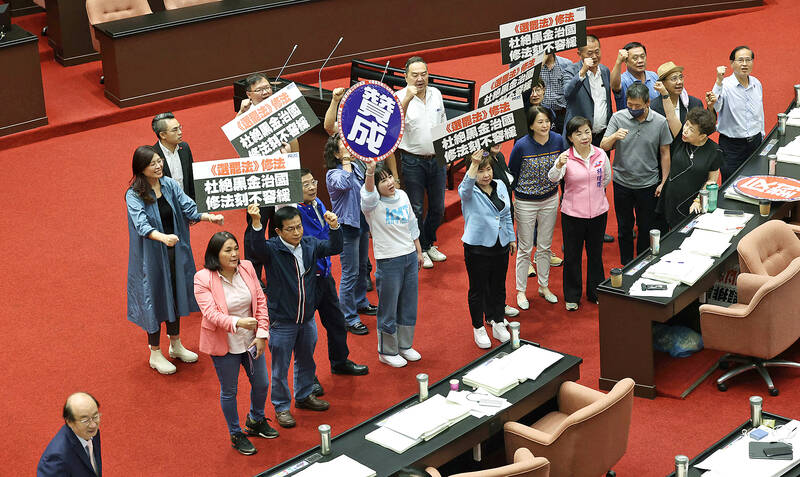 Chinese Nationalist Party (KMT) legislators protest amendments to electoral law at the legislature in Taipei yesterday.
Photo: CNA
The civil servants act amendment passed 56 to 30, with three abstentions.
The amendments were proposed by the Democratic Progressive Party (DPP) in response to multiple candidates in last year's nine-in-one elections having criminal records.
However, the changes were opposed by opposition parties, which said they infringe on the right to participate in politics.
Those convicted of rebellion or collusion with foreign agents to instigate war in Taiwan would be banned from registering as candidates for public office, the amendments say.
Those who have received longer than a 10-year prison sentence, even if it can still be appealed, would also be barred from running for office, as well as those who have been removed from office due to disciplinary action.
Establishing an overarching standard risks infringing on the rights of people who have received heavy sentences for comparatively minor crimes, New Power Party Legislator Chiu Hsien-chih (邱顯智) said.
DPP Legislator Chuang Jui-hsiung (莊瑞雄) said that all parties involved had set a high bar for anti-corruption legislation, which hampered further discussion on the subject.
Some people might unwittingly allow others to access their bank accounts, which, in the event of criminal activity, could be seen as aiding and abetting money laundering, Chuang said.
"It would be very strange that they are then banned from running for public office for life," he said.
Chiu said that the amendment limits who can participate in politics, a move that should be considered carefully in a democratic society.
Crimes that do not affect the operation of a democratic government should not be cited to ban people from running for public office for life, he said.
The Chinese Nationalist Party (KMT) said the amendments did not respect the input of opposition legislators, and the DPP's success in passing the legislation highlights its arrogant governance.
Taiwan People's Party Legislator Jang Chyi-lu (張其祿) said the amendments risk legislative overreach, and urged authorities to prepare contingency measures in the event of controversial enforcement.
Premier Chen Chien-jen (陳建仁) said that elected officials oversee the government and should be held to a higher standard in terms of eligibility, adding that a candidate with a criminal background should not be tolerated.
Former president Chen Shui-bian (陳水扁), who has been convicted of money laundering and bribery, on Thursday accused DPP caucus whip Ker Chien-ming (柯建銘), who backed the amendments, of contravening the Constitution and upending democracy due to his support of Vice President William Lai (賴清德) as a presidential candidate.
"To protest with one's own life is a resigned, last-ditch resort from those whose conscience is deadened and numb," he wrote on Facebook.
Comments will be moderated. Keep comments relevant to the article. Remarks containing abusive and obscene language, personal attacks of any kind or promotion will be removed and the user banned. Final decision will be at the discretion of the Taipei Times.