'Chinese are Taiwanese' rule outdated: premier
'ARCHAIC': An interpretation of a law that considered Chinese as Taiwanese nationals was scrapped after the death of a Chinese in Kaohsiung led to state reparations
An administrative mandate to consider Chinese as Taiwanese citizens was outdated, Premier Chen Chien-jen (陳建仁) said yesterday, a day after the Executive Yuan ordered that agencies disregard the 30-year-old interpretation.
Chen made the remarks at an event held by the Environmental Protection Administration in Taipei following changes to the administrative mandate concerning the Act Governing Relations Between the People of the Taiwan Area and the Mainland Area (臺灣地區與大陸地區人民關係條例).
The previous interpretation of the law was archaic and contrary to the workings of laws and regulations, he said, adding that the order was made to avoid unnecessary problems created by the mandate.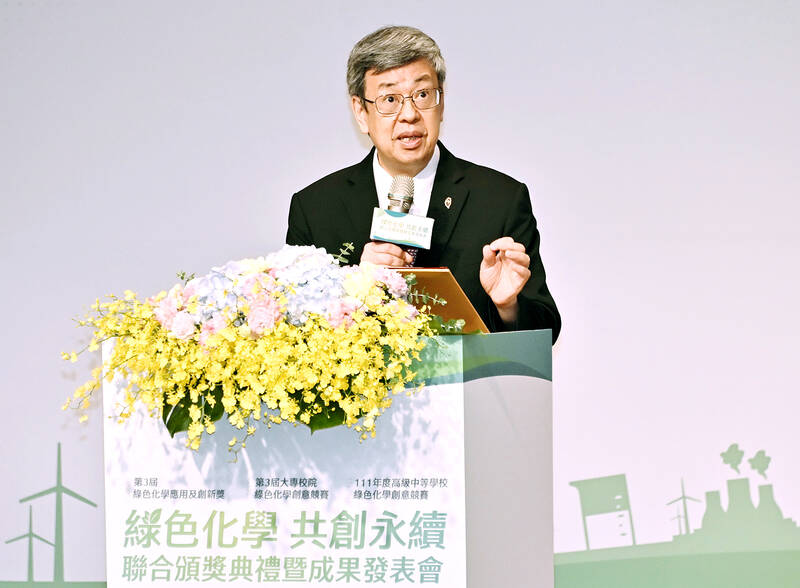 Premier Chen Chien-jen attends an event on environmental sustainability in Taipei yesterday.
Photo: Chen Yi-chuan, Taipei Times
The Mainland Affairs Council would evaluate whether legislative actions would be needed to amend the law, Chen said.
The Executive Yuan's change came three months after the High Court ordered the Kaohsiung City Government to pay NT$4.63 million (US$150,579) in state compensation after the accidental death of a Chinese citizen surnamed Qian (錢).
Qian was electrocuted by a malfunctioning street light while cycling in Kaohsiung's Lujhu District (路竹) during a round-the-nation cycling tour in August 2018.
The man's family was to receive reparations, despite the absence of reciprocal restitution arrangements with Beijing, as Chinese citizens are deemed Republic of China (ROC) nationals under the law, the court said in its ruling, citing a clarification issued by the Mainland Affairs Council.
This interpretation is contrary to mutual nonsubordination of Taiwan and China, and the apparent difference between Chinese and ROC nationals, the Executive Yuan said.
Starting from the day of issuance, the administrative mandate has been removed, and all government agencies are to amend regulations and policies accordingly, it said.
"That only ROC citizens have the rights of being Taiwanese is the [interpretation] that conforms with the spirit of the rule of law in a democratic nation," Democratic Progressive Party (DPP) Legislator Michelle Lin (林楚茵) wrote on Facebook yesterday.
The administrative mandate has supported cognitive warfare by China, DPP Legislator Cheng Yun-peng (鄭運鵬) added.
The order from the Cabinet would mean that judges would no longer be required to confer ROC national status to people from China, he said, adding that any such ruling would be "the personal ideological problems of the judge."
Chinese Nationalist Party (KMT) Legislator Lee De-wei (李德維) was cited by the Chinese-language China Times as saying that the Executive Yuan's order is a political attack on the integrity of the judiciary and laws.
Comments will be moderated. Keep comments relevant to the article. Remarks containing abusive and obscene language, personal attacks of any kind or promotion will be removed and the user banned. Final decision will be at the discretion of the Taipei Times.