Typhoon Mawar to affect Taiwan next week: CWB
The Central Weather Bureau could issue a sea alert for Super Typhoon Mawar, as it is forecast to turn north and come closest to Taiwan from Tuesday to Wednesday next week.
Mawar was downgraded from a super typhoon to a typhoon after sweeping across Guam on Wednesday night, knocking down trees and leaving much of the US territory without power.
Many residents of Guam yesterday remained without power and utilities after Mawar tore through the remote US Pacific territory the previous night, ripping roofs off homes, flipping vehicles and shredding trees.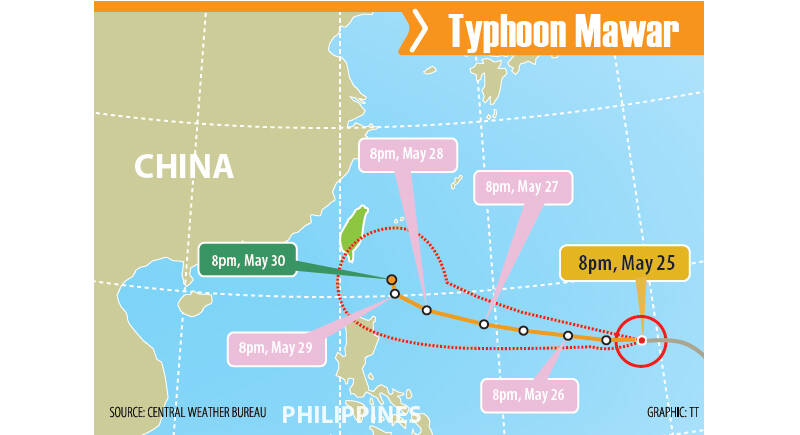 There were no immediate reports of deaths and injuries, but the central and northern parts of the island received more than 60cm of rain as the eyewall passed.
Mawar regained strength after leaving Guam and was upgraded to a super typhoon at 8am yesterday.
As of 2pm yesterday, Mawar was 2,490km southeast of Oluanbi (鵝鑾鼻), moving west at 23kph, bureau data showed.
The maximum speed reached 198kph, with the storm's radius expanding to 250km, the bureau said.
The bureau forecast that the typhoon could start turning north on Monday or Tuesday next week, adding that it could come closest to Taiwan on Tuesday or Wednesday.
Whether a sea alert would be issued for Mawar would depend on the angle at which it turns north when it enters the Bashi Channel, it said.
Although the chances of landfall are low, people should beware of torrential rainfall brought by the typhoon's outer bands, the bureau said.
From Monday to Thursday next week, chances of temporary showers are to be high along the north and east coasts, Taipei, New Taipei City, Keelung and the Hengchun Peninsula, it said.
Cloudy to sunny skies are forecast for the rest of the nation, while afternoon thundershowers are forecast for mountainous areas, the bureau said.
As Mawar is forecast to gradually affect the east coast, the Port and Maritime Bureau last night announced that ferries connecting Taiwan proper with Orchid Island (Lanyu, 蘭嶼) and Green Island (綠島) would be suspended from tomorrow until Tuesday next week.
People traveling to Orchid Island and Green Island should pay attention to weather information and the status of shipping services, and make plans in advance to avoid being stranded on the two outlying islands, the bureau said.
Additional reporting by AP
Comments will be moderated. Keep comments relevant to the article. Remarks containing abusive and obscene language, personal attacks of any kind or promotion will be removed and the user banned. Final decision will be at the discretion of the Taipei Times.